Thunderbirds Are Go!
Relive the classic TV show at the Royal Air Force Museum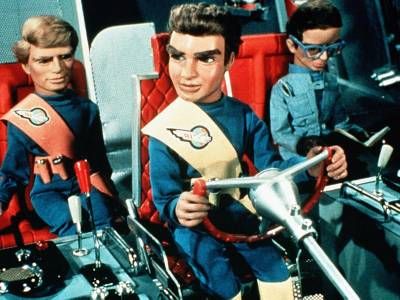 Deal with it, people!
The Royal Air Force Museum (London)
invites fans of the 1960s television show
Thunderbirds
to revisit their inner child (as well as the museum) on May 14 and "play with giant sized versions of classic children's games whilst listening to music of the 60s and 70s." The museum will also have on display original models, and will air episodes from
Thunderbirds
and
Captain Scarlet
in the museum's cinema.
Sylvia Anderson
, the voice of Lady Penelope and the co-creator of the show, will discuss her career, the actors she worked with, and the inspiration behind the puppets. (Anderson and her husband are the creative team also responsible for
Space: 1999
, starring the wooden Barbara Bain and the over-the-top Martin Landau.)
Our marionette heroes use a variety of air- and spacecraft to carry out their missions. Thunderbird 2 (usually piloted by son Virgil Tracy, he of the intimidating eyebrows, above), is a large green VTOL aircraft used in most of the team's earth-based rescue missions. The big bird can fly anywhere in the world without refueling, and cruises along at 2,000 mph, but can achieve 5,000 mph when needed. Amazingly, it is not the team's fastest mode of transport. That honor goes to Thunderbird 1 (typically piloted by Scott Tracy), a hypersonic rocket that can travel 15,000 mph, or Mach 22.6. You'd think that a rocket capable of that speed would have extremely complex controls, but no. Thunderbird 1 is controlled by a mere two control levers. Life is so easy when you're a puppet!