Throttle Down
How Florida's Space Coast is bracing for the end of the space shuttle program.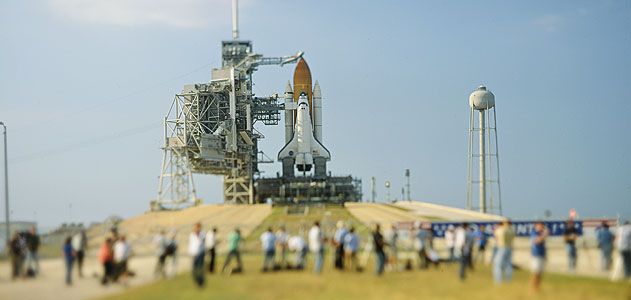 Florida residents live with uncertainty and vulnerability. Chances are good that any family living today on the state's coast has witnessed the damage caused by a hurricane. Those living along the Space Coast—primarily in Brevard County—have a new storm to weather, though like Florida's hurricanes, it's nothing they haven't seen before. When President Richard Nixon announced the end of the Apollo program in 1972, "people just left the key in the front door and headed to Seattle or Denver to try to get on somewhere else where their skills transferred," recalls Leroy Solid, then a NASA project manager. Now with the space shuttle program ending, many of the more than 13,000 employees and contractors at NASA's Kennedy Space Center stand to lose their jobs. (This month, prime contractor United Space Alliance cut its 8,100-person workforce by 15 percent, with 902 jobs lost at KSC.) Though some members of Congress are attempting to add up to two extra shuttle flights, estimates say that up to 9,000 people who have worked on the space program in some capacity will lose their jobs. A domino effect from those losses could cost another 14,000 jobs in retail, local government, and other services. Some KSC workers have eminently transferable skills and will move into other industries. Others, especially those whose jobs are shuttle-unique, confront a bleaker prospect: retraining, forced retirement, or the unemployment line. All face a change in the coming year. Here's how some will cope.
Tom Harpole, a writer in Avon, Montana, wrote a story about cropdusting, "That Old-Time Profession," for the Feb./Mar. 2007 issue.