These World War II Pilots Will Ride to Reno in the Same Type of Navy Bomber They Flew 75 Years Ago
Their stories may be even better than the vintage PV-2 Harpoon they'll be flying.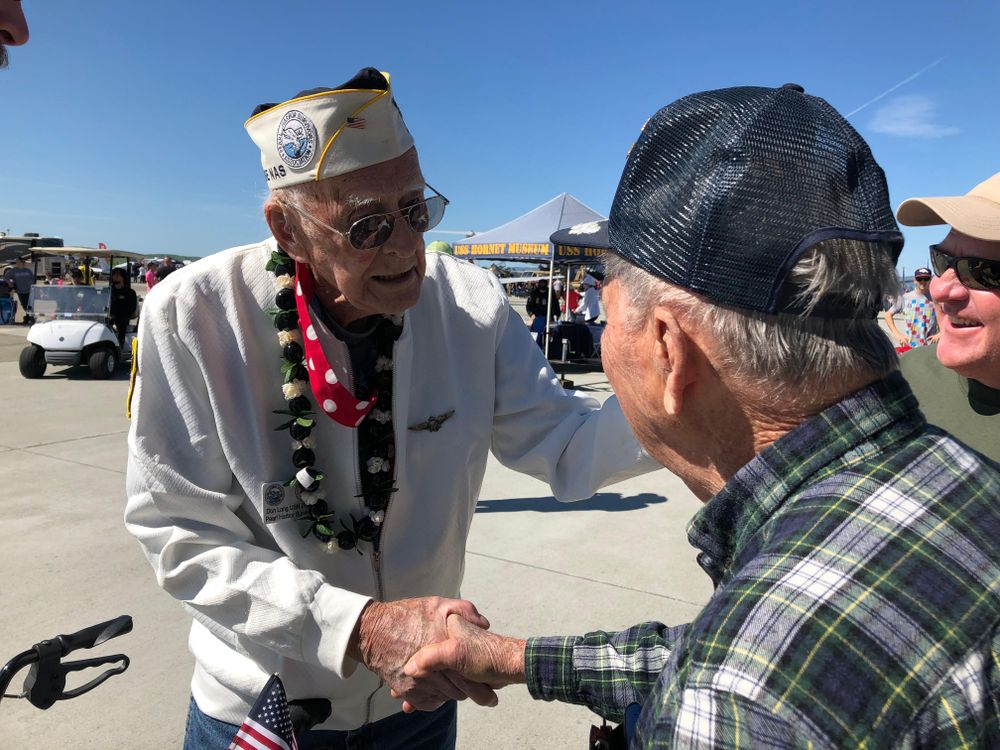 The PV-2 Harpoon is one of 24 airplanes you can vote for as Airplane of the Year. We're pretty sure which of the 24 will get Don Long's and Pat Patteson's vote.
For the two World War II Navy veterans, the Lockheed PV-2 Harpoon that Taigh Ramey had on display at California's Travis Air Force Base airshow was a great place to meet. First, it's hard to miss: Almost 52 feet long with a 76-foot wingspan, the big tail dragger attracts attention, especially from two pilots who had flown the airplane during the war. And because of their meeting there at the Harpoon last March, the two Navy men will fly in it again this September, when Ramey, CEO of the Stockton Field Aviation Museum about 50 miles southeast of Travis, flies it to the National Aviation Heritage Invitational (NAHI), a get-together for vintage airplanes and their owners at the National Championship Air Races in Reno, Nevada, September 11-15.
Long and Patteson had never met before the Travis airshow, but they found plenty to talk about there and have enjoyed another visit since the show. "We enjoyed swapping old stories," says Long. And boy, do they have stories to tell.
Their wartime careers are like bookends: One man survived the Japanese attack on Pearl Harbor; the other dodged Zeros over the Kurile Islands in late 1944 and '45. They both started in PBY Catalinas, and they have similar views of Navy service. "The logic of the Navy sometimes overwhelms me," Long told me. "I couldn't figure it out then and still can't." Patteson said simply, "I got out as soon as they let me." And both are smooth conversationalists and storytellers. I spoke with each them by telephone, but at the Reno air races, people who visit the NAHI display of vintage aircraft have a good chance of getting to talk to them in person. (As soon as NAHI and the Reno Air Racing Foundation found out they wanted to come, they were invited as honored guests for the full length of the event.)
Some of the stories you might hear these two exchange are wartime adventures. On the day Pearl Harbor was bombed, Long escaped from a PBY Catalina anchored in Kaneohe Bay that Japanese airplanes strafed and burned on the first of that day's two raids. A radio operator who, as he puts it, was "lucky enough to get to go to airplanes" instead of ships, he expresses gratitude for the Navy training that taught him how to swim in an ocean covered by burning gas and oil. "You put one hand over your mouth and nose, and jump in," he says, remembering the instruction and also what he did that morning in 1941. "You go underneath in a vertical position, swim underwater as far as you can, then come up with hands above your head, thrashing the water with hands and arms to move the flames. You take a couple breaths of air, go down again, and repeat. I think I did that two or three times." Long swam to a wooden channel marker, beneath which he could hide from strafers and where he watched in horror as the second wave struck.
I was surprised by the amount of detail Long remembered. "I've told this story a number of times," he said. (In fact, if you can't visit him at the NAHI event at the air races, you can catch the whole story on YouTube.) Long was eventually selected for flight training and became an instructor in the PV-2's predecessor, the PV-1 Ventura. He made just a few ferry flights in the PV-2.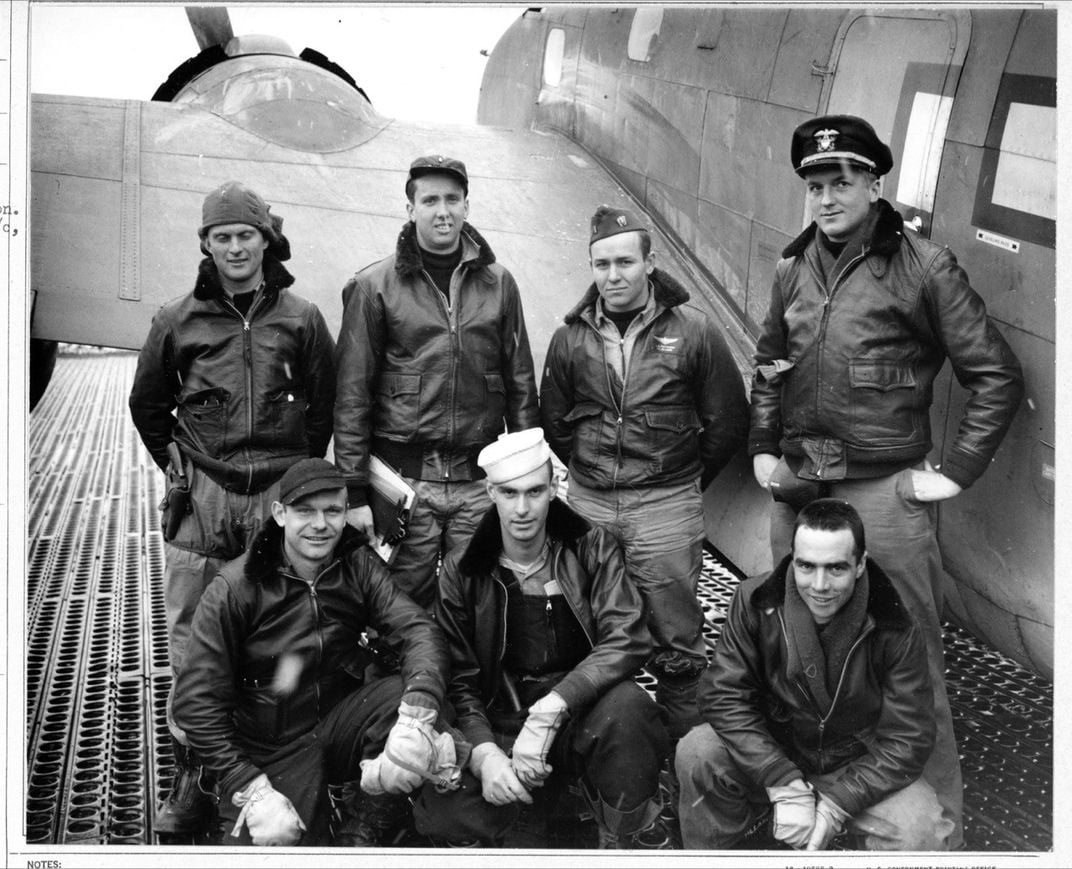 His new friend Pat Patteson was trained to fly Catalinas, but by the time he was sent to Whidbey Island, Washington to join VB-135, the bomber squadron had transitioned to PV-1s. Patteson flew those 1,500-mile round trips between Attu, in the Aleutians, and the Kurile Islands, the northernmost reaches of the Japanese empire. The flights, known as "the Empire Express," were both intelligence-gathering and bombing missions; Japanese aircraft based on the Kuriles were dangerous to the U.S. Navy ships closing in on Japan's home islands.
"The flights were "sweat jobs," says Patteson. "You sweated the take-off, you sweated the 15 to 30 minutes over the target, and you sweated the amount of fuel you had to get home. If you got back with more than 200 gallons, you must have done something wrong." On June 14, 1944, Patteson and his crew managed to take 364 photographs of Shimushu and Paramushiro Islands, despite the Japanese fighters that rose to shoot them down and ground-based, anti-aircraft fire. They frequently landed with wings and fuselage perforated from bullets. The photographs helped U.S. strategists plan further raids on the Kuriles.
There will be plenty of time between races at Reno for Patteson and Long to reminisce about the action they saw in World War II and to talk about all the other vintage aircraft that will gather near Ramey's PV-2 Harpoon. I'm certain the two pilots wouldn't mind at all if visitors to the NAHI event eavesdropped on their conversations.