Then & Now: From Airships to Waterslides
The world's largest free-standing building gets a second lease on life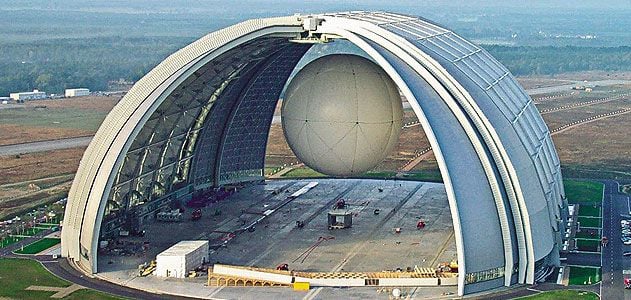 German Entrepreneur Carl von Gablenz had an unusual vision: a fleet of giant helium airships that would haul outsize industrial loads, such as oil rigs or wind turbine blades, to remote areas of the globe. Ten years ago, his plan seemed to be progressing; at an abandoned Soviet military airfield 40 miles south of Berlin, his investor-backed company, CargoLifter AG, erected a $110 million airship hangar measuring 1,181 feet long by 688 feet wide by 351 feet high. CargoLifter used it to store a prototype of an airship (later destroyed in a storm) capable of hoisting 60 tons.
But the end of the bull market spelled the end of von Gablenz's dream: By 2002 his company was insolvent. A German court ordered the giant hangar sold to a Malaysian company, Tanjong, which bought it for 17 million euros (about $24 million) as a site for its Tropical Islands Resort. Tanjong soon found that keeping the hangar at 78 degrees Fahrenheit year-round was a challenge. So workers welded shut the two steel doors, which weigh 600 tons each. To open the hangar to light, "we exchanged the [steel] skin of the hall with 20,000 square yards of translucent film," says Tanjong spokesman Patrick Kastner. "This makes natural tanning possible." Some 900,000 visitors, mostly from northern and eastern Europe, come each year.
Von Gablenz, who now runs his company from an office in Berlin, is still optimistic about the future of airships as cargo haulers. For craft that can lift 40 to 50 tons, he says, "there are very large market segments...in Canada and Siberia." He's bitter that his hangar was "sold for a swimming pool."
But what a pool: At 3,000 square yards, it's larger than four Olympic-size pools, and its artificial horizon conjures a faraway island. At the "shoreline" are 600 feet of sandy beach and hundreds of deck chairs. The Bali Lagoon has a grotto and waterfall, as well as the world's largest indoor rainforest, with 50,000 trees in 600 varieties—from palm to papaya—that thrive in natural light. Its most popular attraction is a nine-story waterslide that propels sliders to 44 mph.
If Tropical Islands stays afloat, others may eye the world's few remaining airship hangars for similar uses, though some aviation analysts predict a revival of airships, which would compete for such space. Last year, the U.S. Army awarded a contract worth up to $517 million to Northrop Grumman to build 300-foot airships for lengthy surveillance missions over Afghanistan. The first is being built at England's Cardington Airship Works, a hangar that dates to 1915.