Then & Now: A Weighty Matter
Then & Now: A Weighty Matter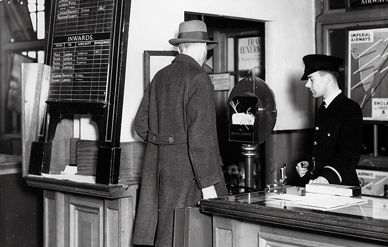 Airlines have always been sensitive to takeoff weight because every pound burns fuel. In aviation's early days, flying commercial meant counting not just pounds but ounces. Not only were bags weighed; people were too. For its inaugural San Francisco-to-New York flight in 1933, Boeing Air Transport made sure its Boeing 247D with 10 passengers and one flight attendant was no heavier than 16,805 pounds at takeoff.
"The 247 was not exactly a 747," explains Michael Lombardi, Boeing's historian. "The weight of the stewardess and her equipment—lunches, thermos jugs of coffee, blankets, pillows, magazines, fly swatter—was figured in as a constant part of the airplane," he says. The airline allowed 121.5 pounds for all the convenience items and 135 pounds
for the flight attendant, who was weighed planeside along with the sacks and crates.
Passengers using England's Croydon Aerodrome in the mid-1930s had to step on scales with their bags in hand, recalls Frank Anderson, chairman of the Croydon Airport Society. "The snag was that if you were very large, you would pay more not only for your baggage but for yourself," he says. "Some of the booking clerks were discreet when announcing the weight, especially with the ladies."
By the early 1950s, U.S. airlines largely had stopped weighing people, relying instead on standard government tables to calculate the proper weight and balance of the aircraft. The Federal Aviation Administration updated those tables in 2005 with Advisory Circular 120-27E , which calculates an aircraft's operational empty weight, cargo payload, and the weight of fuel and passengers to load for proper center of gravity. For passengers, the FAA now figures an average man in summer clothes weighs 200 pounds and the average woman, 179 pounds. On flights between November 1 and April 30, when winter clothing is factored in, the FAA adds five pounds. The standards will be revised if data from U.S. government health agencies show that the average American has gotten at least two percent heavier.
Carriers now separate the fees for baggage from the basic fare they charge customers. Robert Mann, a former airline executive who is now an airline consultant, thinks the pricing is partly meant to encourage passengers to reduce the volume of luggage in the cargo hold and overhead bins.
Although airlines have said they don't plan to start putting passengers on scales again, they continue to keep a close eye on baggage weight. Last summer, amid soaring fuel prices, American Airlines was among the first to charge for the first checked bag. And in November, airlines began slimming the size of carry-ons with new rules, fees, and the installation of sizing frames at security machines to block oversized items. Since weight increases costs, passengers and airlines are partners in the bottom line.