The X-35 on Display
The fighter of the future comes to the Hazy Center.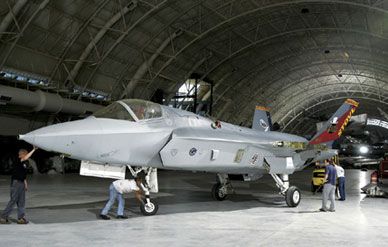 The experimental program that preceded the Joint Strike Fighter has become almost legendary in aviation history, despite the fact that the problematic F-35 program is far from finished. In September 2003, the Smithsonian Institution leapt at the chance to acquire one of the X-planes used during flight testing, and brought the airplane to be assembled in its new National Air & Space museum facility, the Steven F. Udvar-Hazy Center. That airplane, an X-35B short-takeoff and vertical-landing (STOVL) variant (pictured above), remains on display.
For those who want to see it in action, this video demonstrates the STOVL in flight during the tests that sold the Pentagon on the airplane.
Another milestone in the project occurred in August 2006 when the first production model came off the line in Lockheed Martin's plant outside Fort Worth, Texas (click on smaller thumbnail photo above). Hooded like a falcon, the first F-35A is shown making its way through tests leading to its first flight, scheduled for December 2006.