The Women's RAF
In World War II Britain, a new group of pilots answered the call to serve.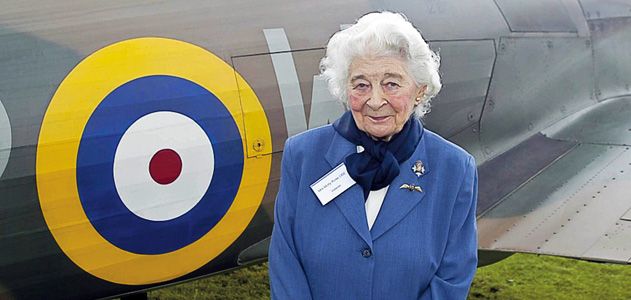 Years ahead of the United States in recruiting women to fly military aircraft from factory to base, the United Kingdom was also—decades later—a year ahead in awarding them medals for their efforts. When the accolades finally came, government officials in both countries called their missions crucial to achieving victory in World War II.
For the United Kingdom, the effort began in 1938, when Sir Gerard John Regis Leo d'Erlanger, a member of a renowned banking family and an accomplished pilot, became convinced that Great Britain urgently needed the help of its amateur pilots to wage a war he saw coming. He wrote to Air Ministry officials suggesting that Royal Air Force pilots could better focus their efforts on combat and defense if non-military pilots aided in the delivery of light aircraft, mail, and light supplies. His plan: recruit pilots who were ineligible for the RAF for one reason or another, such as being too old, color-blind, having a single arm or, in one case, a single eye.
D'Erlanger's idea drew only lukewarm interest, but when Germany invaded Poland on September 1, 1939, the plan was suddenly taken seriously. D'Erlanger was by then the director of British Airways, so the company was asked to oversee the initiative. Letters were sent to about 1,000 male pilots asking if they wanted to serve their country by ferrying airplanes. About 100 replies came back, and after interviews and flight tests, the first 30 men were picked that September for what became the Air Transport Auxiliary, or ATA (which d'Erlanger joked stood for Ancient and Tattered Airmen). But what was most unusual—even radical—was the decision two months later to satisfy the increasing demand for ferry services by including female pilots. It was the first time in British history that women were hired to fly military aircraft.
Women, of course, had already shown that they could be skilled and daring aviators. In the 1930s, England's Amy Johnson became the first woman to fly solo from England to Australia and set record times flying her de Havilland Puss Moth from London to both Tokyo and Cape Town, South Africa. In the United States, Louise Thaden and copilot Blanche Noyes won the 1936 Bendix Trophy race in the first year women were allowed to compete with men. But the demands of World War II caused the ranks of female pilots to swell on both sides of the ocean. (The Soviet Union, which had a tradition of enlisting women in combat, had all-female fighter and bomber squadrons; in Germany, women served as test pilots.)
Pauline Gower, daughter of a parliamentarian, Sir Robert Gower, was asked to organize the ATA's women's division. As a girl, Gower had been a star pupil at the Convent of the Sacred Heart in Tunbridge Wells, England. She was, according to Giles Whittell, author of Spitfire Women of World War II, the Mother Superior's pet: "bright, bouncy, diligent and fizzy with ideas." But at 17 she contracted an infection and underwent surgery that left her unable to participate in activities that required physical strength. Being in the cockpit, writes Whittell, was for her "the perfect, sedentary occupation." By the time Gower took over at the ATA, she was a commercial pilot with about 2,000 flying hours and a commissioner in the Civil Air Guard.
In January 1940, Gower was given the authority to recruit eight experienced female pilots to transport two-seat Tiger Moth trainers from the de Havilland factory in Hatfield, north of London, to bases in the United Kingdom. The team members came from a wide range of backgrounds: Rosemary Rees was a former ballet dancer; Mona Friedlander, an international ice hockey player; and Winifred Crossley, the daughter of a doctor. Marian Wilberface was a pilot with her own Gipsy Moth. Joan Hughes had been Britain's youngest pilot; she started flying at 15, before age restrictions were established. Margaret Cunnison and Gabrielle Patterson were both flight instructors (the first woman to instruct, Patterson also was a member of the National Women's Air Reserve, a group that provided aid in national emergencies).
Some of the later recruits, such as Diana Barnato Walker, came from privileged backgrounds. Heiress to the DeBeers mining fortune, Walker grew up riding horses and attending lavish parties hosted by her father, race-car driver Woolf Barnato. At her debutante ball, she was introduced to the Prince of Wales, and for her 21st birthday, she got a Bentley. In her 2003 memoir, Spreading My Wings, she recounts that she took up flying mainly to escape the constant scrutiny of the "nannies, governesses, companions, and chaperones." In the cockpit, they "wouldn't be able to come along."
One recruit, Molly Rose, had taken her first flight from her own back yard. One of her older brothers, Arthur, had learned to fly at Cambridge and used the fields behind their house to take off and land his Tiger Moth. Sometimes he would ask Rose to join him. "I remember how cold it was," she says, "but when your big brother invites you on a flight, you don't run back to the house to get a cardigan!" When she was almost 17, Arthur offered her flying lessons at a flight school he had opened in 1926 at the Aerodrome in Cambridge. She got her pilot license the same year she got her driver's license. After a stint in a Paris finishing school, she returned to airplanes and became an apprentice engineer. In 1942, the call came from the government to join the ATA.
Even though Rose knew how to fly, ATA instructors gave her extensive training, teaching her to fly light twin-engine airplanes, like the Airspeed Oxford and the Avro Anson, as well as heavy twins, like the Lockheed Hudson light bomber. "That one needed an engineer to help with the landing gear," Rose recalls. The Supermarine Spitfire was her favorite because of its maneuverability. "It was a thrilling moment," she said. "The takeoff was fairly easy. And then suddenly you were up in the air and the sky was all yours."
Was she ever scared? "When you are 21 or 22, you feel very capable, very sure of yourself," she says. "You think you know all the answers and if you think you know the answers, you simply get on with the job. I don't like the over-glamourization of what we did back then. It was a job, and we did it as well as we could. But everyone was doing their part for the war. Ours was just a more interesting job than most."
Despite its aura of glamour, the job was demanding and dangerous. The ATA flew in bad weather, often without instruments and sometimes without radios. The pilots were asked to pick up airplanes that had not yet been flight-tested and usually had only a compass and gyro, and not the altimeter, airspeed indicator, and other instruments that fully finished airplanes would have. The work took its toll. During the war, 16 women and 157 men flying the ferry runs were killed, according to the ATA Museum at the Maidenhead Heritage Centre. (Among reference works about ATA history, the number of fatalities varies slightly.) Among the women: Amy Johnson, who, lost in bad weather and reportedly out of fuel, crashed her Oxford into the Thames estuary and drowned in January 1941.
Despite such tragedies, more women joined the ATA. By 1944, the original eight had grown to 108. Eventually, the ATA had 168 women (along with 1,077 men), according to the ATA Museum.
The women sometimes faced challenges that their male counterparts did not. One hot day, Diana Walker was flying a Spitfire at 5,000 feet when her airplane went inverted. In Spreading My Wings, she recalls that, while she contemplated what to do next, her engraved, silver compact slipped from the pocket of her overalls and "wheeled round and round the bubble canopy like a drunken sailor," then opened and "sent all the face powder over absolutely everything." When she arrived at her destination, a tall, handsome RAF flight lieutenant came bounding up to the airplane. When he saw her, "his expression changed as his mouth dropped open in sheer disbelief. 'I was told,' he gasped, 'that a very, very pretty girl was bringing us a new aircraft. All I see is a ghastly clown!' " Walker watched him turn on his heel and march off. Her mental note: "Be quite sure, Diana, before doing your next clever bit of aerobatics, that the top buttons of your flying overalls are done up."
Opportunities that male pilots received from the start were withheld from the women of the ATA until they had proved themselves. Even with the 600 flying hours that were a prerequisite to their acceptance, they were restricted to light, single-engine aircraft before they could fly heavier twin-engine airplanes. According to Whittell, they struggled for nearly two years to be allowed to fly fighters, and five before they started flying them to Europe.
By 1943, as the demand for ferry pilots surged, the ATA had reversed its policy and was recruiting women with no flying experience; Yvonne Gough MacDonald and her sister Joy were two such recruits. Yvonne grew up in Gloucestershire, where she excelled in athletics. "I signed up for everything and was the captain of everything: tennis, field hockey, net ball, swimming. And I played to win," she says. She married an RAF pilot who was killed while bombing Berlin. "All the people I knew were flying people," she recalls. "So it seemed natural to me to do my part for the war by flying as well, especially when I learned that they were accepting women without experience."
MacDonald was given 12 hours of training before she went solo. She did not attend ground school; that came later. She began flight training on a "standard carriage with fixed wheels," then moved on to a trainer aircraft. "They couldn't afford to spend a lot of time training us," she says. "We had to show aptitude quickly." Though
MacDonald never flew a four-engine bomber, she learned to fly 18 types of aircraft. And like Molly Rose, she preferred the Spitfire above all. "You climbed in and it was like someone kicked you in the rear end," she says, and adds an unorthodox view of the fighter: "It was designed for a woman. You touched the controls and it just moved."
Some men resented the ATA women, who made 20 percent less than the male pilots (it wasn't until 1943 that they were paid equally). "The menace is the woman who thinks that she ought to be flying in a high-speed bomber when she really has not the intelligence to scrub the floor of a hospital properly, or who wants to nose around as an air raid warden and yet can't cook her husband's dinner," editor C.G. Grey wrote in Aeroplane magazine in 1941.
Yet there were also men like Peter George, a Cambridge-born aviator who made some 900 aircraft deliveries during his five years with the ATA. George says he viewed his female colleagues no differently than any other pilots. "They were steady," he recalls. "Sometimes even steadier than the men." George took the attitude that "as long as they had two eyes and a good sense of hearing, that was enough for me."
As the war intensified, the need for the ATA pilots continued to grow, and recruitment spread across the Atlantic. Gower's U.S. counterpart was Jacqueline Cochran, a scrappy New York beautician who had managed to become both an acclaimed pilot and a cosmetics millionaire. She married a wealthy industrialist who was on close terms with Franklin and Eleanor Roosevelt. In 1940, Cochran wrote to Eleanor, explaining that women could help in the war by flying military transport aircraft so the men could fly combat missions. With Eleanor's support, General Hap Arnold, chief of the U.S. Army Air Forces, authorized Cochran to recruit 25 women with at least 350 hours of flying time each to help ferry airplanes throughout the United Kingdom.
The ATA drew pilots from 25 countries; the Americans, with 176 men and 27 women, made up the largest foreign contingent. After the United States entered the war in December 1941, far fewer American men signed on with the ATA. (They could join the ATA because it was a civilian agency; they couldn't join the RAF without the risk of losing their U.S. citizenship.)
One of the Americans Cochran recruited was Ann Wood Kelly, whose mother had encouraged her to take up flying. (The family lived in Maine, and Ann's mother believed the opportunities there for her bright, capable, and adventurous daughter were limited.) Wood attended ground school through the U.S. government's Civilian Pilot Training Program. Although nearby Bowdoin College initially rejected her application to its all-male flight training program, the school was unable to find a final applicant for its 12-man program, so it ended up accepting her. In a short time, she was made a flight instructor at Bowdoin. Shortly after the attack on Pearl Harbor, she signed on with Cochran.
Her son, Christopher Kelly, heard many times his mother's story of the day the call came from the ATA. She told him that she was so excited "she practically climbed down the phone." Her decision to join, he says, was "as natural as putting a hand into a glove."
"My mother was 88 when she died," says Kelly. "She was still flying at the age of 87. On March 31, her birthday, I suggested that we fly to Martha's Vineyard for lunch. I picked her up and put her in the pilot's seat. She greased the landing; she had that kind of precision." Thinking his mother had had enough for the day, her son flew the airplane back. "But I didn't land as well as she had," he says.
From 1942 to 1945, Ann Wood Kelly ferried more than 900 airplanes to Britain and France. Unlike fellow pilots Lettice Curtis and Joan Hughes, Wood Kelly was not rated for large bombers and flew mostly single-engine fighters like Spitfires, Hawker Hurricanes, and North American P-51 Mustangs. She also flew the twin-engine de Havilland Mosquito. "It was terribly fast," says her son. "She adored it." Did she ever crash? "Only once, when she was in either a Hurricane or a Spit," he recalls. But Wood Kelly preferred to dwell on the humorous aspects of flying with the ATA, telling her son about the time she landed in a mud puddle in a cow pasture and looked up to find a farmer brandishing a pitchfork at her.
After D-Day, Wood Kelly flew airplanes to various bases outside Paris. Her logbook shows four or five flights daily. When Cochran asked her to join the new Women Airforce Service Pilots in Sweetwater, Texas, she declined. In Wood Kelly's mind, Sweetwater was another name for backwater. "She didn't want to go back and pull targets," says her son, referring to the targets that the WASP, America's ATA equivalent, towed behind their airplanes for gunnery practice. "Not after she had been in the frontlines, flying the best equipment. She remained where all the action was, where she always wanted to be."
Later, Wood Kelly worked for Northeast Airlines, though not as a pilot. She rose through the ranks until she became head of stewardesses and eventually assistant to the president.
Other ATA women continued to fly after the war. Lettice Curtis was an avid air racer in England who flew her own Foster Wikner Wicko and a Spitfire owned by the American attaché in London. She became a technician and flight test observer at the Aeroplane and Armament Experimental Establishment, a military aircraft test site at Boscombe Down; later, she worked at Fairey Aviation as a senior flight development engineer. As late as 1992, she qualified to fly helicopters, and she didn't stop flying until 1995.
In the 1960s, Joan Hughes worked as a flight instructor with the Airways Aero Association at Booker Airfield (now Wycombe Air Park). She flew a replica of a 1909 Demoiselle in the 1965 movie Those Magnificent Men in Their Flying Machines and piloted a Tiger Moth in the 1968 movie Thunderbird 6. She died in 1993.
Diana Walker also continued to fly for decades. After getting her commercial license, she became a volunteer pilot with the Women's Junior Air Corps. The job allowed her to do something she loved: encourage teenage girls to consider a career in aviation. On August 26, 1963, she flew an English Electric Lightning T4 to Mach 1.65, becoming the first British woman to break the sound barrier. She died in 2008.
Pauline Gower, who had pushed so hard to get women in the cockpit, had only a brief time after the war to indulge her passion for flying. In 1947, shortly after giving birth to twin boys, she died of a heart attack. She was 36.
Many of the women who ferried airplanes for the ATA experienced the postwar years as something of a disappointment; the war had been the pinnacle of their flying careers, and afterward, a huge number of male combat pilots were available, so women's opportunities in aviation were limited. Of course, some women no longer yearned to fly. For Rose and MacDonald, the experience was intimately bound up with the war. Both women left the ATA to raise families; neither expressed regret about the decision.
Acknowledgment of women's service in the ATA was slow in coming. Like the WASP, who were accorded veteran status in 1977 and finally awarded the Congressional Gold Medal on July 1, 2009, the women of the ATA waited more than 60 years for recognition. In September 2008, Prime Minister Gordon Brown presented award badges to the surviving members in a ceremony at 10 Downing Street.
But since the award was not given posthumously, many women (and men) who served were unrecognized. Molly Rose was one pilot who did attend, escorted by two of her three sons. She particularly enjoyed the pre-ceremony reunion at Maidenhead, near White Waltham airfield, the ATA headquarters.
Brown said, "We now have medals for those people who are veterans of the war. We have medals for those who served in the land army. It is right, in my view, that we have recognition for the women Spitfire pilots who did so much to protect and defend the air force and other services." Nigel Griffiths, Labour member of Parliament for Edinburgh South, added: "Frankly, without the efforts of the ATA, the Luftwaffe could have overwhelmed us."
Getting aircraft into the hands of combat pilots during World War II was an enormous undertaking. By war's end, the women and men in the ATA had delivered more than 300,000 airplanes.
Yona Zeldis McDonough, a writer who lives with her husband and two children in Brooklyn, New York, is the author of four novels and 19 books for children.