The Versatile Beech 18
From sculptural beauty to functional transport, the Model 18 is an airplane of many guises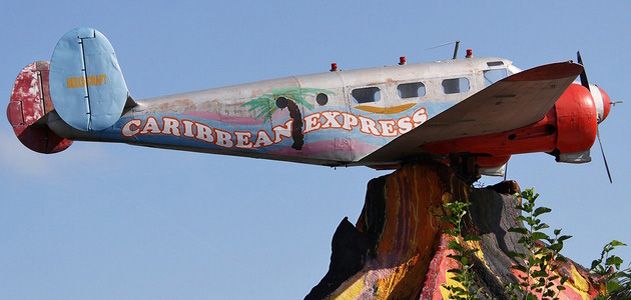 The Beechcraft Model 18 was manufactured continuously for an astounding 33 years, with nearly 9,000 of the twin-engine transports coming out of the Beech Aircraft factory in Wichita, Kansas. Over the years, the basic design generated 32 variants. So perhaps it's not surprising that the Model 18 is an aircraft that seems to have been all things to all people.

There's something about the Beech 18's good looks and reliability that has inspired those who like to tinker. As this photo gallery attests, there is no shortage of ideas on how to keep the vintage aircraft flying—or at least on display.

See the gallery below for more photos of this perennial favorite.
Model 18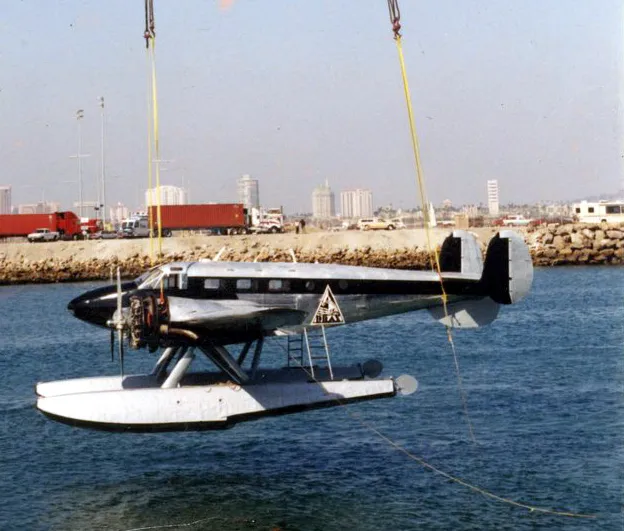 The Model 18 can also fly as a seaplane. After this airplane was sold to a buyer in Thailand in 1995, it traveled across the Pacific via freighter. At the harbor in Long Beach, California, a crane lifted the carefully-secured airplane onto the freighter's deck.
1946 Beech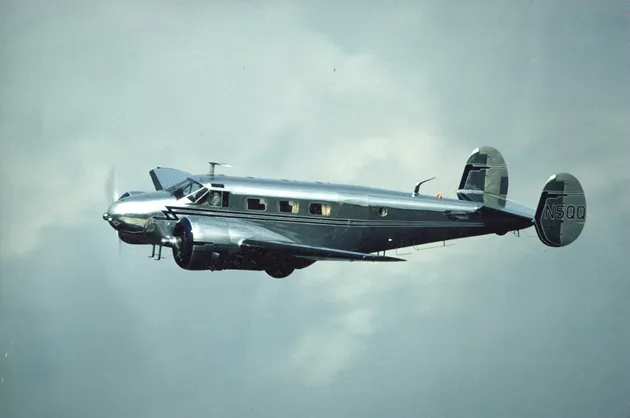 Manufactured in 1946, this Beech has been impeccably maintained; it was once owned by Tony Hulman, the founder of the Indianapolis Speedway.
Beauty Shot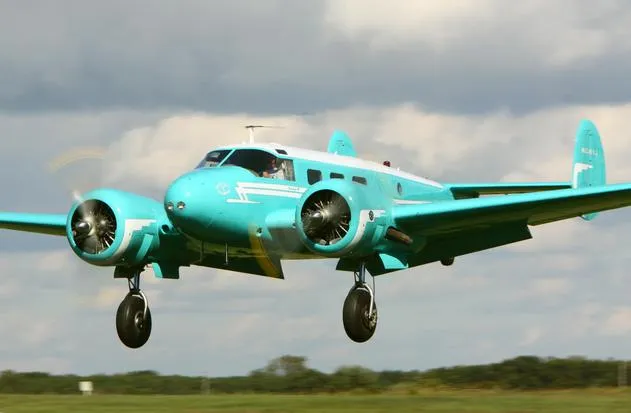 Owner Chuck Doyle discovered that his Model 18's all-metal airframe makes a good surface for a stylish paint scheme.
Lay's Potato Chips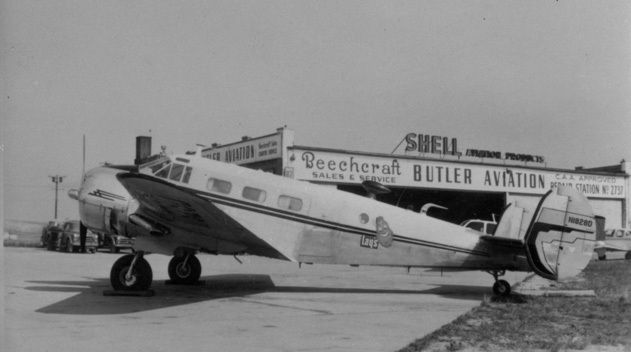 In the 1950s, the company that manufactured Lay's potato chips flew a Model 18 as a corporate aircraft. The airplane was based in Atlanta, Georgia, and flew numerous cross-country flights. Note the company logo on the side of the fuselage.
Rivets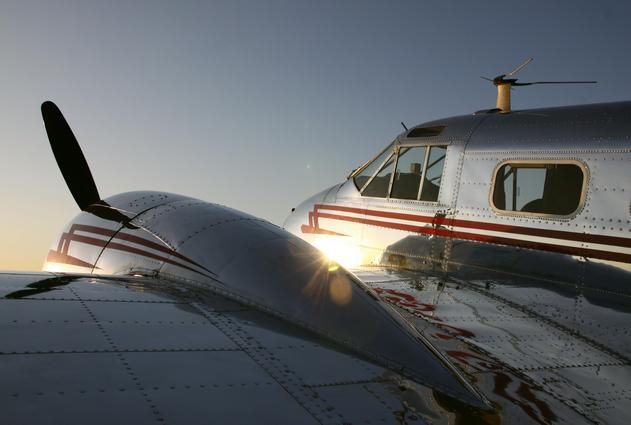 Thousands of rivets keep the Beech 18's curvy form intact.
Home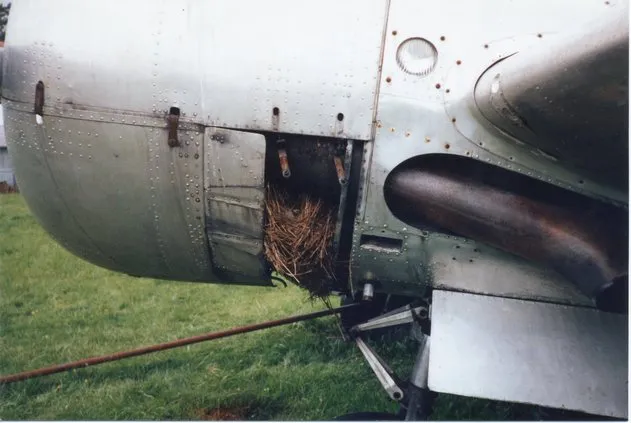 An owl family decided that the engine cowling of a Beech 18 in Kapowsin, Washington, is a fine place to nest.
U.S. Navy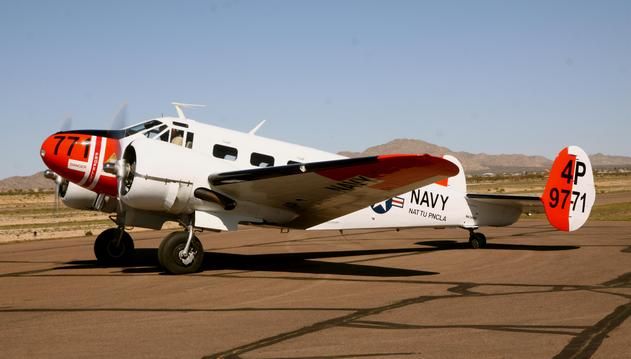 A Model 18 painted in the colors of a U.S. Navy craft honors the airplane's service as a military transport, the C-45 Expeditor, which was also flown by the U.S. Air Force.
Marketing Tool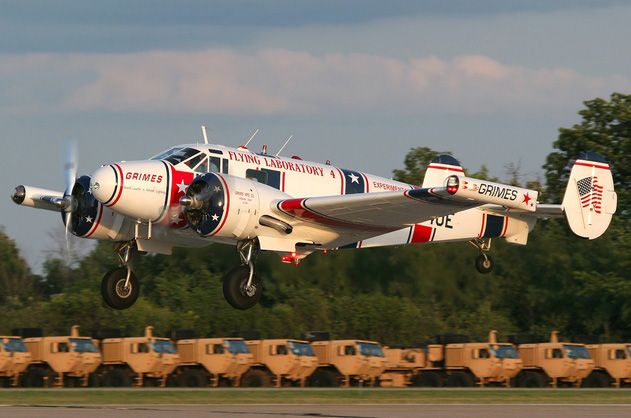 Equipped with a range of aircraft lighting products, the Grimes Company Flying Lab touches down at the EAA AirVenture in Oshkosh in 2009. This Beech served in the U.S. Air Force for a decade beginning in 1953 (designated as a C-45H) before being parked as surplus. Warren Grimes bought the airframe in 1963, and restored it as a marketing tool for his company's wares.
Mad, Mad World

A Beech 18 nearly clips an airport tower in this clip from the 1963 film It's a Mad, Mad, Mad, Mad World, in which an all-star cast competes to nab a fortune supposedly hidden by a thief in Santa Rosita State Park, near California's border with Mexico. In this scene, two of the characters have convinced a pilot to fly them to Santa Rosita in his Twin Beech, but the pilot prefers to mix drinks and is knocked unconscious to boot. The pair is eventually talked down by a group of air traffic controllers but not before a wild flight.