The Unrecognized First
Emory Malick, the first African-American pilot, wasn't known to historians until recently.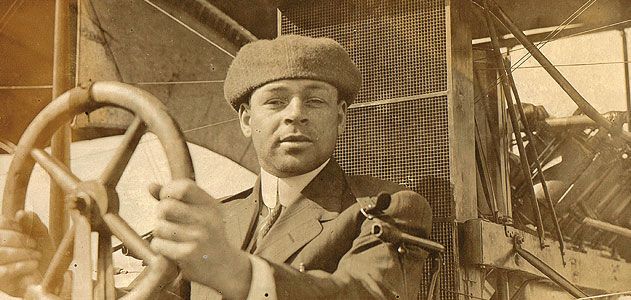 In 2004, Pennsylvania native Mary Groce was going through a box of family papers with her cousin Aileen when she found a sheet of old letterhead for an "Emory C. Malick, Licensee: Pilot No. 105." Included on the letterhead was a photograph of a handsome young man in a Curtiss pusher-type airplane.
Groce handed the letterhead to her cousin, asking: "Have you ever seen this photo of our great-uncle Emory?" She recalls her cousin's surprise: "Aileen looked at the paper and replied, 'Oh my God. He's black.' "
Since that day, Groce has been researching her great-uncle's story, and is now writing a book about him, which she hopes to publish next year. "I was never told about Emory or my mixed heritage," says Groce, "although this explains my brother's blond afro."
Her family's secrecy may also explain, in part, why Malick's historical significance has been lost. Emory Conrad Malick, who studied at the Curtiss Aviation School on North Island, San Diego, received his pilot's license in March 1912, when he was 31 years old, making him not only the first known African-American pilot, but also the first black person to get a pilot's license in the United States—some 14 years before aviator James Herman Banning, who was long thought to be the first. Once Groce has finished her book, she hopes to donate Malick's papers to the National Air and Space Museum. In the meantime, she has given the Museum copies of various items.
"We don't often collect copies of material," says Patti Williams, the Museum's supervisory and acquisition archivist. "We like originals, but this story is really intriguing. We love to collect anything on early minority pilots because there were just so few of them."
Of the information Groce has given the Museum, Williams says, "It changes our entire perception. Was Malick the anomaly? Or were there other minority pilots that we just don't know about?"
There's still a lot about Malick that isn't known, but Groce has discovered that before 1910, he built and flew his own gliders near the Susquehanna River. By 1914, reports Pennsylvania's Selinsgrove Times, Malick had purchased a biplane, which he flew over the town "to the wonderment of all…. [F]actories temporarily shut down to witness the novelty."
Malick later moved to Philadelphia, where he did aerial photography for the Aero Service Corporation and Dallin Aerial Surveys, and worked for the Flying Dutchman Air Service, which offered flight instruction, aerial photography, and passenger flights. Some of the family's papers indicate that Malick helped establish Flying Dutchman with Ernest Buehl, something Groce is hoping to confirm.
On a brisk March day in 1928 at a Camden, New Jersey airshow, Malick took two passengers for a quick hop in his Waco three-seater. They were barely aloft when the engine died. Malick banked to the left to avoid spectators; unfortunately, the wind caught the aircraft, and the Waco crashed. "The entire plane seemed to crumple as if it had been smitten by the fist of a giant," reported the Sunbury (Pennsylvania) Daily Item. The two passengers were injured.
Later that year, Malick crashed again—the cause isn't known—this time injuring himself and killing his passenger. He never flew again. He remained interested in aviation; at a flying club banquet, Malick displayed the 60-horsepower engine that powered his 1914 flight over the town. But the aviator refused all opportunities to go flying. Documents at the Snyder County Historical Society say that in the 1930s, when local pilots offered to take Malick flying, he would reply, "I had my fun, and now I'm done."
In December 1958, when he was 77 years old, Malick slipped and fell on an icy sidewalk in Philadelphia. He died in the hospital. With no identification on him, his body lay unclaimed in the morgue for more than a month, until his identity could be established.
Malick's sister—Groce's grandmother—was put up for adoption when she was two, and family history got a bit blurred. Now Groce is trying to recover information that was lost for two generations. When she does, we hope to learn more about this pilot.