The United Nations of Oshkosh
Flying. The other universal language.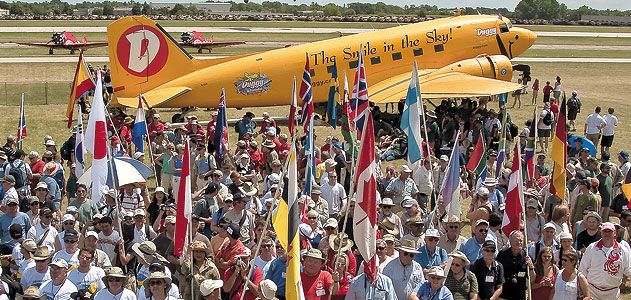 Melvin Pereira, a plane spotter from Costa Rica, was on a photo platform at the Experimental Aircraft Association's annual Oshkosh, Wisconsin fly-in, flanked by newfound friends from Australia, the Netherlands, Poland, South Africa, Uruguay, and several other countries, when a photographer from Iowa turned to him. "Sometimes," he said to Pereira, above the multilingual chatter in the background, "I feel like I'm not in the United States."
"We have invaded your country!" one on the platform shouted back.
Last year, 2,167 people from 66 foreign nations traveled to Oshkosh, an invasion that has grown in size almost every year since the EAA began registering international visitors in the 1970s. How did aviation fans from all corners of the globe learn about a mid-summer gathering in this small Wisconsin town? Many at the 2010 AirVenture can't recall where or when they first heard about Oshkosh, but it seems as much a part of their aviation consciousness as knowing that wings produce lift.
South Korean aeronautical engineer Won Bok Lee was a senior vice president for aircraft maintenance and manufacturing with Korean Airlines from 1969 to 1980. "I have visited quite often L.A. and Chicago area for business," he said, "and I heard about a big airshow in Oshkosh from the people I was working with." He has been coming to the show since 1983 and is now one of the volunteer instructors at a workshop on woodworking. "This is the land of dreams," he said. "Oshkosh is the best in the world!"
Fernando Perez-Canto, sitting next to the single-engine Maule he flew here from Venezuela for the second year in a row, termed the event "the Woodstock for our hobby," and Sergey Ryabtsev of Russia, an aviation enthusiast who overcame an intense fear of flying to travel aboard an airliner to the event, proclaimed Oshkosh "the spirit of aviation itself." One evening, as he prepared time-lapse photography of Elvis, the Eriksen Air-Crane heli-tanker, he said, "I'm ready to spend money, spend time, spend everything to be in Oshkosh."
"It's not like there's a formal initiation process," said Adam Smith, a transplanted Englishman and the EAA's director of membership. "But when you get involved with aviation, people talk about this amazing event. And it becomes clear if one wants to be truly accepted as an aviator, one has to get to Oshkosh."
As "the only international member" on the EAA's headquarters staff, Smith recognizes the fly-in's attraction for overseas visitors. "If I'm frank about it, America is not universally popular in other countries," Smith allowed. "In my homeland, people's opinions of America are generally cynical. And Oshkosh could be unique in my experience as being something about America that nobody is cynical about."
Most foreign visitors have attended airshows in their own or other countries, but the events are typically small and usually maintain a frustrating distance between the fans and what they go to see. "They don't let people get so near the airplanes," explained Portugal's Ivo Fernandez, while three friends did a giddy dance as the massive wing of a U.S. Air Force C-5A Galaxy being towed to its display spot passed over their heads.
Though visitors had all heard about the gathering before arriving, the reality—the size, number, and variety of events and activities, and seemingly endless rows of airplanes with owners happy to stop and chat (or use hand signals)—always trumps their imaginations. "It's mind-blowing," said Rodney Tink, a building contractor from Zimbabwe, on his third visit in as many years. "I knew it was going to be a big airshow. But I never, ever fathomed the magnitude of what it was."
The size can be intimidating to newcomers, especially to those who can't stop and ask just anybody for directions. To help foreign visitors find their way around, the EAA created in 1974 the International Visitors Tent, a hospitality center that is the first stop for many from beyond the borders. Some 30 volunteers speaking about as many languages greet and register visitors at the tent, and provide all the help a bewildered non-English-speaking first-timer could need.
"When I first started, people would just show up," said IVT chairman Michel Bryson, who volunteered 10 years ago to assist French speakers. "They wouldn't have arranged a place to stay, and of course every hotel room within 30 miles was booked. We'd put people in whatever spare bedroom or on whatever couch we could find."
Every year Bryson paints her fingernails with the flags of the 10 countries represented by the most registrants at the previous fly-in, so her fingertips reveal major migratory patterns: More than 100 citizens of France and of Germany always attend. South Africans number 200 or more, and some 250 Brazilians travel here each year. Predictably, Canadians form the largest contingent, with more than 500 registrants. But the second spot always goes to the group from farthest away: the Australians, who field 350 or more attendees, and were the first in appreciable numbers to make Oshkosh international.
"They find a way to get past any language barriers, anything religious or political," said Bryson, of the global villagers inside the cavernous tent. "Any issues that are major problems off the grounds don't even exist at AirVenture."
With so many foreign visitors returning every year, the activity in the international tent sometimes feels like a family reunion. One afternoon, Nuri Balsari, a private pilot from Turkey, rushed into the tent and made a beeline for volunteer Sylvia Fisher, seated under a sign listing the more than half a dozen languages she speaks, including Arabic, Greek, and Turkish. "I had to see her," Balsari said, relinquishing the 90-year-old translator from his embrace. "Now I am happy."
Fisher moved to Milwaukee from Cairo 60 years ago. Her brother, a pilot who remained in Egypt, visited her every summer, and one year, he asked to go to the big airshow he'd heard about. Fisher has returned every year since. "I'm looking forward to going again this year," she said. "It will be my 41st."
Some of the rarer languages can be handled by people living nearby, like Fisher (who long ago moved from Milwaukee to a town about 30 minutes south of Oshkosh), but now and then a visitor will require a language that stumps the cadre of volunteers. To find an interpreter, Bryson starts by calling local universities and translation services. She has also gotten help by contacting the local court system, which has a roster of volunteer interpreters to help at hospitals and police stations.
Not every international traveler has the means to make the trip to Oshkosh each year. Some, said Bryson, "have to save for an entire lifetime to make that one trip." She met such a visitor recently. He had been in the French air force and had served in the French Indochina war, the conflict that ended in 1954 and divided Vietnam in two. At Oshkosh, he ran into a fellow veteran. "They hadn't seen each other in 20 to 30 years," she said. "That one made the local news."
What is today the world's largest airshow began as a gathering of "experimental," or homebuilt, aircraft enthusiasts in Milwaukee in the early 1950s, led by EAA founder Paul Poberezny. By the early 1970s, enthusiasts in other countries were also forming associations for homebuilding and sport aviation. Australia had a community of enthusiasts, but its Civil Aviation Safety Authority wasn't as accepting of homebuilt aircraft as was its U.S. regulatory counterpart, the Federal Aviation Administration.
"It wasn't legal [for an individual] to build an airplane in their country, so I was asked to help with explaining it to their government," Poberezny said. He made several trips to Australia to help win CASA approval of homebuilts, "and when the sport aviation group learned more about our organization, they wanted to come to our national fly-in convention." That's how the International Visitors Tent began.
In 1974, the fly-in, by then relocated to Oshkosh, prepared an official welcome for a delegation from the Sport Aircraft Association of Australia, as well as guests from other nations. Eager to make them feel at home, the EAA advertised for volunteer hosts in the Northwestern, the local newspaper.
"They were looking for people who could speak foreign languages, or anybody who had ever lived in an English-speaking country like Australia or South Africa," recalled Nancy Martini, who had lived Down Under and—following her interview with the Oshkosh Chamber of Commerce—became the IVT's first chair.
The Aussies must have enjoyed the welcome. In 1981, they filled a Qantas 747 for the first of their periodic "Oshkosh Express" charter flights and landed at the town's Wittman Regional Airport with more than a dozen experimental aircraft in the cargo hold to display.
If the Australians represent the largest overseas contingent, the South Africans have a reputation for being the most boisterous. Their prime spot at Camp Scholler—a tent city of 40,000 that springs up during AirVenture—is the scene of nightly revelry, complete with a stage show and live music. South Africans first started traveling to Oshkosh in the early 1980s.
"We thought maybe we could get a free ticket to Oshkosh if we got enough people," said Neil Bowden one evening, explaining how the annual pilgrimage began.
Signifying their special status, the South Africans have the only permanent structure at Camp Scholler—a garden-shed-size hut to store their tents and camping gear. During the gathering, the hut becomes the temporary office for South African Pilot, a handsome glossy magazine. "The magazine was started right here," said publisher Athol Franz, hunched over a laptop computer inside the hut.
Of course many overseas visitors find their own way to Oshkosh. South Africans Mike Blyth and James Pitman flew here in a Sling, a light-sport aircraft they designed. The journey from Johannesburg took them 11 days.
For do-it-yourselfers, the last few miles can be the most difficult. International airline flights leave many in Chicago or Minneapolis, both more than 150 miles away. Oshkosh has no commercial air service, and commuter flights into Appleton, Madison, and Green Bay are limited and sometimes delayed or cancelled due to summer storms. Unfamiliarity with the area and the language has resulted in several hours on the road instead of at the show. The friends from Portugal, for example, booked rooms in Milwaukee, and each day were commuting three hours round-trip. "We didn't know this part of the United States," said one. "By seeing maps, we thought Milwaukee was close to Oshkosh, because in Europe, everything seems closer."
Almost all Brazilians travel to Oshkosh in a group, joined by South Americans from neighboring countries. The year after his first visit in 1982, lawyer Claudio Candiota began arranging Oshkosh travel packages. The Brazilians' bivouac at the University of Wisconsin dormitories—open for AirVenture participants when the facilities would otherwise be empty—is the scene of lively nightly "meetings," as Candiota calls them.
"The dorms don't have TVs, no telephones, so people get together and become friends," he said. "We talk about what we saw that day at the show while having a few beers—a typical pilot's daily chat."
Such has been Candiota's contribution to the number of visitors to Oshkosh that during AirVenture 2010, Oshkosh Mayor Paul Esslinger proclaimed a "Claudio Candiota Day." The official recognition hints at another important impact foreign visitors have at Oshkosh: an economic one. Many arrive with a shopping list and most leave with more than just memories. Though there are no statistics available on the economic boost generated by international visitors alone, they were part of a survey conducted by the University of Wisconsin at Oshkosh in 2008. The survey estimated that the event brought $110 million to the area that year. Event vendors also benefit.
"You'll see people with suitcases full of stuff," said vintage-aircraft expert Roy Fox beside the rare Compers Swift he brought all the way from Australia to display. "They come back with instruments and things like airspeed indicators, which are much cheaper here, so it makes the journey financially viable."
Candiota estimated at least 30 experimental-aircraft kits purchased at the airshow are under construction in Brazil, and noted that a few years ago his contingent's purchases wouldn't all fit in their ground transportation. "We had to rent an additional truck to carry the avionics and parts" to the departure airport, he said.
Spend a little time with the internationals and it's obvious the relationships forged here transcend borders and cultural differences. Many talk of visiting friends made here, keeping in touch by e-mail, and helping out pilots who tap into the international network when traveling abroad. And 2010 may have marked a new era in international relations, made possible by social media. Last spring AirVenture created a Facebook page, and several international visitors cited the Facebook connection as their impetus for coming. That's what brought the four Portuguese friends together here, and they said friends back home were now following their adventures via Facebook and Twitter, and were in turn vowing to make their own first trips to Oshkosh this summer.
James Wynbrandt, a pilot and writer, has attended every AirVenture since 1994 and writes for AirVenture Today, the show's daily newspaper.