The Two Memphis Belles
The romance behind the famous B-17's name.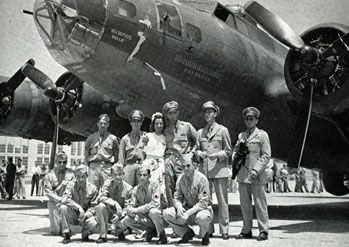 Margaret Polk sits at a table in her sunroom leafing through a scrapbook. It is a dreary winter day in Memphis. The backyard swimming pool is covered and the bird feeders are bare. "Those little bastards," she says, looking out the window. "I feed them all winter long and as soon as they start turning pretty, they fly away."
There is a hint of stubbornness in the set of her jaw, but her eyes have a mischievous gleam. As she leafs through the scrapbook it is difficult to recognize her as the 20-year-old girl in the yellowed newspaper clippings. But Margaret Polk, 47 years older and a lifetime wiser now, is the original Memphis Belle.
Margaret was catapulted into the public eye when her fiancé, Captain Robert Morgan, returned to Memphis from the war in England flying "her" B-17, the Memphis Belle. Morgan had named it after Margaret, and the city dutifully adopted both the couple and the bomber. Local bigwigs were on hand when it touched down at Memphis Municipal Airport on June 19, 1943, but Margaret was oblivious to the reporters assigned to cover her. When the Memphis Belle finally landed on that summer day and Bob Morgan jumped out to sweep Margaret into his arms, the photo of their embrace made the front page of the afternoon paper.
Margaret says that was the happiest day of her life. "All I could think about was that he was coming home and we were going to get married," she says. "But anytime the government gets involved they'll screw things up. And they wanted a romance, not a marriage." The wedding was postponed.
Margaret had met Bob the previous summer while visiting her sister in Walla Walla, Washington. To Margaret, he was just another pilot stationed at the airbase. But Bob was not to be ignored. Every morning he buzzed her sisters's house with his B-17. Weeks later, flattered but not swayed, Margaret drove back to Memphis to finish her senior year at Southwestern University. At home, a letter from Bob was waiting.
"My dearest 'Polky,' " it read. "I miss you 'little one.' I miss you more than you'll ever know or understand…. I know now that I have never loved before…. If we can't have OUR LIFE before the war is over I know I shall come to you afterwards, providing you still want me…. Write soon, 'little one.' I send you all the love in my heart. Forever yours, Bob."
That got her attention. When Bob sent a telegram a few weeks later to say he'd be in Jackson, Mississippi, that evening, Margaret drove all night to spend a few hours with him. They were engaged on September 12. Bob named his new B-17 the Memphis Belle, had one of Esquire's Petty Girls painted on its nose, and flew off to England. If he had named the bomber Little One, as he had originally intended, Margaret's life—and his—might have turned out quite different.
In the last months of 1942 the Allies sustained heavy losses in Europe, and American morale needed a boost. Every little victory made headlines. When the editor of the Memphis Press-Scimitar learned that one of the airplanes doing battle in Europe was named for a local woman, he immediately put a reporter on it. The next day pictures of Margaret and Bob were on the front page. "I about fainted," says Margaret, who came home from school and discovered she was famous.
From then on news about the Memphis Belle's victories appeared regularly. Margaret lost some 15 pounds waiting for cables, letters, and news from England. Then, on May 31, she received the cable she'd been waiting for. "SAFE TOUR OF DUTY COMPLETED FINGERS CROSSED ADORE YOU BOB." She started eating again.
As one of the first airplanes to complete its overseas missions and the star of a War Department documentary, the Memphis Belle and its crew were selected for a stateside tour. The second stop, after Washington, D.C., was Memphis, where the young couple would be reunited. When the airplane landed, Margaret was escorted to it by an Army Air Forces public relations officer. Quite unwittingly, and without compensation, Margaret had been drafted.
The Belle flew on to Nashville and the northeast states. Margaret was flown to Cleveland by Bob's pre-war employer to surprise him. Surprise indeed: he already had a date for the evening. Still, he swept Margaret into his arms for the cameras and insisted they get married on the spot. A store was opened so Margaret could buy a wedding dress, but she declined, envisioning a less frantic ceremony.
Margaret went home to Memphis and the Belle flew west. Her scrapbooks are full of newspaper clippings that show women clambering over one another to get an autograph from the handsome pilot of the Memphis Belle. She recalled that when Bob was in town, women called her house looking for him. "Some wanted to ask about their brothers who were still overseas," she says. "But some of them just wanted to flirt." She also learned that Bob had already been married.
On August 1, Margaret phoned him at the Brown Palace Hotel in Denver. "I don't remember what made me so mad," she says. "Some woman must have answered the telephone, or she must have come and talked to him while he was talking to me. But something happened." Margaret broke the engagement.
"I was just devastated," she says. "He may have tried to call the next day, but I went over to my friend's house. I remember sitting out on her front porch just crying my heart out."
Margaret also called her Army Air Forces contact. "He said, 'You can't break that engagement.' I said, 'Well, the hell I can't. I've already done it.' He said, 'You hold fire now, I'll get back to you.' Then he called me back and said, 'Well, don't you get it to the newspapers. Let's keep this under cover.' But it was too late."
A small item ran in the August 3 Memphis Commercial Appeal: "Wedding Bells Won't Ring Out for Memphis Belle and Flier." Within a week Bob was engaged to a woman in San Antonio. That too made the news, but the romance didn't last. Soon Bob was again begging Margaret to reconsider.
She needed more time, but the war wouldn't wait. By December Bob had a new assignment and a new airplane to fly in the Pacific. He wrote to Margaret and thanked her, on behalf of the whole crew, for allowing them to name the Memphis Belle after her. Then he married Dorothy Johnson of Asheville, North Carolina, his hometown. A year later he led the first B-29 raid on Tokyo in a bomber named Dauntless Dotty.
Margaret Polk still lives in Memphis, where the Memphis Belle is on permanent display. She occasionally shows up at the Memphis Belle Pavilion to sign autographs. Often she's asked if she's the girl in the bathing suit perched up there on the nose of the airplane. She's not, but she tells them she is—just to see their "little ol' mouths fall open."
"I'm still crazy about Bob," she says. In the 1950s Margaret married a traveling tractor parts salesman, but the five-year marriage never approached the intensity of the romance she had with Bob, who eventually divorced Johnson and remarried.
Still, Margaret says she and Bob are friends. A recent Christmas card from him reads, "Love bears all things, believes all things, hopes all things, endures all things. Love never ends." It is signed, "Past, present, future—love, Bob." "That Bob," Margaret says, shaking her head. "He could charm a snake."
—Elaine de Man
Margaret Polk died of cancer at her home on April 5, 1990, just after this story was published. She was 67. Robert Morgan died on May 15, 2004, in Asheville, North Carolina, of complications from a fall. He was 85. His wife Elizabeth Morgan had died in January 1992, and he remarried that August, under the wing of the Memphis Belle. Morgan's letters to Polk are now at Memphis State University.