The Things It Carried
How an unremarkable Convair C-131H transported cops, patients, prisoners, and Gerald Ford.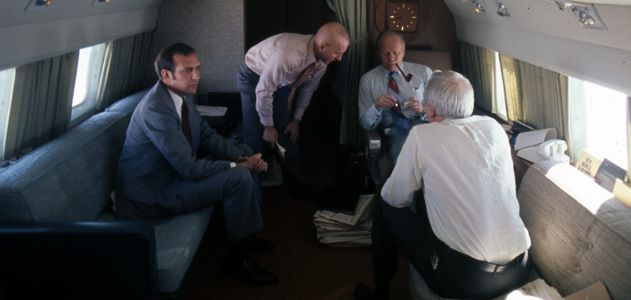 An aging C-131H with a stately past lifted off from an airfield in Saskatchewan, Canada, last spring on a most unceremonious mission. Leveling off at about 3,000 feet, the twin-engine turboprop dumped 1,750 imperial gallons of red-tinged flame retardant on burning pine and spruce forests in the province's northern reaches. Fifty-three years after rolling off an assembly line in San Diego, California, the Convair works as a "water bomber" for the Canadian government.
It's the latest incarnation for an airplane that once enjoyed the world's most famous call sign: Air Force One. Now it answers to the more prosaic Tanker 475. The Convair is a bare-bones workhorse, its executive seating having been ripped out decades ago. "From our standpoint, it's all extra weight," explains Steve Roberts, executive director of Saskatchewan's Fire Management & Forest Protection Branch, which bought the airplane in March 2006.
The hardy Convair has had a storied career of transport missions. Its 25,046 airframe hours include service with the U.S. Air Force, Navy, Department of State, and Marshals Service; the Peruvian National Police; and a Michigan cargo company. Among transports, it enjoys an exalted distinction: For at least a day, it was the presidential aircraft. On October 26, 1972, President Richard Nixon used it for a weekend campaign trip to Huntington, West Virginia, and Ashland, Kentucky. "I thought this airstrip was a little short," Nixon told the crowd at the Huntington airport. "That is why we had to bring the Convair in."
Its most frequent VIP customer, however, was Vice President Gerald Ford, who flew on it dozens of times from the fall of 1973 until he succeeded Nixon on August 9, 1974. As a reporter for Newsweek magazine, I'd been assigned to cover Ford, with orders to "live with him"; my editor was convinced the Watergate scandal, which had broken in the summer of 1972, would force Nixon to resign and that Ford would soon be president. It was an exhilarating experience for a 28-year-old rookie—but not because of Ford's airplane.
Those big, powerful Allison engines were unbelievably noisy, and the cabin wasn't exactly plush. With a range of 1,500 miles, the Convair couldn't get Ford to the West Coast without refueling. Even shorter day trips, which he favored, were excruciatingly slow. On an early flight, as the pilots engaged the engines, a Secret Service agent, poking fun at the airplane's lack of speed, yelled: "Quiet, please. Prepare to activate slingshot." From then on, the airplane was known as Slingshot Airlines.
Ford had mixed feelings about his little Air Force Two. In 1976, he inscribed a photo of the two of us chatting aboard his Boeing 707 Air Force One: "Sure does beat Air Force #2." Twenty years later, in another of our interviews, he jokingly called the Convair "that horrible airplane." Yet the Convair fit Ford's distinctly un-imperial style. He liked its lack of ostentation and the fact that it wasn't a gas-guzzler, like the big jets in the VIP fleet.
"That little plane was pure Gerald R. Ford: simple, comfortable, down-to-Earth, and reliable," says retired Colonel Bob Blake, Air Force assistant to Ford when he was vice president and president.
The Convair's registration plate lists its date of manufacture as September 20, 1954, and its serial number as 217. The Air Force christened it a C-131D and nicknamed it "Samaritan" because in its early years it was used for medical evacuations. A dozen years after joining the Air Force fleet, the airplane was outfitted with 2,900-horsepower Allison T56-A-4 engines and fancier interiors and converted to an executive transport. It (along with three other Samaritans) was redesignated a VC-131H and assigned to VIP transport duty at Andrews Air Force Base, Maryland, outside Washington, D.C. In 1978, after 24 years with the Air Force, the Convairs were transferred to the U.S. Naval Reserve. Two years later they were moved to Fleet Logistics Support Squadron 52 (VR-52) and then VR-48, based, ironically, directly across the runways from where they had been stationed at Andrews for 12 years.
"I fell in love with the aircraft," recalls former VR-48 commander Ryan Swah, now a FedEx pilot. "It was reliable, did a nice mission, and never broke down. But it vibrated a lot and sure was noisy."
In 1990, the squadron converted to McDonnell Douglas C-9 jets and transferred its three Convairs to the state department's Bureau of International Narcotics, where on February 1, no. 42815 began a new life as a drug interdiction transport. But not before the galley and the rest of its executive features were stripped out and replaced with industrial-strength seating for about 48 soldiers and drug enforcement agents. The airplane was re-registered N7146X.
Assigned to the state department's air wing at Patrick Air Force Base in Florida, the Convair flew missions in Belize, Bolivia, Colombia, Guatemala, and Peru. Because it was nominally under the control of the Peruvian National Police, the airplane became PNP-025. By March 1994, after the state department acquired bigger and faster jets, the Convair, now painted light gray with black trim, was retired and flown to the boneyard at Davis-Monthan Air Force Base, outside Tucson, Arizona. In late 1995, Ford's airplane was acquired by the justice department's U.S. Marshals Service, which transports thousands of prisoners and illegal aliens each year.
"It didn't cost a cent," says Dick Rake, now chief pilot for the marshals' Mesa, Arizona office. The General Services Administration, he explains, "was getting rid of it, and gave other government agencies first crack at it. It was a beautiful airplane, in surprisingly good shape."
The Federal Aviation Administration re-registered the aircraft N723ES. Even so, the Marshals Service needed only one airplane, and its other Convair had logged fewer hours. So Ford's airplane stayed parked in the desert another four years, partially cocooned in sealant to protect its windows and engine nacelles.
In 1999, the airplane finally was rescued from oblivion by IFL Group, a Pontiac, Michigan cargo outfit that bought it and two other 580s at a government auction for slightly more than $1 million. An IFL team drained the preservatives from the Convair's fuel and oil systems, changed filters, and installed an avionics ferry package to fly it home.
"Overall, it was in reasonably good shape," says IFL's Mark Bunner. "The engines were in good condition. The props had aged but were functional." All that remained of the interior was military-style "parachute" seating along the bulkheads. As it turned out, the new owners never flew it. The airplane wasn't certified for commercial service, and the retooling costs were prohibitive. It sat in Michigan for seven years.
In the spring of 2006, the Saskatchewan government bought the airplane and began remanufacturing it for firefighting. Overhauled at Kelowna Flightcraft in British Columbia, Tanker 475 had its front door and most of the windows removed and was upgraded with new avionics, wiring, hydraulics, electronics, Allison D-22 engines, and yet another registration: C-GSKQ.
Last fall, the airplane was flown to Abbottsford, British Columbia, where a tank for flame retardant was mounted on the belly before it flew to its new home at La Ronge, near Saskatchewan's forests. There it joined two other C-131Hs used as water bombers. All the work at Kelowna, which converted Ford's airplane into a CV580a, has extended its life. "We intend to use these aircraft for another 20 years," says Roberts. He cites the reliability of the airframes, the relatively low number of flight hours when purchased, and the low operational use projected for the fleet: typically 100 flight hours a year for each airplane.
So three-quarters of a century later, the one-time flying ambulance and hauler of presidents will come full circle, ending its career as a first responder.