The Six
If Lockheed's Constellation was the hare, the Douglas DC-6 was the oh-so-reliable tortoise.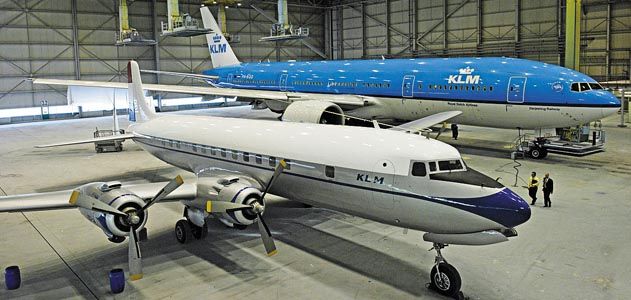 One of the last three Douglas DC-6A Cloudmasters off the line in 1958, the airplane known to its present owners as The Six has entered the most glamorous stage of its storied career: an era of flying for admiring crowds and appearing in big-budget movies. It wasn't always so.
The aircraft got its first major assignment in 1959 with Eagle Airways (later changed to British Eagle), which needed a fuel-efficient workhorse. Working for the airline, the DC-6 had an adventurous youth: It shuttled military personnel home from British H-bomb tests on Christmas Island; it carried men and equipment to Australia as part of the United Kingdom's first rocket programs; and it flew some of the first holiday-package air routes, taking skiers to Innsbruck and sunbathers to Nice. "She's kind of part of every really interesting facet of postwar British society development," says Julian Firth, a pilot with the airliner's present owner, Air Atlantique. "She's got hooks in everything."
While the DC-6's tube-with-wings design lacked the shapeliness of its chief competitor, Lockheed's triple-tail, porpoise-body Constellation, as well as the speed and range of its follow-on, the DC-7, its excellent operating costs and reliable Pratt & Whitney R-2800 engines endeared it to airlines. "The DC-6 was the apex of the development of the piston-engine airliner," says Bob van der Linden, chairman of the National Air and Space Museum's aeronautics division. "The DC-6 was in service long after the Constellation was out of service, and that's because of the engines." Even after jets replaced piston engines, smaller operators continued using DC-6s; around 15 still fly today, mostly in Alaska as cargo craft.
Unfortunately, DC-6s also started a few fires. When fuel was transferred between tanks, it could overflow, get sucked into the air intake scoop of the cabin heater, and ignite. After two such fires, the airplane was given a different fuel system.
In 1964, British Eagle sold the DC-6 to Saudi Arabian Airlines. The airplane was later given to Yemen Airways. In 1987 it was sold to Air Atlantique. The company, which had started as a hangar operator, evolved to offer air taxi, oil spill cleanup, and cargo services. By 2004, faced with cheaper competition from Eastern European companies, Air Atlantique withdrew The Six from cargo operations; today the company operates a "safari park for classic aeroplanes" in Coventry, England, and offers pleasure rides in vintage aircraft. In 2006, Air Atlantique started a rejuvenation program to help give The Six a new career as well: star of movies and airshows.
Firth estimates that the spruce-up, performed in the Coventry hangar and overseen by vintage-aircraft restorer Ben Cox, took about two years and $1 million. But, he points out, "That's essentially just maintenance dollars—we're not talking about a major overhaul here. This is work to keep a good old girl flying." Some adjustments were made to please a photo-taking airshow audience, like replacing a flap selector valve that leaked, causing the flaps to droop after a few hours on display. Air Atlantique also replaced the horizontal stabilizer and corroded fuselage panels.
Air Atlantique owns a second DC-6 that it can temporarily cannibalize for parts, but Firth says the group still spent time scouring the world for replacements, hoping to keep both airplanes airworthy. Since smaller parts like brake pads and tires are in increasingly short supply, DC-6 operators trade among one another.
The Six made its movie debut in 2006's Casino Royale, posing in the background as James Bond thwarts a plot to blow up an aircraft prototype. The Six next appeared in 2008's Bride Flight, portraying a a KLM DC-6 flying a race while carrying young Dutch women from London to New Zealand to be married. The Six also has a burgeoning airshow career. Last summer, it was guest of honor at the British Eagle employee reunion at the Farnborough Air Show. Because 2008 was its 50th birthday, Air Atlantique dressed The Six in its original red-and-white British Eagle livery. Says company archivist Eric Tarrant, "To see the great Eagle symbol airborne again certainly brought a lump to my throat."
Air Atlantique plans yet another life for The Six: It will fit the interior for about 40 passengers so the aircraft can reprise an older role: as a tourist airplane, perhaps meeting up with the Orient Express train in Italy to fly passengers home.
The aircraft has to be flown by a traditional pilot-copilot-flight engineer crew. Though DC-6 has hydraulics for operating systems like brakes and landing gear, its flying controls are completely manual. Firth, who has flown it for 14 years, says the airplane is easy to fly and "an absolute joy." The cleanup didn't change her classic handling a bit. "She's the same plane underneath," he says, "and for me that's the great thing."
Kara Platoni is a freelance writer based in Oakland, California.