The Shuttle in a Different Light
The space shuttle glows in photographs taken by one of its own technicians.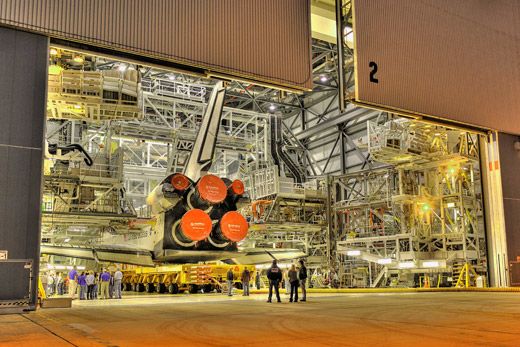 On a normal work day at Florida's Kennedy Space Center, you can find Larry Tanner replacing tiles and other insulation on NASA's space shuttle vehicles as an employee of United Space Alliance, the contractor that operates the shuttle for NASA.

In his spare time Tanner is a photographer, often shooting Little League games for the local newspaper, Florida Today. Not surprising, then, that he recently combined his passion for work with his talent for composing pictures to create these dazzling images of shuttle orbiters Atlantis and Endeavour being prepared for launch.

In this image, Endeavour leaves one of the Orbiter Processing Facilities at Kennedy on April 10, 2009, on its way to serving as a rescue vehicle for the STS-125 Hubble servicing flight, then launching on its own STS-127 Space Station assembly mission. Tanner's bosses at USA allowed him to use his personal camera to shoot the orbiters on a day when the press corps had already taken their own photos.

As far as Tanner knows, these are the first pictures of the shuttle on the launch pad using a technique called high dynamic range, whereby seven frames are shot in a single second at different exposures, then combined to produce a single image showing stunning detail and variety of light.

Having worked on the shuttle for five years, Tanner sees in the detailed HDR pictures a side of the vehicle that he and his co-workers see up close all the time, but outsiders rarely suspect: "Look at the ship, how beat up and banged up and patched together it is," he says. "People don't see that. They have no idea." As he talks, his pride in the 30-year-old vehicles, and the care he and his co-workers take to prepare them for every flight, is evident.

Click here for a full-size version. And see the gallery below for more of Tanner's HDR photos.