The Power of 25
Think of it as a crash course in aeronautical trivia.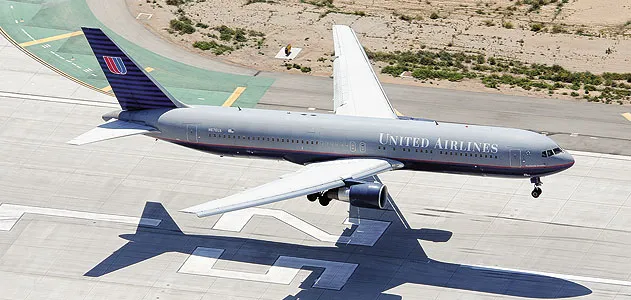 A 25th anniversary collection of tidbits, tales, and trivia from around the world of air and space to help you win that next bar bet. (There--we said it in 25 words.)
— The Editors
By the Rules
Without Part 25 of the Federal Aviation Regulations, airline passengers might feel a little less confident in the safety of their ride. You may be relieved to know, for example, that each critical "removable bolt, screw, nut, pin, or other removable fastener" on your airliner "must include two separate locking devices." The FARs are rules that govern all aviation activity—from commercial airliners to model rockets—in the United States. In covering airworthiness standards for transports with a maximum takeoff weight greater than 12,500 pounds, Part 25 applies to Boeing's 737 and later types, and the Airbus A300 series, airliners certified since February 1, 1965, when most of the FARs were instituted.
The 25th Pilot
We're not certain who made the 25th airplane flight. Trying to find out would probably just lead to arguments about who flew how far and when, who was there to observe it, and what qualifies as an airplane anyway. But we do know who got the 25th pilot's license in the United States: Phil Parmelee, a member of the Wright brothers' exhibition team, who was issued license no. 25 by the Aero Club of America in 1910, before government agencies required official certification for airplane pilots.
When NASA Grew Like Kudzu
NASA's head count hit 25,000 in 1963, during Project Mercury. Just five years earlier, when its predecessor, the National Advisory Committee for Aeronautics, was created, it had only 8,000 employees. NASA reached its peak employment in 1967 with 35,800 workers and 375,000 contractors for the Apollo moon landing program. Today, the space agency employs 18,000, with a contractor force of about 40,000.
Crowded Field
In 1928, 25 years after the first airplane flight, aircraft were being mass-produced around the world. Here are 25 of the manufacturers:
Albatros-Flugzeugwerke (Germany), Blériot-Aéronautique (France), Boeing (U.S.), Breguet (France), Bristol Aeroplane (U.K.), Caproni (Italy), Consolidated Aircraft (U.S.), Curtiss (U.S.), de Havilland (U.K.), Douglas (U.S.), Fairey Aviation (U.K.), Farman (France), Fokker (Germany), Gotha (Germany), Handley Page (U.K.), Hawker (U.K.), Junkers (Germany), Morane-Saulnier (France), Nieuport (France), North American (U.S.), Polikarpov (Soviet Union), Short Brothers (U.K.), Supermarine Aviation Works (U.K.), Travel Air (U.S.), Vickers (U.K.)
It's Elemental
Manganese, a silver-gray brittle metal, is the 25th chemical in the periodic table of elements. When small amounts of manganese are combined with aluminum—a lightweight metal ideal for the construction of aircraft—the resulting aluminum-manganese alloy has a much higher tensile strength than pure aluminum, so it is ideal for standing up to aerodynamic stresses. Manganese also makes aluminum less vulnerable to corrosion. The manganese-aluminum alloy, which first appeared in airplane production around 1917, has been used frequently in the manufacture of aircraft fuel tanks, fairings, and oil tanks.
You're Cleared for Runway 25
If you're flying to Los Angeles, Anchorage, Moscow, or Karachi, you'll find the number 25 at the airport: All of those cities have airports with southwest- heading runways. Runways are numbered according to their compass heading divided by 10; for example, a runway pointed due north (360 degrees) is numbered 36. Runways numbered 25 are at 250 degrees on the compass, between due south (180) and due west (270). These airports have parallel left and right runway 25s:
Los Angeles International, California (International Air Transport Association identifier LAX), Hong Kong International/Chek Lap Kok, China (HKG), Phoenix Sky Harbor International, Arizona (PHX), Phoenix Deer Valley, Arizona (DVT), Daugherty Field, Long Beach, California (LGB), Brussels, Belgium (BRU), McCarran, Las Vegas, Nevada (LAS), Livermore Municipal, California (LVK), Ted Stevens Anchorage International, Alaska (ANC), Frankfurt am Main, Germany (FRA), Addis Ababa Bole International, Ethiopia (ADD), Daytona Beach International, Florida (DAB), Barcelona/El Prat, Catalonia, Spain (BCN), Tan Son Nhut International, Ho Chi Minh City, Vietnam (SGN), Soekarno-Hatta, Jakarta, Indonesia (GCK), Sheremetyevo International, Moscow, Russia (SVO), Compton/Woodley, Compton, California (CPM), General Mitchell International, Milwaukee, Wisconsin (MKE), Jinnah International, Karachi, Pakistan (KHI)
How Much for That?
In the 1960s, 25 cents could buy you a North Pacific Sleek Streek balsa wood, rubber-band-powered model airplane (the kind with wheels). Today, for $25 you can buy a used Piper Seminole flight manual, while $250 will get you a used Beechcraft Musketeer cabin door. Spend $2,500 and a used Piper J4A engine cowl and nose bowl is yours. A used glider in top condition might cost you $25,000, while a Cessna 172 will set you back about $250,000. Still, that's a pittance compared to NASA's $250 million "water recovery system," which recycles urine, sweat, and wastewater aboard the International Space Station.
Up, Up, and A…wheeeeeeeeeeee!
Above 25,000 feet, the jet streams run—swift air currents that air travelers abhor on westbound flights and adore in the other direction. Balloonist John Wise was the first American to understand their usefulness; he wrote in the 1850s of a great river of air he hoped would one day carry him across the Atlantic. Record-setter Wiley Post was the first to exploit them in an airplane. In 1935, he reached a ground speed of 340 mph in his Lockheed Vega (which ordinarily had a top speed of 185 mph), proving that altitude was key to speed. Two years earlier, four British adventurers in two Westland open-cockpit biplanes flew over 29,000-foot Mt. Everest, and were almost slapped into the mountain by winds of 60-plus mph. In January 2004, astronauts on the International Space Station got a gander at what the British airmen might have faced: a nine- to 12-mile-long snow plume from the peak of Everest caused by winds associated with the East Asian jet stream. During World War II, based on a meteorologist's 1920s measurements of strong westerly winds, the Japanese military sent bomb-carrying balloons to ride the jet stream across the Pacific to the United States. Of 9,000 balloons, only one reached a target, killing six on an outing in Oregon. The U.S. military also consulted meteorologists during the war, as B-29s flew at high altitudes to Tokyo and other Japanese cities, getting a boost from healthy tail winds on their return flights.
25 Ways to Crash an Airplane
As a service to everyone from student pilots to transport crews to passengers who are tapped to land an airliner when the crew eats bad fish, Air & Space presents 25 actions to avoid (which unfortunately others did not) to ensure the aircraft stays right side up.
1. Fail to remove gust locks from ailerons.
Crashed: Helio Aircraft LTD H800, Sept. 1, 2004, Fossil, Oregon
2. Neglect to lower the landing gear.
Crashed: Piper PA-31-350, Dec. 8, 2010, King Island, Tasmania, Australia
3. Enter an active runway while another aircraft is taking off or landing.
Collided: Boeing 727 vs. Douglas DC-9, Dec. 3, 1990, Detroit Metropolitan Airport, Michigan
4. Take off with a bird or insect nest in the engine.
Crashed: Piper PA-18-150, July 15, 2008, Surfside Beach, South Carolina
5. Leave a gas tank cap slightly ajar.
Ditched: Cessna A150K, Mar. 12, 1986, Hanakuli, Hawaii
6. Take off with water-contaminated fuel.
Crashed: Piper PA-18, Aug. 1, 2007, Anaktuvuk Pass, Alaska
7. Fill the fuel tanks of a piston-engine aircraft with Jet A.
Sank: Cessna 340, Jan. 2, 1983, Monterey, California
8. Fly into instrument weather conditions without knowing how to fly on instruments.
Crashed: Piper PA-28-160, Jan. 4, 2009, Indiana, Pennsylvania
9. Make too steep a turn onto the base leg of the runway approach at too slow a speed. Crashed: Cirrus SR22, Feb. 2, 2008, Lindsay, Oklahoma
10. Fail to push the oil dipstick all the way back in.
Crashed: Piper PA-31 Navajo, Nov. 8, 2005, Ankeny, Iowa
11. Turn back to the runway you just took off from when the engine quits.
Crashed: Vans RV-6, Oct. 28, 2006, Turlock, California
12. Overload the aircraft with parachutists who bunch up in the aft fuselage.
Crashed: Fletcher FU-24-954, Fox Glacier, South Westland, New Zealand, Sept. 4, 2010
13. Fail to remove debris or ice from the static port, resulting in inaccurate altimeter, airspeed, and vertical speed readings.
Emergency landing: Boeing 717-200, May 12, 2005, Union Star, Missouri
14. Take off in an aircraft in which the linking mechanisms for the ailerons have been reversed. Crashed: Spectrum 33, July 25, 2006, Spanish Fork, Utah
15. Land long on a short runway with a tailwind.
Landing gear collapsed: Mooney M20B, Aug. 25, 1990, Glenwood Springs, Colorado
16. Take off or land during a microburst.
Crashed: Lyons Navajo HKS, Aug. 6, 2008, Waterville, Washington
17. Take off or land a light aircraft in the wake turbulence of a departing jet.
Ground-looped: Piper PA-18, Aug. 9, 2009, Aspen, Colorado
18. Watch sunlight flashing through a spinning propeller and experience flicker vertigo, which can cause disorientation or loss of consciousness.
Ran off runway: Grumman American AA-5B, Nov. 1, 2008, Bridgeport, Connecticut
19. Enter "hot" (active) military airspace.
Crashed: Bell AH-1, Lockheed HC-130, Oct. 29, 2009, off the southern California coast
20. While making a constantrate turn in instrument conditions, move head abruptly, creating the Coriolis illusion of the aircraft simultaneously rolling, pitching, and yawing.
Crashed: Beechcraft Super King Air 200, Feb. 6, 2007, North Caicos Airport, British West Indies
21. Flirt with towering cumulonimbi.
Crashed: Beech 35-B33, Nov. 30, 2008, Homosassa Springs, Florida
22. Take off with frost on the wings.
Crashed: Cessna TU206, May 6, 2009, Bethel, Alaska
23. Inadequately secure a single-engine aircraft before hand-starting it via the propeller.
Ran into airport fence: Piper PA-15, Nov. 30, 2008, Pleasanton, Texas
24. Have a few beers before flying.
Emergency landing: Boeing 717-200, May 12, 2005, Union Star, Missouri
25. Begin any maneuver with the words, "Hey, watch this!"
Way Faster Than a Speeding Bullet
Mach is a relative measure (affected by air density and temperature); in the upper reaches of the atmosphere, Mach 25 is about 17,500 to 19,000 mph. According to a landmark study by DARPA (Defense Advanced Research Projects Agency), the theoretical upper limit of a scramjet is Mach 25. At that speed, a scramjet could take off, reach an altitude of 47 miles, and have enough momentum to glide into orbit around Earth. The space shuttle and most man-made satellites orbit Earth about every 90 minutes, which translates to an orbital velocity of Mach 25.
The 25-and-Under Club
Some airplanes were so special, expensive, or complex that their production runs fell short of 25 airplanes. Some examples: The 1950 Northrop YC-125 Raider utility transport (23 built); the 1970s-era Aérospatiale-British Aircraft Corporation Mach 2 Concorde airliner (20, with 14 entering service) and its Russian counterpart the Tupolev Tu-144 (16); the 1931 Northrop Alpha (17); the 1929 Lockheed Model 8 Sirius (15); the 1960s-era Lockheed A-12 (16); the 1955 Martin P6M SeaMaster (12), and the 1938 Boeing 307 Stratoliner (10).
Twinkle, Twinkle Little Satellite
The 25th satellite to reach Earth orbit, Echo 1, was launched on August 12, 1960. The enormous metallic balloon (also called a "satelloon") was an experimental NASA communications satellite that functioned as a passive reflector of microwaves, redirecting telephone, radio, and TV signals. It was the first to successfully demonstrate the potential of communication satellites. Because we are sticking to official satellite launch records, we must reluctantly ignore 1957's Project Thunderwell, in which, several months before Sputnik's launch, an explosion inadvertently sent a four-inch-thick steel plate (part of an underground nuclear test in Nevada) into orbit.
Is Everybody In?
The first craft to get 25 people into the air at once was Henri Giffard's huge tethered balloon, which in 1878 lifted 52 giddy Frenchmen and -women at the World's Fair in Paris. For powered airships, it was the Zeppelin LZ11 Viktoria Luise, which first flew in February 1912, and could carry 25 passengers and a crew of eight. And for powered airplanes, Germany's Claudius Dornier created the 12-engine, 157-foot-wingspan Do X flying boat, which broke through the 25 mark with 66 passengers. Its first test flight was in July 1929. In October of that year, it hoisted 169 people off of Lake Constance on the border of Austria, Germany, and Switzerland. The current record for most aboard was set during Israel's evacuation of Ethiopian Jews from Africa in May 1991 in a cargo version of a Boeing 747: 1,122 people—including two babies born on the flight.