The People and Planes of Flabob
This California airport is hallowed ground for homebuilders and Hollywood stunt pilots alike.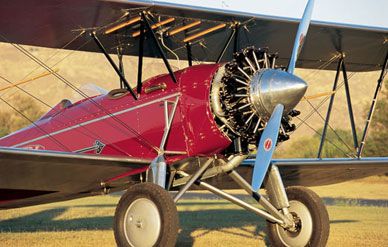 FROM THE AIR YOU CAN CLEARLY SEE THAT THE NEW FLABOB AIRPORT is taking over the old one. Lines of shiny new hangars have sprouted among the old buildings, and the runway, taxiways, and ramps have a fresh look to them.
The old Flabob started its life in 1943, when pilot Flavio Madariaga and his business partner, Bob Bogen, purchased a dirt airstrip nestled between the small town of Rubidoux and the city of Riverside in southern California. The two men combined their first names to create "Flabob," but it was Madariaga's personality and talent that shaped the airport. For 40 years he built it up, often with his own hands, making it a mecca for people who are passionate about building and flying airplanes. When Madariaga died in 1984, his son, Don, took over.
During the next 16 years, Flabob fell on hard times and seemed destined for closure, but in 2000, as a new century began, so did a new Flabob. The Thomas Wathen Foundation, founded by Thomas W. Wathen, the former head of the Pinkerton security company, purchased the 82-acre airport, saving it at the 11th hour from commercial real estate developers. Today, the Wathen Foundation uses the newly renovated airport and its resources for educational programs, enlisting aviation to teach science, math, and technology to young people. And a small general aviation community still calls the airport home.
Despite all the spiffing up, Flabob still has a vintage charm, thanks in large part to Madariaga's wheelings and dealings. Not only a master machinist and a skilled pilot, Madariaga was also a brilliant scrounger who bought, sold, and traded airplanes—and nearly everything else. An old gas station canopy that he salvaged still serves as an open-air shelter for aircraft. And he once paid a dollar for a building that had housed a defunct nightclub and moved it to the airport, where he reopened it as a nightclub, restaurant, and social center.
Once, while flying over the southern California desert, Madariaga spotted some men stacking what looked like lumber, so he landed his Stearman to see what they were doing. It turned out that the area had been a training ground for General George S. Patton's U.S. Army tank corps in 1942. The men had purchased as surplus the wood from crates in which the tanks had been delivered. It was high-grade, one-inch oak, and Madariaga tried to trade the Stearman for it, but the men said they didn't know how to fly. Madariaga then threw in free flying lessons, closing the deal on the spot.
Don Madariaga (one of Flavio's four children) recalls the airport's spartan beginnings: "The old plowed-out runway was about 200 yards long. Only one building was there: the original hangar. When we first moved here, Dad put up a circus tent [which the family lived in] on a horse ranch next to the airport property. We were there for about a year until he could build a house." His dad, says Don, also constructed movie props for the film industry. "He made the vines that Tarzan used to swing on," says Don. "There was a big pond there with an overhanging tree, and he built a Tom Sawyer raft and the vines like he built for Tarzan, and we as kids used to swing on them."
When some buildings at nearby U.S. Army Camp Hahn were declared surplus, Madariaga tried to buy them, but rules stated they could be sold only to farmers and clergymen. Madariaga decided to pose as a farmer. "He did have a dog and a horse but that wasn't enough," says Don. "So he went and bought a donkey by the name of Napoleon and a wagon on the other side of town, and we hooked [the wagon] to the bumper of the car and towed it back to the airport. And I'd swat the donkey on the fanny, while dad was driving the car, to keep him moving [alongside the car]. Then he bought some chickens." The government finally agreed that Madariaga looked like a farmer, and he bid successfully on the buildings and moved them to the airport.
One of the buildings still houses the Flabob Airport Café, which has remained the social and communications center of Flabob. Open seven days a week from 7 a.m. to 3 p.m., the café's walls are covered with photographs of pilots and vintage airplanes. Scale model aircraft hanging from the rafters stir gently in the draft from ceiling fans. Waitresses bustle by delivering cheesesteak sandwiches and biscuits with sausage gravy. The café is a portal to the old Flabob.
In a back corner, black-and-white photographs show Madariaga and his wife Bertha, or Bert, as everyone called her, posing by various aircraft. She is beautiful. He is movie star handsome, a cross between Clark Gable and Gilbert Roland.
Situated some 50 miles east of Los Angeles, Flabob has long drawn aviation folks connected to the film industry. Legendary stunt flier Frank Tallman, who flew an airplane through a billboard in the 1963 movie It's a Mad, Mad, Mad, Mad World, had a hangar here in which he restored military aircraft to appear in movies. Tallman later hooked up with movie pilot Paul Mantz, who specialized in flying through buildings, and in 1961 the two founded Tallmantz Aviation at what is now known as John Wayne Airport, in Santa Ana, California.
For a while the Tallmantz payroll included aerobatic pilot Art Scholl; he later started a production company at Flabob, producing aerial photography and flying sequences for movies and television shows. Scholl was also a veteran airshow pilot, flying the Pennzoil Special, a highly modified de Havilland Super Chipmunk that is now on display in the National Air and Space Museum's Steven F. Udvar-Hazy Center in Virginia. (In 1985, Scholl, 53, died while filming an aerial sequence for Top Gun: After putting a Pitts S-2A into an intentional spin, Scholl never regained level flight and the airplane plunged into the Pacific.)
Some people have been around the airport so long that they seem to be part of the infrastructure, and they can fill you in on the rest of Flabob's history. Ray Stits, a pioneer in homebuilt aircraft, arrived here in March 1951. He was already well known for building the world's smallest monoplane, the Stits Junior, which he made because somebody told him he couldn't do it. Its wingspan is eight feet, 10 inches.
Once at Flabob, he outdid himself with the Stits Sky Baby, the world's smallest biplane, which has a seven-foot, two-inch span. Over the years at Flabob, Stits designed 14 aircraft for homebuilders.
"Flavio built this place from scratch," says Stits. "You had to check for wild stray dogs and cattle on the runway. There were four hangars here and a little cement-block office building. I got an empty hangar, doors [missing]. Okay, I can get that for 15 dollars a month? Here's my 15 dollars."
Stits was responsible for the Experimental Aircraft Association being organized by chapter. In 1953, he heard that somebody named Paul Poberezny in Hales Corner, Wisconsin, was starting an organization for homebuilders. He inquired about it. "Got a letter back," he says. "Two pages of bylaws. Thought about it for a couple of weeks, and it was five dollars membership. And, okay, here's my five dollars. Let's change the bylaws to provide for a West Coast chapter." Poberezny agreed, but said that Stits had to get 10 members signed up. "Got nine other people," says Stits. "Wrote back and said, 'Okay, you got Chapter One.' "
Today, the EAA has almost 1,000 chapters worldwide, and Chapter One, which held its first meeting in 1954, has more than 500 members, many of whom live in other states and pay dues just so they can say they belong to it. A group of dissident Chapter One members formed another chapter at Flabob a few years ago—Vintage Aircraft Association Chapter 33. The two chapters are now friendly, but each sponsors its own fly-in. Chapter 33 holds one with an open house in May; Chapter One hosts its event in September.
In 1971, after it had taken him four and a half years to get his Skycoupe certified by the Federal Aviation Administration, Stits gave up the airplane design business. "I had 15 employees then," he recounts, "and I would have [had] to start selling 90 airplanes a month to break even on it." Meanwhile, he had turned to developing a fire-retardant airplane fabric covering. He came up with Poly-Fiber, which today is the largest business at Flabob. At 83, Stits still flies his 1975 Cessna 182.
Stits' presence at Flabob drew others interested in aircraft design, including Ed Marquart, a private pilot who arrived from Pennsylvania in 1955. "I had heard about Flabob and Ray Stits through the EAA publications," he says. "I went to work for Ray…for about a year and a half, doing tooling, welding, and setting up fuselages." While still working for Stits, Marquart worked nights and weekends on an airplane he had designed himself. He called it the Marquart MA-3. It turned out to be the predecessor to the popular MA-5 Charger, a graceful, swept-wing, two-place, open-cockpit biplane for which about 450 sets of plans have been sold. Of those, 100 are being built, and 85 are flying.
Marquart's hangar is chock full of future projects. One is the fuselage of a 1929 Driggs Skylark biplane, one of only 21 ever built. He swapped an MA-4 kit for it with a man from Kentucky, who agreed to bring the fuselage across country on a trailer. Says Marquart: "I haven't finished this yet, and he hasn't finished the MA-4 yet, and that was about 1968."
Clayton Stephens has hung around Flabob longer than just about anybody else. He learned to fly here in 1945, and logged a lot of time on Civil Air Patrol searches. Stephens and a fellow CAP pilot, George Ritchie, built a business at the airport fixing up airplanes and reselling them. When Ritchie's wife Margaret showed an aptitude for aerobatics, they worked together with Marquart to modify a Taylorcraft high-wing monoplane for her. But the modified craft couldn't match the performance of the Pitts biplanes frequently used by aerobatic pilots, so Stephens and Ritchie built the Akro. It was the first low-wing monoplane constructed in the United States especially for aerobatics. With the Akro, Margaret Ritchie won the national women's aerobatics title in 1966. The canopy was designed to accommodate Ritchie's beehive hairdo, and when she was killed while flying the Akro in 1969, the sturdy little aircraft was cut into pieces and buried with her.
For a few years, Stephens continued to sell plans for Akros. "There were a couple dozen made, and newer variations of it are still in competition," he says. The late Leo Loudenslager, a seven-time U.S. National Aerobatic Champion, modified an Akro to create the Akro Laser 200, which is now on display at the Steven F. Udvar-Hazy Center.
Look out on Flabob's ramp and you might see Bud Bell tooling up in his restored World War II Jeep. He and his wife Joyce seldom miss breakfast at the café. Bell was a soldier stationed in Europe, with Patton's Third Army. "I figured after being in the Battle of the Bulge with all that freezing snow, I didn't want any more winters so I came out here," he says. Bell remembers when the runway at Flabob was half blacktop and half dirt. "Even on the flightline between the hangars there'd be a big patch of bare dirt, and, of course, you'd run up [the engine] and turn and dust would be flying everywhere," he says. "You'd get chewed out when somebody was painting."
Another frequent Flabob presence is pilot Andy Anderson, whose license plate reads "Flabob." Anderson retired in 1979 from the Santa Fe Railroad, where he'd spent most of his career as a telegrapher. Having learned to fly at the age of 53, he now spends most days flying his 1962 Cessna 150, and on a hazy afternoon last June, he let me ride along. When smog rolls in from the Los Angeles basin, Anderson, like other Flabob pilots, has his own landmarks for finding his way into the pattern: an ARCO gas station, a freeway intersection, and a shopping mall.
Returning on the downwind leg, we're flying directly at the most prominent landmark of all, Mount Rubidoux, a 1,400-foot-high rocky ridge only a half-mile off the end of the runway. Anderson takes dead aim at a 45-foot cross that stands on the summit. On a clear day, pilots say, if you line up the cross with some storage tanks on another ridge about three miles distant, you are exactly at pattern altitude and heading. Madariaga, Anderson reports, used to say that you fly until the cross fills your windshield, then you say a prayer and turn left. Indeed, as Anderson turns onto base leg to come around and land, he seems to be uncomfortably close to the mountain. But he lands without event.
On the afternoon of September 3, 1984, Madariaga, 72, took off from Flabob's runway, something he had done thousands of times before. He and wife Bert were flying their twin-engine Piper PA-23-235 to Las Vegas. The Piper ascended at a steep nose-up angle and stalled; it then descended out of control and crashed, killing Madariaga and his wife. A National Transportation Safety Board investigation concluded that during his preflight inspection, Madariaga had not observed that the elevator was in the locked position, and thus he had taken off with no pitch control.
When son Don took over running the airport, heirs were divided on whether to keep it or sell it to developers. The uncertainty dragged on for 16 years, and dispirited the Flabob community.
Leo Doiron, who has been the airport manager under both the Madariaga family and Tom Wathen, remembers that "we had a core of people here, but a lot started to drift away. It was pretty much decided that they were going to sell the airport, so don't put any money into any of these buildings because they're all going to be torn down for houses."
Things began to wear out. "When Flavio put in all this piping, it was old steam piping and not galvanized," says Doiron. "We'd have a geyser here and a geyser there. It was like patching up a submarine once you spring a leak. Thank God Tom Wathen came along and purchased it."
Wathen had long ago worked as a line boy at an airport in Vincennes, Indiana, where he washed airplanes, swept hangars, and pumped gas in exchange for flying time, and the experience probably had a lot to do with his resolve to preserve Flabob as an airport. (Wathen got his private pilot's license in 1958. Today, he has more than 3,500 hours and owns several airplanes. He also rebuilds aircraft and has restored a number of vintage Ercoupe monoplanes.) But getting the airport was a close call. Wathen was vacationing in Paris when his friend and attorney John Lyon, the secretary of the Wathen Foundation, called to say that Flabob was about to be sold to developers. After Wathen okayed the purchase, Wathen's son, Doug, and Lyon drove from Los Angeles that evening to meet with Don Madariaga at Flabob. Sorry, you're too late, he said. Madariaga was scheduled to meet with real estate developers the next morning to close the sale of the airport to them, but he did not yet have a ratified contract. Lyon offered the same amount as the developers: $3,030,000. He then wrote a check for a down payment of $100,000.
"We called Tom back in Paris and woke him up about three in the morning," says Lyon, "and I said, 'There's good news and bad news. The good news is we own an airport. The bad news is we just wrote a rubber check for $100,000.' " Later that morning Wathen called his New York bank to cover the check.
"We took over June 1, 2000," says Wathen. "You had to see this place four years ago. It [was] just one big dust bowl. I think we've removed 13 different structures from the property, and we've built 14 new ones. We paved the runway and all the taxiways up to the hangars."
"Tom Wathen is so much like my dad it's amazing," says Don Madariaga. "He's like a reincarnation—his love of aviation, love of Flabob, and love of people."
In addition to the new facilities, Flabob now boasts a big new EAA Chapter One hangar, which will house some of the new academic programs under way. To run Flabob's education programs, Wathen hired Art Peterson, a former university professor and college president. Peterson is also an aviation enthusiast. In 1969 Peterson had a job that required him to travel long distances, and he took up flying because he felt it was safer than driving.
"I thought it was kind of nice of Tom to take an old codger in like me," says Peterson. "I was 72 when he hired me. But I love aviation and I love education, and this was just the perfect place to come."
Peterson and his assistant, Kathy Rohm, whose title is director of community relations, are the paid staff for the program. "We go out to grade schools in Riverside County and give rudimentary courses in aviation," says Peterson. And once a month they run five-day programs at Flabob for middle- and high-school students. "My entire faculty is unpaid," he says. "We have 12 to 15 experienced people who come in and share. One woman is a top lighter-than-air pilot; she flies a Fuji blimp."
"I love the progress we've made," says Wathen. "I wish we'd done it all in the first year, but now we've got momentum. It has been so exciting for me to think of what we can do here, and it becomes more and more possible all the time. What I see now is a building of the infrastructure to form classrooms and ultimately housing for the youngsters, and a more active recruiting of youngsters. I see the airport as EAA West."
There are still ties to an earlier era. The end wall of the café is covered by a large mural advertising the bygone Don's Flying Service. Now and then somebody touches up the paint.
And the art of scrounging hasn't been lost. One of the first sights to greet people driving in to park at the café is a 12-foot replica of the Wright Flyer, mounted on a steel pylon. The propellers turn slowly, powered by chains that are driven by an electric motor. In a move that would have pleased Flavio Madariaga, the replica was rescued from a float that rode in last year's Pasadena Rose Parade.
---
Sidebar: The Details
FLABOB AIRPORT (RIR) lies some 50 miles east of Los Angeles, between the small town of Rubidoux and the city of Riverside. Flabob averages 74 general aviation operations per day, half of which are flown by the airport's own pilots and the other half by transients.
---
Sidebar: Vital Stats
Dining: Try the Flabob Airport Café, open seven days a week from 7 a.m. to 3 p.m.Don't Miss: The Experimental Aircraft Association Chapter One's monthly barbecues; all fly-ins, drive-ins, and walk-ins welcome. Talk shop with such legendary Chapter One members as Ray Stits and Clayton Stephens. For calendar of events, visit www.eaach1.org and www.flabob.org, or write to EAA Chapter One, P.O. Box 3667, Riverside, CA 92519; phone (909) 682-6236. Annual membership is $12.