The Other Harlem
In 1930s Chicago, at the corner of 87th Street and Harlem Avenue, Cornelius Coffey made aviation history.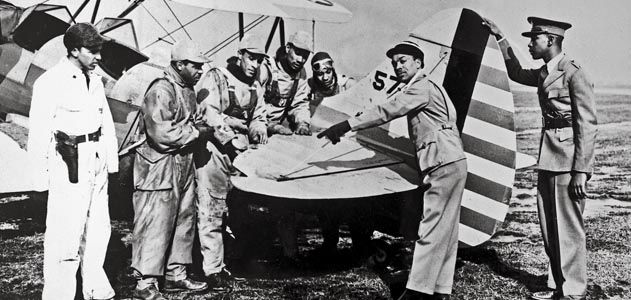 In the history of black aviation, it is Bessie Coleman, the first black woman to earn a pilot's license, who is usually remembered as the one who opened the skies to African-American aviators. Less well known is Cornelius Coffey, who, with much the same vision and fighting the same obstructions, changed a corn patch in south Chicago into an airport that housed the nation's first large group of young, talented, and black aviators.
In the years just before and after World War I, some 180,000 black Southerners immigrated to Chicago, settling on the city's rough south side. It was there that Coleman, a Texas transplant who wanted to fly, learned that aviation schools didn't accept African-American applicants. She had to sail to France to earn a pilot's license. "Queen Bess" subsequently became the toast of the black newspaper Chicago Defender, and when she died in a fall from her airplane in 1926, some 10,000 black Chicago mourners filed past her coffin.
Coffey never met Coleman. The Arkansas native quietly mapped his own route to the sky. Young Coffey possessed a great gift for mech­anical work. He was the top graduate in a south Chicago auto engineering class in 1925, quickly earning the allegiance of Emil Mack, the white Chevrolet dealer who employed him. Coffey later found a spot at the dealership for a mechanic friend named John Robinson.
The two young men wanted to fly, but no one would teach them, so they taught themselves. Later, in 1929, they enrolled in an aviation mechanics program at Chicago's Curtiss-Wright School of Aviation. When they showed up for class, they were turned away because they were black, even though they had already paid their tuition. Mack threatened to sue on their behalf, and the school reluctantly admitted the pair. In 1931, the 28-year-old Coffey finished first in his graduating class and Robinson second. Two weeks later, Coffey took the exam to earn his mechanic's license from the U.S. government. The school must have been impressed, because it changed its policy, inviting the men to return and teach all-black classes. They did.
The aviation mechanic's degrees didn't open many doors, however. Coffey and Robinson were still unwelcome at airstrips except Akers Airport, near where they worked, so when Akers closed, they were grounded. The men joined with several other local black aviation enthusiasts to form the Challenger Air Pilots Association (the name referred to the Curtiss Challenger engine). The new group looked for a place to fly from.
In 1931, the group, joined by one or two white pilots from Akers, bought a half-mile-wide tract of land in Robbins, an all-black town southwest of Chicago. There they buried boulders, dropped trees, roughly leveled the terrain, and cobbled together a hangar from second-hand lumber. When they finished, their small fleet of disparate craft—a Church Mid-Wing, an International F-17, and a WACO 9—was parked under the roof at what historians consider the first black-owned airport in the United States. The achievement is mostly a historical footnote: About a year later, a violent thunderstorm roared through Robbins, demolishing the hangar, flipping airplanes, and scattering hopes.
But a few miles north, at the intersection of 87th Street and Harlem Avenue in Oak Lawn, William Schumacher had purchased 140 acres of farmland with an airport in mind. His brother Fred would manage it. Before Robbins' devastating storm, Fred Schumacher visited Robbins and, probably sensing a good tenant, invited the group to come use his brother's airport.
After the storm, while Coffey was on a trip to Detroit, Robinson and two other Challenger members—pilot Dale Lawrence White and Curtiss-Wright school graduate Harold Hurd—approached Fred Schumacher to take him up on his offer. The facility was taking shape. Grass had sprouted where cornstalks had been plowed under, and a hangar and office sprang up along Harlem Avenue.
Schumacher readily agreed to rent the lower end of the airport to the Challenger group, but in an interview recorded for the Smithsonian Video History Program on black aviators, Hurd said that Schumacher initially insisted on segregation. He was already running an all-white school. "Look, fellas," he said, "I'm going to put you at the end of the field to save you from having any trouble with the other guys."
Black and white pilots parked their airplanes in separate hangars, but they shared Harlem's four sod runways, the longest of which was 2,000 feet. The rural area soon echoed with the thundering exhausts of Curtiss engines; the sky above the corn and wheat fields of Worth Township teemed with WACOs, Travel Airs, and Taylor Cubs.
The leaders of the Challenger group were acknowledged to be Coffey and Robinson. Other than sharing a love of flight, though, the two men were remarkably dissimilar. Coffey was "a gentle man in every sense of the word," recalls Lynda Foose Hemann, daughter of Coffey's longtime friend, Marcellus Foose.
About five-foot-six and slightly built, Coffey had a large presence. He was formally uneducated, but contemplative. Quentin Smith, now 91, who learned to fly from him, describes Coffey as a person from "the old school. He never shouted. He never said a word that was foul. He always was quiet." The talented Robinson, on the other hand, was impulsive and self-promoting.
A 1934 incident well illustrates the differences between the two men's temperaments. On the 10th anniversary of Robinson's graduation from the auto mechanic program at the all-black Tuskegee Normal and Industrial Institute, Robinson asked Coffey to fly to Alabama with him to try to persuade Tuskegee administrators to teach flying.
The pair left Harlem in a two-place International F-17 owned by Challenger member and pilot Janet Waterford. At one stop, despite Coffey's protests, Robinson insisted on taking off from a short runway while weighed down with too much fuel, and the aircraft crashed. When the two men finally arrived at Tuskegee, administrators rejected their offer to set up a flight instruction program. Coffey was convinced that Robinson's loss of the International had ruined their credibility as proponents of flight. (The following year, Robinson moved to Ethiopia to use his flying skills to fight an invading Italian army. He died there nine years later after a crash.)
At Harlem Airport, Schumacher asked Coffey to re-certify the overhauled aircraft of his white customers, enabling Coffey to begin earning money as a mechanic. It was the start of an agreeable working relationship with the man Coffey called "Shoes."
The Coffey Flying School operated on the south end of the airport, and Schumacher's school on the north. Coffey taught both white and black students together. "Every 10 students that I took, I had one white student and one girl student in that unit," he said years later.
One of those "girl students" was Willa Brown, a former Curtiss-Wright student of Coffey's. In 1938, the pert 27-year-old traveled to Harlem to take flying lessons from her old teacher. Two years earlier, Brown, a former Gary, Indiana schoolteacher with a master's degree in business administration, had strutted into the Chicago Defender newsroom in jodhpurs and boots to promote an amateur airshow at Harlem. City editor Enoc Waters was so taken by her that he assigned himself to cover the event.
At Harlem, Brown became the first African-American woman to earn a pilot's license in the United States. She also became indispensable to Coffey's operation and to the black aviation movement. For a time, she also was Coffey's wife. In 1939, editor Waters proposed that the Challenger Air Pilots Association broaden its scope; within weeks the new National Airman's Association was chartered, with Coffey as president, Dale White as vice president, Brown as secretary, and Waters as the group's unofficial promoter.
Around this time, war with Germany loomed, and President Franklin Roosevelt proposed spending $10 million to train civilian pilots for eventual induction into the Army Air Corps. NAA board members feared that black aviators would be excluded. To get Congress to take African-American aviation seriously, the board decided to stage a publicity stunt: Some members would fly to Washington.
White and fellow board member Chauncey Spencer were chosen to fly the Lincoln Page biplane, powered by a Kinner 90-horsepower engine. Spencer served as navigator; White, in the rear cockpit, was senior pilot. Dressed in bulky cotton one-piece flying suits with white silk scarves and leather headgear and goggles, the two men departed Harlem Airport in early May 1939.
During the 3,000-mile round trip, the airmen made several promotional landings, but the trip's most significant encounter was unplanned. In Washington, D.C., the fliers and their local contact, Edgar Brown, president of a government employees union, were waiting for an underground train to get to a Senate office building when Brown realized the man standing next to them was the junior senator from Missouri, Harry S. Truman.
"Good morning, Edgar," Truman said. "Who are your two friends here?" Told of the flight from Chicago, Truman arranged to see their airplane later that day. For the rest of his life, Spencer enjoyed recalling how this unknown-to-him Midwestern senator took one look at the Lincoln Page, turned to the two fliers, and said, "If you guys had the guts to fly this thing to Washington, I've got guts enough to see that you get what you're asking for."
Biographies of the future U.S. president are silent about the encounter, but students of African-American aviation cite it as an antecedent of Truman's 1948 presidential order fully integrating the armed services, and more broadly, the start of the campaign for full civil rights.
In late 1939, civilian pilot training sites were announced; they included seven for black students (Tuskegee, which had finally begun flight instruction, was one). The only black training site that was not a college campus was Harlem Airport.
Coffey was to direct flight training and personally maintain the aircraft of his renamed Coffey School of Aeronautics. Willa Brown would run a ground school at Chicago's Wendell Phillips High School and coordinate the overall program.
"Shoes" sold Coffey a 50-horsepower Piper Cub needed for primary flight training, and another white friend helped Coffey buy a second one. For secondary training, Coffey and Brown cajoled the Curtiss-Wright school into lending two 220-horsepower WACO PT-14s.
The Coffey school also would teach cross-country and flight instruction; it and Tuskegee were the only black programs offering all four levels of instruction.
Each trainee received 35 hours of flight time. By June 1941, the school's fleet—mostly Cubs—had increased to 10. When rain caused excessive puddling on Harlem's sod runways, the students practiced from paved airfields in Harvey or Joliet.
Everything about the civilian pilot training program at Harlem was modest. Coffey and Brown lived in a small cottage at the southern tip of the airport, a building that doubled as the couple's Civil Air Patrol unit headquarters. Classroom work was conducted in a small one-room building crowded with student desks.
The government wouldn't fund student housing at Harlem, so in 1942 supporters of the program erected a dormitory: a cot-lined room, with adjacent latrines and showers. At one end, Brown supervised a dining area that served three meals a day to flight students and anyone else who wandered in.
"The atmosphere at Harlem was one of camaraderie," recalls Quentin Smith. He trained at the airport in 1942 at the invitation of Brown, whom he had known in Indiana. Smith says in his months at Harlem, all the student pilots had at least some college education and quickly bonded. "Every day it wasn't raining and we weren't flying, all we had to do was study," he recalls. "In the evenings, we'd get in the planes and get the feel of them. I probably wouldn't have made it without all the camaraderie. I mean, out there we were so far from black people, we had to drive 20 miles just to see any."
To bolster the students' esprit de corps, Coffey and Brown procured olive green Civilian Conservation Corps uniforms. They also quietly used some of their own earnings to set up a pool of cash that the unpaid students could dip into for incidental needs.
Coffey remained committed to integration. When the Army Air Corps announced that the military unit from Tuskegee would be segregated from white servicemen, Coffey, speaking as NAA president, objected. "We'd rather be excluded than to be segregated," he declared. In the end, Army traditions prevailed. The Tuskegee Airmen would be a separate fighting unit, known informally as the Red Tails; their most famous mission was flying escort for bombers in Europe.
Smith remembers that Coffey and his instructors washed out few students, almost willing the young men and women to succeed.
Smith himself struggled until Brown rescued him. She asked Smith to go for a ride one day. Smith, who was six-foot-two and weighed 210 pounds, and the five-foot-two Brown took off in a Cub.
"She said, 'I've been watching you, Quentin, and I know you can learn to fly. Let me show you something,' " he remembers. "She pulled it up into a stall and we spun seven or eight times—and you don't spin a Cub!—and then she pulled it out and this little lady said to me, 'You can't be King Kong, Quentin. You've got to be gentle. You're going to learn to fly today.' " And he did. Smith completed training at Tuskegee and was assigned to a bomber group based in Seymour, Indiana.
Bev Dunjill's connection to Harlem began in 1943 as a 16-year-old member of the Civil Air Patrol. He remembers Coffey as attentive. "He saw in me a kid who wanted to fly so bad he could taste it," says Dunjill, who at 82 lives just a few miles east of the old airport site. "He was a wonderful man. He was such an important person in my life."
Coffey offered to pay the black teen­ager 50 cents an hour to work at Harlem, plus give him 30 minutes of flying time each weekend. Dunjill instantly accepted, though he didn't tell his airplane-fearing mother for six months. Each day Dunjill rode a streetcar to the end of the line at 63rd Street, where Coffey met him and drove him to the airport. The teen spent his days pushing airplanes from the hangar, washing fuselages, and performing minor maintenance.
The exact number of pilots that the Harlem wartime program turned out is unknown, but it was in the hundreds. No airplane was ever wrecked.
After the war, Coffey did some work at Harlem, but spent most of the next two decades teaching aviation mechanics in high schools and an area college.
Some of the aviators from Harlem's early years went on to have distinguished careers. Coffey himself got a patent on a popular carburetor warming system, and the Federal Aviation Administration honored him with an aerial navigation waypoint ("Cofey Fix" in FAA spelling) to align aircraft landing at Chicago Midway Airport. Harold Hurd was inducted into the Illinois Aviation Hall of Fame. Dale White broke employment barriers for black mechanics. Willa Brown ran twice (unsuccessfully) for Congress, the first black woman to try for a Congressional seat. Quentin Smith stayed active in aviation, becoming president of the Gary, Indiana Regional Airport Authority. And Bev Dunjill, who had entered the cadet program at Tuskegee as World War II ceased, re-enlisted in 1949 and became an F-86 jet combat instructor in Korea, along with a pilot named Gus Grissom.
In the post-war years, Harlem Airport grew even busier, with six flying schools, a repair service, and half a dozen hangars. Forty acres were added, and 10 unpaved runways crisscrossed the field.
But in September 1956 the airport lost its lease. A parcel of land that had once been a cornfield was transformed once more, this time into a residential sub­division and a shopping center named Southfield Plaza. Today, customers walk to Shop 'N Save, Hobby Lobby, and Walgreens on pavement where leather-helmeted pilots once revved engines to taxi and take off. Grassy airstrips scarred by ruts have disappeared under smooth streets lined with houses and trees. The acreage's only link to aviation is several hundred feet overhead, where airliners descend toward landings at Midway Airport.
For Harlem's entire 23-year existence, Fred Schumacher was manager, building his business on twin pillars: full service and a relatively enlightened sense of brotherhood. When the facility closed, he picked up and moved to Chicago-Hammond Airport. Probably the person in the best position to know, Schumacher told a newspaper reporter at Harlem's closing that some 350,000 hours of instructional flying had been logged at the rough field, a number that represented a lot of realized dreams, black and white.
Giles Lambertson's last piece for Air & Space was "Toy Story" (Oct./Nov. 2008).