The One-Dollar Pietenpol
Some airplanes, like some friendships, improve with age.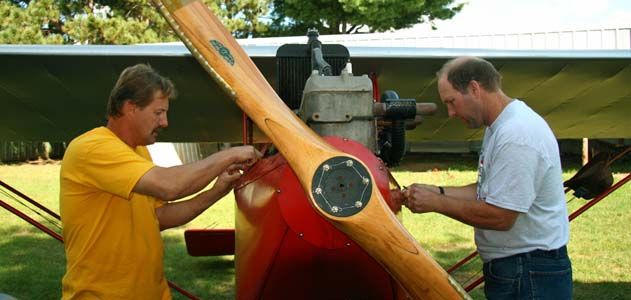 The Pietenpol Air Camper N13691, once owned by the late Allen Rudolf, is one of the best-loved airplanes of the Brodhead Pietenpol Association, a community of antique airplane enthusiasts flying out of a grass field in Brodhead, Wisconsin. Its popularity has a lot to do with the fact that it was once owned by the late Allen Rudolf. "Allen always reminded me a lot of Mr. Pietenpol," says Frank Pavliga, long-time association member who built a Pietenpol with his dad in the 1970s. Pavliga got to know Rudolf over years of attending Brodhead's annual Pietenpol fly-in. "Allen was such a gentle, kind, cheerful man," he says.
Rudolf's Pietenpol had a history even before he bought it from Bernard Pietenpol in 1941. It was built in 1933, one of the first Air Campers created from plans published in a 1932 Modern Mechanics magazine. The builder, Edgar Russert, of Lewistown, Minnesota, must have had a magic touch. "For some reason," says airplane collector Jim Hammond of Yellow Springs, Ohio, "it's one of the nicest flying Pietenpols there is. We never did determine why. One year at Brodhead, we weighed it, and measured the incidence of the wing, and all kinds of things, and tried to figure out why it flies so nice, but we never really did. It's just got the force or something."
Around 1935, Russert sold the airplane to a group of five friends in Cherry Grove, Minnesota, including Bernard Pietenpol himself. Each put up $50. According to Chet Peek's The Pietenpol Story, the flying club had years of trouble-free fun until the night one of the members used the aircraft to bomb a drinking establishment with a sack of rotten eggs, and in the process flew into a power line and tore off the landing gear. (Alcohol is rumored to have been involved.) When the police showed up, that was that for the flying club.
Pietenpol repaired the airplane and in 1941 sold it to Rudolf, who owned it for more than 50 years. Year after year, Rudolf flew the Air Camper to homebuilder and antique fly-ins around Minnesota and Wisconsin, eventually making friends with almost everybody who flew a Pietenpol or wanted to. "In this kind of activity," says Frank Pavliga, "your best friends are 500 miles away and you only get to see them once or twice a year."
One of Rudolf's friends is Ted Davis, who, at 15 years old, started a Pietenpol flying club and the Brodhead fly-in that continues to this day. Davis remembers that at one fly-in during the late 1980s, Rudolf took off for home, then turned around and flew right back to the Brodhead strip. He had burned a piston on the Model A Ford engine.
For years, N13691 stayed at Brodhead, until a group led by Davis and Hammond got together to repair and re-cover it. "We had it put together in 30-some days," recalls Davis, who test flew it in 1993. That year, when Rudolf returned to Brodhead, an airworthy N13691 was waiting for him. He and Davis flew it together that year and a couple of times after that.
Jim Hammond still laughs about the next chapter in the airplane's story. "Ted called me one day and told me I just bought a Pietenpol," he says. "And then he let me know that I had to send $6,500 to Allen's brother."
"He was kind of looking around for one," Davis says, and by that time, Rudolf had decided that he wouldn't be able to solo again and that it was time to let the airplane go.
Hammond says, "We didn't want it to disappear out to the West coast or somewhere we'd never see it again. Ted and Dick Alkire and Frank [Pavliga] already owned Pietenpols, and since I didn't have one, they picked me. And Ted knew I'd go along with it."
Since the Piet spent its early years as a club airplane, Hammond later decided that it should return to flying as a club airplane. Ten years after he bought it, he sold it to Ted Davis for a dollar with the stipulation that when Davis got "tired of messing with it" he sell it to Frank Pavliga for a dollar. Vintage aircraft pilot Andrew King is the next in line. Everybody in the group wants to make sure the Rudolf Pietenpol stays connected to the airfield in Brodhead. "It's all original," says Hammond. "It's never been crashed and rebuilt" since 1940, when Pietenpol himself rebuilt it. "A lot of the guys flying and building Pietenpols want to study it and look at it and get ideas. They can see how [Pietenpols] used to be because this one is the same as it used to be."
"It's got the same ratty cockpit padding it had when Edgar Russert built it," says Pavliga. "It's so tattered. It's this ugly turquoise-colored stuff. The story is that when Ed Russert built the airplane he cut that off his couch."
After Pavliga bought the airplane, the magneto mount failed, then failed again after a repair, and the crankshaft broke during one flight with Andrew King at the controls. He had to put it down in a bean field.
"I think Frank wants his dollar back," Hammond laughs. "With the engine, it just seems like there's always something. An airplane like a Pietenpol tends to sit over the winter and not fly and the valves will stick and then you gotta mess with the engine and the gaskets will leak. Or it could just be our mechanic'ing abilities," he jokes.
Andrew King has bought a Model A engine to loan to Pavliga, who thinks he'll get the airplane airworthy in time for the 2010 Brodhead fly-in. He also thinks his one-dollar airplane is about to cost him close to $3,000. But keeping an old friend's historic, sweet-flying airplane at home with a group of enthusiasts who will care for it? That's priceless.