The Moonwalkers' Doctor, and Sometime Bartender
Bill Carpentier recalls the day the Apollo 11 astronauts returned from the moon.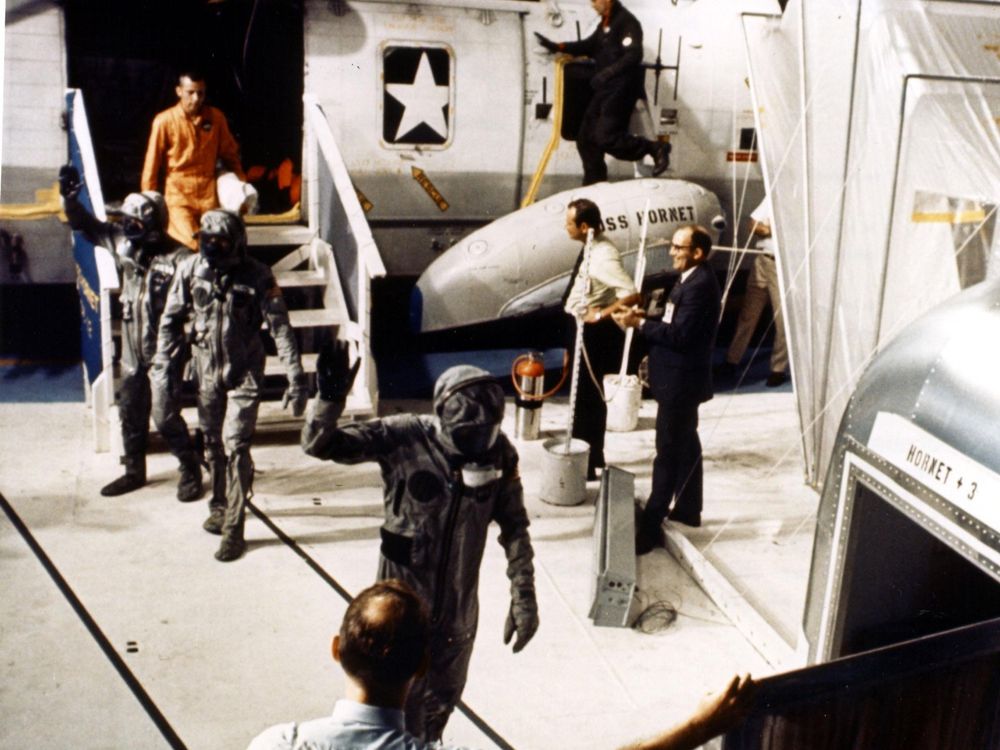 Riding in a helicopter with the Apollo 11 astronauts following their Pacific Ocean splashdown on July 24, 1969, Bill Carpentier might have had a thousand questions for the first men to return from the moon. But there would have been no point in asking. Even if Armstrong, Aldrin, and Collins hadn't been wearing bulky masks, the helicopter noise would have drowned out their answers. So there was no conversation at all between the astronauts and their NASA doctor on the short flight to the waiting aircraft carrier U.S.S. Hornet, where they entered a mobile trailer to begin two and a half weeks of quarantine.

The isolation was a precaution against some exotic moon-bug contaminating the Earth, which even the doctors considered far-fetched. Still, recalls Carpentier, now 73, "nobody thought the probability was zero."  So they did "whatever it took" to follow protocol to the letter.

Once inside the trailer, the astronauts took off their isolation garments, and Carpentier immediately collected swab samples to send off to the lab. Then the three lunar explorers headed one-by-one to the shower before meeting (through thick glass) with President Richard Nixon, who was waiting on the carrier.

Carpentier remembers the day as businesslike. "There wasn't a lot of time to talk or reflect," he says. Later, after the ceremonies were over, they relaxed over drinks (Carpentier was the bartender). But soon it was back to work. The astronauts had reports to write and a spacecraft to unpack. The doctor kept to his medical tests and sample collection, all in the name of research. "I felt very strongly that we owed it to the program, that we needed to learn as much as we could, as carefully as we could, for the future."

After the quarantine ended in Houston on August 10, Carpentier joined the astronauts on their round-the-world goodwill tour, which he remembers as "an incredible journey" and "very heady stuff" for a young doctor from a small town in Canada.

On the occasion of the 10th anniversary of Apollo 11 in 1979, Carpentier, who had left NASA by then, helped commission an oratorio composed by Richard Willis, Composer-in-Residence at Baylor University, based on poetry by Cynthia Linzy. The piece, which the doctor describes as "an outstanding example of 20th century atonal choral music," was performed by the Temple (Texas) Civic Chorus, where Carpentier sang. Called "For All Mankind," the music "comes to an end but does not resolve," he says. Just like Apollo.