The Man My Mother Fell in Love With
When the Navy retired the Tomcat, my father went with it.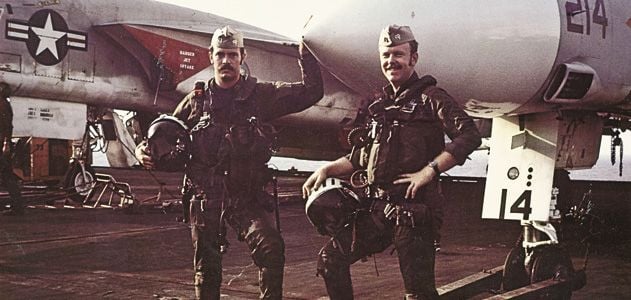 The Marine sergeant returns the ID to my father, then snaps to attention with a salute as we exit the checkpoint. Along the grassy entranceway to Virginia Beach's Naval Air Station Oceana, retired Navy jets stand like grazing cattle. At the head of the herd is an F-14 Tomcat, the jet my father, Commander Gilbert "Hook" Hooker, has known for nearly 30 years. Dad points to an empty space near a set of drab government buildings. Here he spent 16 years instructing "the best of the best" on F-14 flight simulators—which for me, as a kid, were the best video games in the world. The simulators were my father's last connection to the elite flying community. The simulator complex was demolished when the Navy retired the Tomcat in 2006. Now the land is used for a parking lot. To counter a black market trade in F-14 parts to Iran, the military dismantled most of its Tomcats by the following year.
"They've destroyed them all," Dad tells me. "It was supposed to retire this year. I was supposed to go when it did."
"I know," I say. "You'd still be working right now."
We are hoping to watch rehearsals for the September 2010 airshow. The air-conditioned viewing room in the operations building would provide the best perspective. But my dad, without saying a word, turns me back at a door that warns: "Essential Operations Personnel Only." It's the first time he hasn't been allowed in the building since he began working here in 1980. Dad lifts a hand to an adjacent fence. The strong forearms I once swung from are weak from age and hairless from the hormone therapy that fights his prostate cancer. "Well, why don't we head home?" Dad says. We walk back to the parking lot. Years ago, he slapped a sticker on the pickup bumper that reads "I ♥ Jet Noise." The sticker showed where he stood in a citywide debate. The Navy's F/A-18E/F Super Hornets were far louder than their Hornet predecessors, and many of the city's new residents began protesting the constant rumble in the homes below. Now even the Oceana airshow, a decades-long tradition, has steered away from the dogfight mentality. The cold war has been over for 20 years. Even if the Tomcat were still flying, it would have nothing to chase.
In 1976, my family moved to Virginia Beach. Back then, half the city was farmland. The house my parents built was nestled in a tidal forest abutting endless rows of corn and wheat. To get to a grocery store, we drove over half an hour. Dad had landed here shortly before he left active duty. The new assignment, a reservist post, was soon leading him into a career dead-end. He handed in his resignation letter and eventually found a job as an instructor with Grumman, the maker of the Tomcat. The assignment: Teach Iranians to fly the F-14. My mother, with two children in tow and pregnant with me, prepared the family for the move to Tehran. Then plans changed: The last shah of Iran was overthrown. We remained in Virginia.
One night at the old house, Dad and I stay up after Mom goes to bed. We talk about the Navy. He's a couple of whiskeys in when he mentions Vietnam. He repeats himself often and occasionally mumbles.
On the F-4 Phantom, which he flew in Vietnam, the pilot would hit a button to extend the nose gear strut. "At night you're sitting on the deck there and all of a sudden your nose goes up a foot and a half. You're looking up at the sky. You're thinking beforehand: Man, I hope this works. Man, I hope this works. And BOOM! I mean, it curls your socks up. It was a violent shot." Dad's the most energetic when reliving flying days during these late-night talks. We've had this conversation at least three times now. Still, I'm glad he's talking with me.
"And you couldn't get your head off the headrest if you wanted to," he continues. "It lasts just a couple seconds and you're flying. The nose pops up quickly and so you've got to ram the stick forward to stop it or it's an over-rotation. You're 60 feet off the water at that point and it's dark out there. That gets your attention."
In photos from this era, he's grinning, showing the chip in his front tooth. His sideburns are long and his hair and mustache are black. He's the skinny man my mother fell in love with, wearing a green jumpsuit spotted with squadron patches. A white flight helmet is under one arm. His navigator, Ron Dunn, stands next to him. Over their shoulders, the nose of an F-4 nudges into the snapshot.
When the war ended, Dad returned to his wife. With combat ops over, the Navy no longer needed as many pilots. If he were lucky, Dad was told, he'd be reassigned as a catapult officer. He was preparing his resignation when he found a position with a squadron in Virginia Beach. Ten months later, he was heading to Germany to meet the new squadron as it was completing a cruise and returning to Virginia. There he was introduced to the Tomcat.
"Instead of the nose popping up for the launch, like on the F-4, it dropped down like a dragster," he says. "It was a much smoother takeoff."
The F/A-18E/F is a sleek strike fighter, designed for battles like those in the Gulf War but not the dogfights and air superiority of my father's era. In the mid-1990s, Super Hornets began appearing over Virginia Beach, and by 2006, the Navy had enough of them to retire the Tomcat four years early.
After 16 years of instructing pilots on F-14 simulators, the Navy rushed Dad through a training program. Within weeks, at age 60, he was on brand-new simulators for the legacy F/A-18C Hornet. Each night, he thumbed through manuals thicker than a phone book. Then he would show up at the simulators the next morning pretending to understand the airplane. "They just gave me the manuals and said: 'Have at it,' " Dad says in a low voice. Once the new Super Hornets debuted, the old Hornets Dad worked with were only a sideshow. "I hoped I wasn't teaching those kids something that was unsafe," he says.
He had not felt this degree of stress since his early days of flight training. Then, a year into teaching, his mother died of a heart attack. Over the following year, his father faded from Alzheimer's before eventually passing away as well. For years, Dad had lost friends in the Navy through aircraft accidents. But never had death been this close. Over the following months, the Navy gave my father fewer and fewer hours. In 2007, after three years with the Hornets, his boss stopped putting him on the schedule.
Young F/A-18E/F pilots, veterans of more recent wars, were now scrambling for my father's job. Then his best friend and fellow F-14 instructor, Sam Flynn, succumbed to cancer. When Sam had trouble operating the controls, Dad would lend a hand. It was a camaraderie lost with the new pilots. My father wished that one day someone would do for him what he did for Sam. But retirement came early. With full-time instructors on staff, the management no longer saw a need for Dad and his part-time colleagues. His schedule, along with others', was continually diminished. Finally, after two months without work, Dad called the office and left a message: his official resignation.
Since then, Dad's life has idled. The family worries about his health. When I come home to visit, my parents and I gather in the kitchen. We hug and chat about my trip home. Dad offers me some leftovers. I grab a beer from the garage fridge. We talk about my life, their grandchildren, and anything new. Within minutes, however, Dad's gaze returns to the television. He watches the same news that's been on all day, even though Mom has made him turn off the sound. If we want Dad's attention, we ask twice and receive a short answer before he retreats into seclusion. Sometimes he lashes out at my mother. "I don't know, Constance," he shouts as she races through the house, trying to keep order in their lives while raising my sister's five-year-old son, Khamani. Retirement for my mother is a new life as a caregiver.
We drive to the airport, and my parents and Khamani walk inside with me. I wave goodbye at the security checkpoint, Khamani waves back, and I turn away. Along the narrow hallway leading to the terminal, posters of F/A-18s hang on the walls. Each time I leave, I look to the posters and wonder if next year, when I return, my father and his memories will still be here.
Brad Hooker writes about aviation, adventure travel, and the environment. He is also a science writer at Fermi National Accelerator Laboratory near Chicago.