The Luftwaffe's Flying Wing
The Horten Ho 229 is on the short list for restoration at the Air and Space Museum.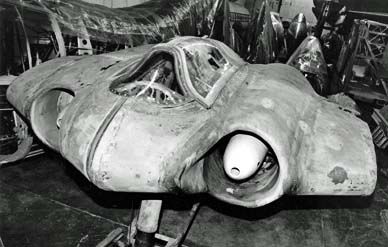 David Bull, of Sacramento, California, asks when the Air and Space Museum plans to restore the Horten Ho 229 V3 German jet in its collection.
The Horten brothers' experimental flying wing—one of the most unusual aircraft produced by either side during World War II—came to the Museum's Paul E. Garber Preservation, Restoration and Storage Facility about 1950, courtesy of the U.S. Air Force. (George Patton's Third Army found the Horten 229 prototypes V3 through V6 in April 1945; of the four airframes, the V3 was the nearest to completion, and was promptly shipped to the United States. Read more about the aircraft here.)
Curators will decide this spring which airplanes will be part of the first group to enter the Museum's new restoration shop. (Thanks to a recent $6 million donation from Airbus Americas Inc., nearly 20,000 artifacts—the 229 V3 among them—will be relocated from Garber to a new wing at the Steven F. Udvar-Hazy Center.) Russell Lee, the curator in charge of the Horten, will recommend it for the first group, but says he'll be battling it out with eight other curators who will also be submitting proposals.
The new restoration shop, part of the Museum's Phase Two project, is scheduled for completion by 2011. In addition to an aircraft hangar, the building will house the Museum's archives, a conservation laboratory, and a specially designed room for the initial inspection of artifacts. A second-floor balcony will allow visitors a behind-the-scenes look at the conservation process.
"One-third of the aeronautics collection is made up of one-of-a-kind or sole survivor aircraft," says Peter Jakab, chairman of the aeronautics division at the National Air and Space Museum. "Every one of these objects has a story. Phase Two will allow us to tell the story of how curators and craftsmen work together to preserve and present these objects."
Fans of the Horten are in good company, says Lee. "We have fielded a steady stream of public inquiries about the Horten jet wing for as long as I have been here—25 years."
We'll post the restoration list once it's finalized.