The Lion That Never Roared
CANCELLED: Israel's Arieh Fighter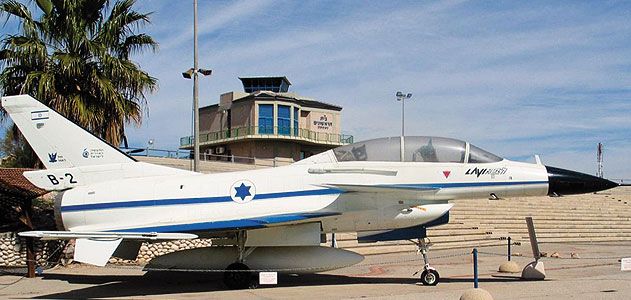 It was the Israel Aircraft Industries' most ambitious project: to design and develop a world-class fighter aircraft from scratch. The Arieh project, as it was known, was a concept design for a warplane on a par with the leading fighters of the day: the McDonnell Douglas F-15 and General Dynamics F-16.
Starting in late 1974, a small team of engineers at IAI toiled away on Arieh ("lion" in Hebrew), throwing around buzzwords like "digital fly-by-wire flight control system" and "reduced radar signature." But at the time, design team leader Ovadia Harari recalls, "there wasn't know-how in Israel to talk about this…. We didn't have the knowledge."
IAI was anxious to design and develop its own fighter because it had already succeeded in building two 1970s-era aircraft. France had sold Israel the Dassault Mirage III in the 1960s, but after the 1967 Six-Day War, Paris imposed an arms embargo on Israel. The first aircraft IAI built was Nesher (eagle), a version of the Mirage 5, made with licensed Dassault blueprints, tools, and jigs. From that came the Kfir (lion cub), an improved version with a different engine. Arieh was to be the third fighter in this lineage. But the Israel Air Force, which already had McDonnell F-4 Phantoms and Douglas A-4 Skyhawks, liked U.S. fighters. The F-15 joined Israel's ranks in 1976, followed by the F-16 two years later.
Undaunted, IAI pressed ahead, using its own money to fund Arieh's concept designs. Engineers began with what they knew: the single-engine Kfir's aerodynamic shape, delta wing, and canards. As the design went through multiple iterations, Arieh's shape began to change. "Arieh was a generic term," Harari says, "like F-16, -17, -18, always beginning with F. Here it was Arieh-1, Arieh-2, Arieh-3…. There was a two-engine Arieh, an Arieh with two stabilizers, [another with] one stabilizer, engines under the fuselage, engines on the sides. All sorts of concepts." Ultimately there would be more than 30 variations. With a budget of $2 million a year, engineers dealt only with external design, addressing elements like engines, weight, performance, and weapons. They conducted wind tunnel tests to study the aerodynamic properties of the various iterations.
While the Israel Air Force followed the work on Arieh, it was not supportive. The air force commander at the time, Major General Benny Peled, not only doubted IAI's ability to pull off such a project, he also flatly rejected the need for such an aircraft. "It was clear to me that even if Israel Aircraft Industries succeeded in developing an advanced fighter aircraft, it would require a great amount of time and money, and therefore I believed it was a waste," he told Israel Air Force magazine in 1998.
Peled was confident the F-15 and F-16 would meet his needs, and he was not interested in betting on a developmental project when he could buy proven aircraft. The only requirement Arieh would fulfill, he told the magazine, was IAI's desire to build a homegrown fighter. Harari holds no grudge. "He [Peled] had to look after the IAF, not the defense industry's well-being," he says. If he were in Peled's place, Harari adds, he might have done the same.
It became clear that if IAI were to build Arieh at all, U.S. assistance would be necessary. Despite its opposition to the project, the Israel Air Force joined a senior-level IAI and Ministry of Defense delegation on a trip to Washington, D.C., in 1979 to pitch the program to the Pentagon. But U.S. military officials, put off by the Israelis' claims of being able to make a better and cheaper fighter than the U.S. aerospace industry could produce, turned them down.
Arieh, it seemed, was stuck on the drawing board. IAI even offered Israel's then-ally Iran (and one other country that IAI to this day won't disclose) a chance to join in the fighter's development.
The Iranians were interested, and Harari was due to travel to Iran for discussions when the November 1979 Islamic revolution and the overthrow of the shah abruptly ended that plan. (Earlier, Israeli Defense Minister Ezer Weizman had met with his Iranian counterpart about the project; their meeting was revealed after the takeover of the U.S. Embassy in Tehran, when Islamic students reassembled shredded secret documents and published them in 1982.)
With no funding and no customer, Arieh was essentially over, although IAI did maintain the program's technology base. Weizman helped IAI obtain government funding to resuscitate part of the program. Selected from the Arieh portfolio for development was a small, single-engine design bearing a striking resemblance to the F-16.
With a new lease on life, the renamed Lavi (another word for "lion") fighter program, which began in 1980, reached the flying prototype stage six years later. But in 1987, the Israeli government cancelled the delta-winged fighter due to its high cost. Today, only two Lavi prototypes remain. One is displayed at the Israel Air Force museum at Hatzerum Air Base on the western outskirts of Beersheba, and the other is at IAI's offices at Ben Gurion International Airport, nine miles southeast of Tel Aviv.
Gary Rashba writes about aerospace and defense from Herzliya, Israel. He is the author of Holy Wars: 3000 Years of Battles in the Holy Land, to be released by Casemate Publishing this spring.