The Hoot List
All the aircraft the legendary pilot has ever flown.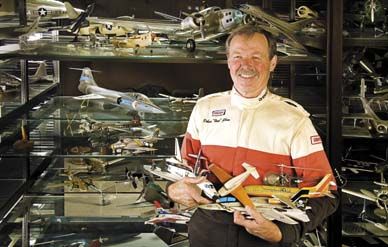 Robert "Hoot" Gibson's flying career includes well over 100 aircraft types (111, to be precise; since publication of our April/May issue, which gave a count of 108, Gibson realized he'd left three aircraft out).

Which have given him the most pleasure? "My favorites of all times? Boils down to two really. (1) My own airplane, a 'Hoot-modified' Cassutt [racer], in which I have set two world performance records and is really a fun thing to fly. (2) The MiG-21. I have flown three different models of it, and it is a blast to fly: fairly short-legged, but it sure goes while it has fuel!"

Which aircraft would Gibson still like to add to the list? "I had always wanted to fly one of the Gee Bees [legendary 1930s racers] and even tried to talk Kermit Weeks into letting me fly his, but to no avail," Gibson says. "Also wanted to fly the F-16, the F-106, or the F-4D Skyray."

Gibson additionally hopes to add an entirely new category to his résumé: tourist spaceplanes. "I made a couple overtures to Alex Tai of Virgin Galactic saying I wanted to fly with them," he says, "but Will Whiteside informed me that their own pilots—Virgin Airlines pilots—will be doing the flying."

But space tourism is a new field, with companies starting and failing seemingly every day. Stay tuned.
Gibson's Life List:
Light Aircraft (25)
Piper J-3
Piper Super Cub
Piper Colt
Piper Comanche
Piper Twin Comanche
Piper Seneca
Beechcraft Bonanza
Beechcraft Queen Air
Beechcraft King Air
Cessna 140
Cessna 150
Cessna 172
Cessna Cardinal
Beechcraft T-34B
DeHavilland Otter
DeHavilland Beaver
DeHavilland Dove
Aeronca TC-65
Luscombe 8A
Globe Swift GC-1B
Mirage Ultralight
Great Lakes Biplane
Mooney MK 20
Cirrus SR-20
Cirrus SR-22

Large Piston (10)

Boeing B-17
Ford Trimotor
North American T-6 Texan
North American T-28 Trojan
North American P-51 Mustang
Hawker Sea Fury Mark X
Hawker Sea Fury FB-11
Beechcraft C-45H Twin Beech
Douglas B-26 Invader
Douglas DC-3
Jets (37)

T-2A
T-2B
T-2C
TA-4J
TA-4F
F-4J
F-4B
F-14A
T-38A
T-38N
F-101F
A-7C
T-33
MiG-15 BIS
MiG-15 UTI
MiG-21 PF
MiG-21UM
MiG-21PFS
Fouga Magister
L-39
L-59
BD-10
MD-80
Hawker HS-125
Lear 24
Beechcraft Premier 1
Beechcraft Premier 1A
Boeing 737-200
Boeing 737-300
Boeing 737-500
Boeing 737-700
Boeing KC-135A
North American F-86E
Grumman Gulfstream 2
Grumman G2STA
Airbus 300-600
Lockheed F-104B
Helicopters (6)

Bell 47
Brantley B-2
Bell Huey Cobra
Bell H-58 Jet Ranger
Hughes 300
Hughes 500

Turboprops (4)

Lockheed P-3C
Grumman OV-1 Mohawk
Convair 580 "TIFS"
OV-10 Bronco

Experimentals (23)

Corben Baby Ace
Cassutt 11M
Cassutt 111M
Pitts S1A
Pitts S1C
Midget Mustang
Thorp T-18
Lancair 200
Seawind
Rutan Vari-EZ
Rutan Long-EZ
Smith Miniplane
RV-3
RV-4
"One Design"
Extra 300
Grove GR-1
Miller Special
Taylor Titch
"Spirit of St. Louis" Replica
Christen Eagle
Starduster II
Turbine Legend
Gliders (6)

X-26A
Schweitzer 2-33
Space Shuttle "Challenger"
Space Shuttle "Columbia"
Space Shuttle "Atlantis"
Space Shuttle "Endeavour"

Total: 111