The Great Race
When the Air Mail Service decided to establish a route between New York City and Chicago, two pilots competed to fly it first.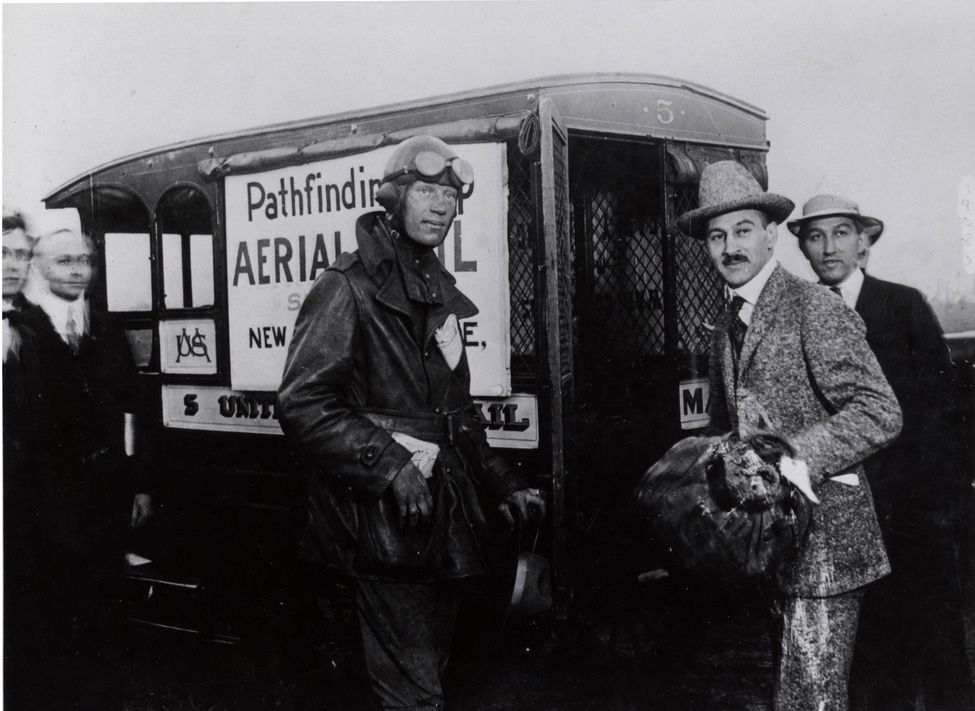 Fog and more fog. That's what veteran pilot Max Miller encountered in September 1918 during the test flight to establish an airmail route between New York and Chicago. "I came down to see where I was and get my bearings, and the first thing I knew I hit the top of a tree," Miller later told Flying Magazine. "That sure gave me a good scare. I hustled back up again into the fog, determined to get plenty of altitude and keep on going as long as my gas held out."
Just one month earlier, assistant postmaster general Otto Praeger had announced that the Postal Service would extend the existing airmail route (which linked New York and Washington, D.C.) on to Chicago; refueling stops would include Lock Haven, Pennsylvania; Cleveland, Ohio; and Bryan, Ohio.
Pilots Eddie Gardner and Max Miller were selected to survey the proposed route in a two-airplane test flight; Miller would fly a Standard with a 150-horsepower Hispano-Suiza engine. Gardner, accompanied by a mechanic, would pilot a Curtiss R-4 with a 400-horsepower Liberty engine. The men, close friends, turned the test flight into a competition; as each made a refueling stop, he'd telephone superintendent Benjamin Lipsner to find out the location of the other.
Praeger was beside himself with excitement over the history-making route. He telegraphed Lipsner (who had traveled ahead by train) in Chicago, saying, "Hundred percent today[.] If we make it successfully tomorrow let us not grow chesty."
On September 5, 1918, the morning of the historic test flight, Miller departed Belmont Park in New York at 7:08. He waited for Gardner, but Gardner's tailskid had struck the ground during takeoff, snapping off one side. As Gardner awaited repairs, Miller slowly circled the field. "Around and around he flew," reported the New York Times, "keeping well up from the ground. Finally he signaled that he would wait no longer and straightened out on his course. Those below gave a cheer and waved their hands and hats as the first Chicago mail left New York." Flying through fog for two hours, Miller finally landed in a Pennsylvania field to ask directions, arriving a little later at Lock Haven, Pennsylvania, where he stopped to fix his leaky radiator, a problem that would plague him throughout the trip.
Gardner's broken tailskid took too long to fix, so he switched to a second airplane and took off at 8:50 a.m. Hindered by a storm, he barely made it to Wilkes-Barre, 80 miles short of Lock Haven. But when he discovered that Miller had already come and gone, Gardner scrambled back into his airplane. After several more stops, he made it to Lock Haven at 2:16 p.m.
A notorious perfectionist, Praeger was upset at the morning's disorderly start, and fired off a telegram to Lipsner: "Miller got away seven naught eight Gardner broke TXL [tail] skid have asked Conner for written report on entire fiasco."
Miller was forced to land on a Pennsylvania pasture because of an overheated engine, but a gun-toting farmer chased him back into the air. After stopping twice more (and receiving much friendlier receptions) he made it to Cambridge, Ohio, where he learned that Gardner was still grounded in Lock Haven due to bad weather.
After waiting two hours for yet another radiator repair, Miller made it to the outskirts of Cleveland at 8:25 p.m. His cranky radiator kept him there until 2:15 the next day—allowing Gardner to catch up at last.
Miller stopped to refuel at Bryan, Ohio, taking off at 4:55, just missing Gardner, who landed at 5:01. Thirty-six hours after leaving New York, Miller approached Chicago's Grant Park, where thousands of people "cheered the arrival of Pilot Miller with the first sack of aerial mail," reported the Chicago Daily Tribune.
Although the New York to Chicago trip didn't quite go as planned, the Air Mail Service was still eager to prove that the mail could get from Chicago to New York in one day, and the two pilots were sent on the second leg of the race, staggering their West-to-East departure by a day.
"Thousands of persons…thronged into the Federal Building this afternoon and almost mobbed the clerks at the air-post window in an effort to purchase the new stamps of the 16-cent variety," reported the New York Times. "If each of those stamps represents a letter," Lipsner told reporters, "we shall have to have a whole fleet of airplanes to take care of the mails."
Miller, still plagued with radiator problems, had to stop in Lock Haven, Pennsylvania, where it took four hours and 20 minutes to solder the leaks. He made 600 miles before it became too dark to fly. Gardner, however, made it to New York in 9 hours and 18 minutes (and somewhat dinged up after somersaulting his airplane upon landing), proving once and for all that the Chicago to New York route was viable.