The Gosh of Oshkosh
Scenes from aviation's annual pilgrimage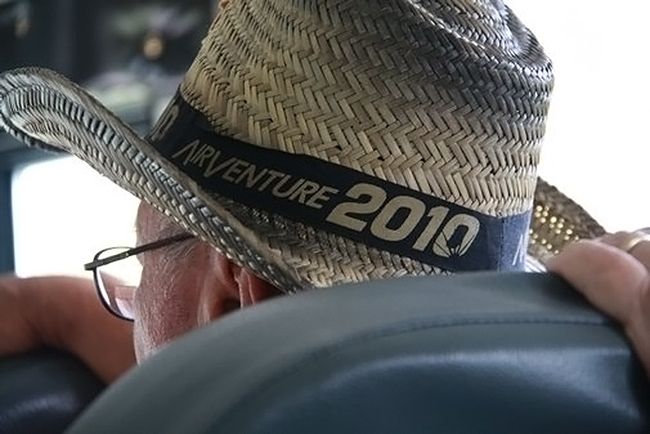 Overwhelming is the best word for it. I still think about my first trip in the mid-1990s to "Oshkosh," shorthand for the Experimental Aircraft Association's AirVenture fly-in held every summer in Oshkosh, Wisconsin. For the rookie it's impossible to avoid being totally overwhelmed. Thousands of airplanes. Hundreds of thousands of people. There's so much offered up simultaneously: lectures, forums, workshops galore on building, restoring, and flying every imaginable type of aircraft. Where to start? Where to go next? You dive in, and from the moment I did, I was hooked.

You start out in the morning with a to-do list, and find yourself immediately distracted by something you didn't expect. At Oshkosh, you bump into legends: World War II veterans, show pilots, astronauts. But the ordinary folks (like this shuttle bus rider) turn out to be just as interesting.

The richness of the experience is constant from year to year, but a lot has changed since my first Oshkosh. Thirty-six-frame rolls of film are a memory (good riddance) as my digital camera now lets me shoot thousands of photos on a card the size of a postage stamp, all the better to try to preserve all the little moments at AirVenture 2010 (already fading in my memory, just a few weeks later). There were no cell phones my first year—if you wanted to meet up with someone back then, you agreed on a time and place, usually the base of the control tower. Today, that old brick tower has been replaced by a taller concrete one, more capable for sure, but without the old-school charm.

This year got off to the soggiest start ever, and what struck me right off was the lack of airplanes. And, although there were anniversaries to celebrate for the B-17 Flying Fortress and the DC-3, and veterans to salute, the show lacked a big-ticket item—an Airbus A380 or a Rutan-built rocketplane—as an anchor, a centerpiece. That only seemed to give back ownership to everybody. The weather improved. The airplanes and the tents appeared. Oshkosh happened again, of course. In fact, it wrapped up with the first ever night show, which drew a bigger crowd than the daytime attendance. All the while, I explored, camera in hand, and stumbled across lovely surprises such as Ben Scott's 1945 Grumman Widgeon in sunset light, an airplane I'd hoped to see. You'll see it too, as you wander through these photographs.

Caroline Sheen is the Photography and Illustrations Editor at Air & Space.
AeroShell Square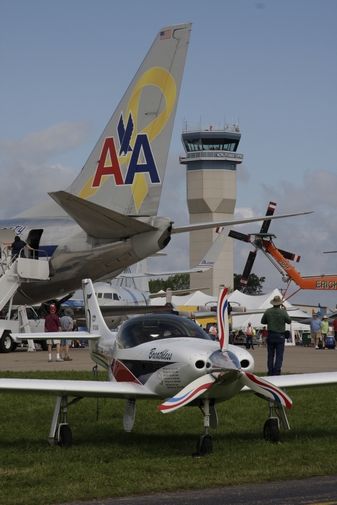 Wings, tails, and props cram AeroShell Square, the primary outdoor showcase at AirVenture. Wittman Field's new tower, shown here, stands twice the height of the old tower built in the 1960s, and began operating in 2008.
Taking a Look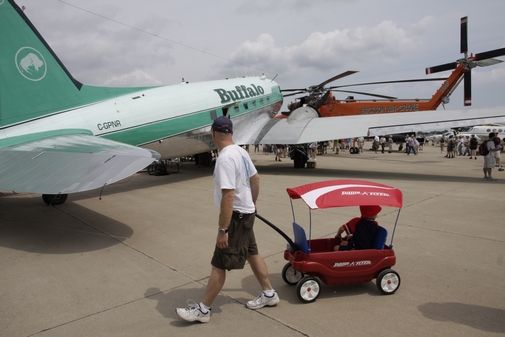 A little person rolls past a DC-3, the star airplane of the Canadian reality show "Ice Pilots NWT." The airplane flew in from Yellowknife in the Northwest Territories. In the background sits an Erickson Air-Crane N158AC Goliath helicopter, which at one point in the week hoisted a 2011 Ford Explorer just for kicks.
North 40 Field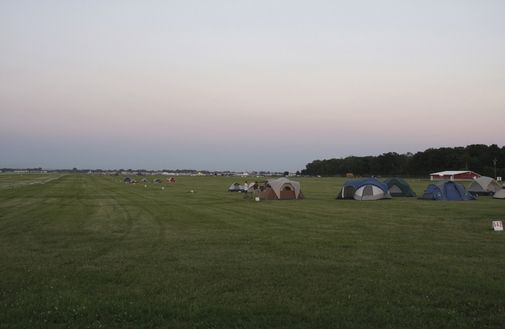 For the first time in 35 years, AirVenture's arrival field, known as the North 40—and usually filled with Cessnas, Bonanzas, Mooneys, Cherokees, plus a sea of tents—remained relatively abandoned all week due to soggy ground.
Airplane Admirers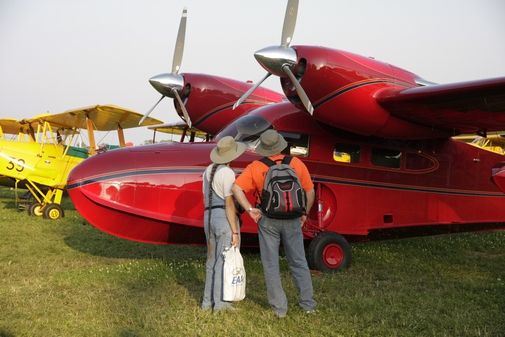 Two airplane buffs admire Ben Scott's 1945 Grumman Widgeon. The airplane, which flew in from Reno, Nevada, won the 2010 Aircraft Award Winners Gold Lindy.
Winnebago Runway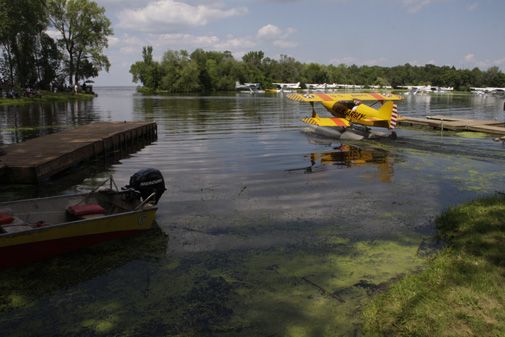 A vintage U.S. Army biplane makes wakes on the water at Lake Winnebago, a peaceful spot that all Oshkosh faithful should visit. Known as the AirVenture Seaplane Base, the lake's "runway" has both length and depth requirements.
A Very Zebra S-38
Tom Schrade's rare Sikorsky S-38 twin-engine amphibious reproduction answers to the name "Osa's Ark." The zebra paint scheme was made famous by an S-38 that filmmakers and authors Osa and Martin Johnson flew above Africa in the 1930s. Schrade's airplane returned to AirVenture in 2010 after an absence of a few years, and a full moon came out to see it.
Running the Show
The flying bug catches on early in life. This youngster is selling the EAA AirVenture Official Program, the show's full-color guide that offers all the info visitors need to navigate the weeklong schedule.
C.460 Racer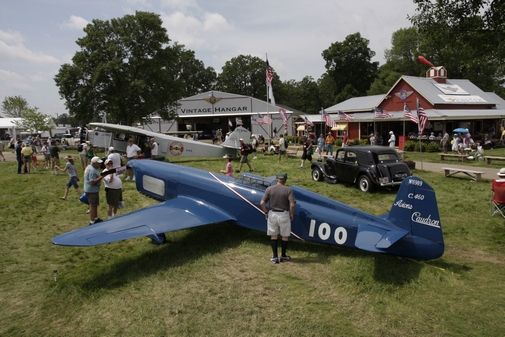 A sleek replica of France's 1934 Avions Caudron C.460 racer appeared at AirVenture for the first time. The reproduction by Mark Lightsey and colleagues at Aerocraftsman, Inc., was completed in 2009 at Flabob Airport with help from recent graduates of the Wathen Aviation High School in Riverside, California.
Hamilton Metalplane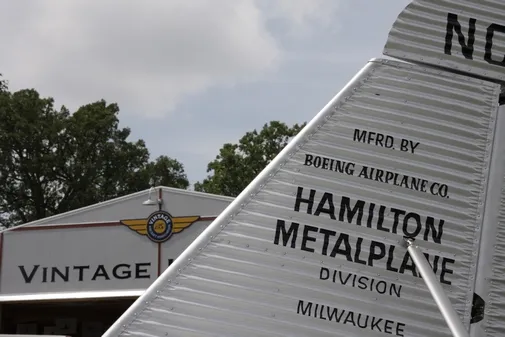 You know it's old when the restoration was completed 35 years ago. This Hamilton H-47 Metalplane, originally built in 1929, underwent a three-year restoration culminating in 1975. That year it won the Reserve Grand Champion Antique award at AirVenture. It did not return until this year, after being purchased at auction by Seattle businessman Howard Wright III for $671,000.
Supermarine Seafires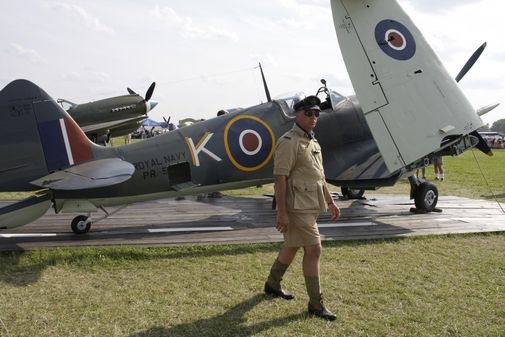 Only four Supermarine Seafires, the naval version of the legendary Spitfire, exist today. This one, owned by Dr. Wes "Doc" Stricker, was retired from the Royal Canadian Navy in 1950. It was restored in recent years by Jim Cooper, and made its first flight under civilian ownership on July 1, 2010.
Moonbean McSwine
This airplane needs no introduction. Vlado Lenoch flies his P-51 Mustang, "Moonbeam McSwine," over the lovely Wisconsin landscape. He's put 2,500 hours on the airplane during the 22 years he's owned it.
Bill and Buck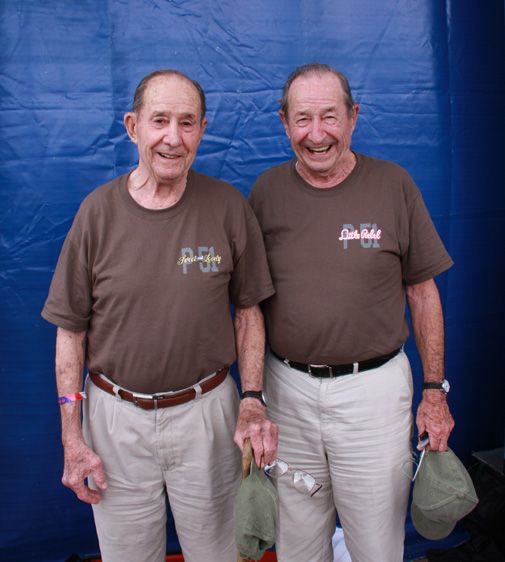 When people speak of the Greatest Generation, they're talking about Bill and Buck Pattillo. Bill flew a P-51, "Sweet and Lovely." Buck flew another, "Little Rebel." They were absolute gentlemen, and a highlight of my week at AirVenture.
Douglas DC-3 75th
This year marks the 75th anniversary of the Douglas DC-3, an aircraft that revolutionized modern air travel. This one, owned by John Phelps of Oregon and flown by pilots Paul Bazely (left) and Ivan Yen, appeared in our May/June 2010 issue. It made it to AirVenture with a couple dozen other DC-3s.
Sopwith Camel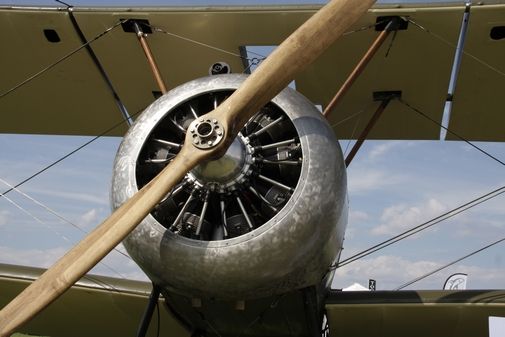 The cowling and wooden prop of a World War I Sopwith Camel reproduction pose with pride.
Into the Night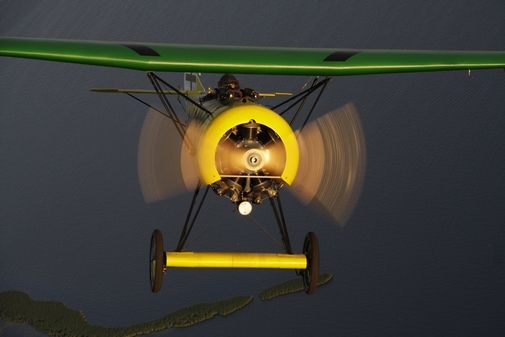 Everyone and everything look better in good light, and this Fokker D.VIII monoplane flown by vintage aircraft pilot Andrew King is no exception.
Fokker Formation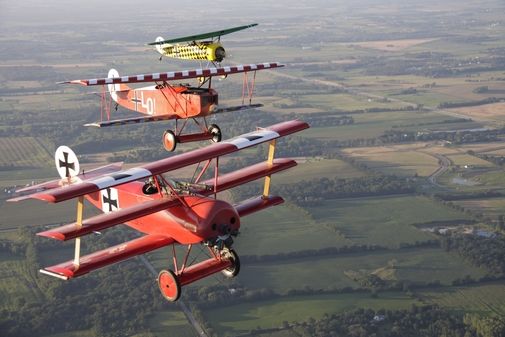 A Fokker Dr.1 Triplane flown by Mark Holliday, chief pilot at the Vintage Aero Flying Museum in Fort Lupton, Colorado, leads a Fokker D.VII and a Fokker D.VIII. "It's very unusual for replica aircraft to fly cross-country because they were designed for short combat flights," said Andy Parks, president and executive director of the museum. But they somehow made it to AirVenture this year.
An Unusual Pair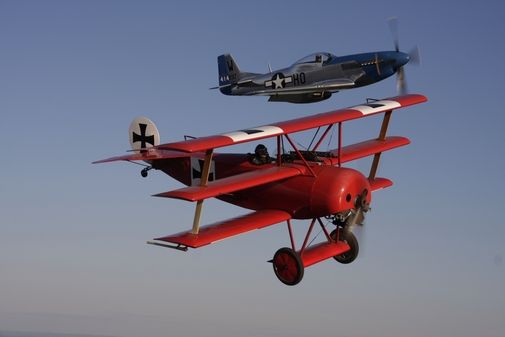 This is the first time that a Mustang and Fokker Triplane have been photographed in formation, according to vintage airplane pilot Andrew King. They were captured together at 5,500 feet and 110 mph.
War Veteran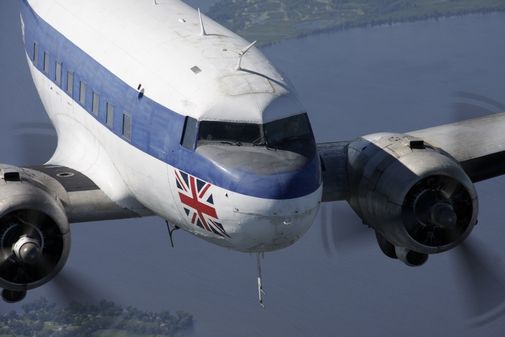 This DC-3 came off the assembly line in 1942 and headed to the United Kingdom, where it supported Eighth Air Force bombers during the war. In 1944 it towed gliders in the Normandy invasion. After the war it came home and was turned into a freighter, which explains the well-worn look.
Regulars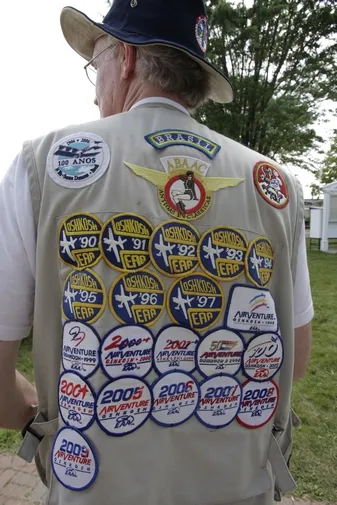 Something tells me this guy's been here before. Where's he going to put the patch in 2040?
One-Man Band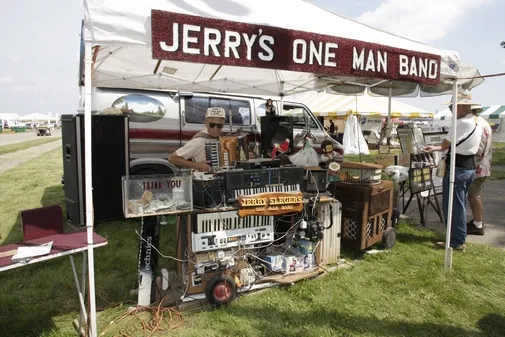 Jerry Sleger is not holding a yard sale. He's been AirVenture's one-man band for the last 24 years, and plays all the instruments you see here.
Pioneer Airport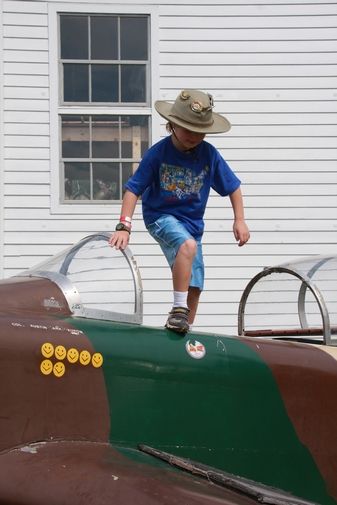 A happy show-goer climbs out of an airplane at KidVenture's campus, located at Pioneer Airport.
Bird's-Eye View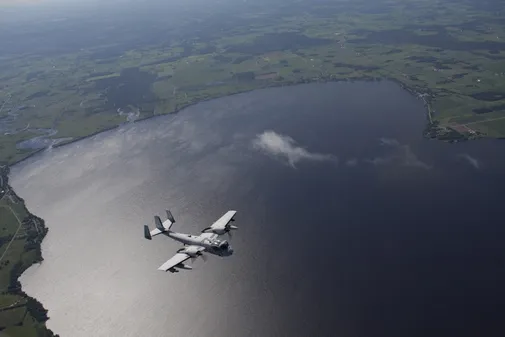 A Grumman OV-1 Mohawk enjoys a nice view of Lake Poygan, west of Oshkosh.
Vintage Categories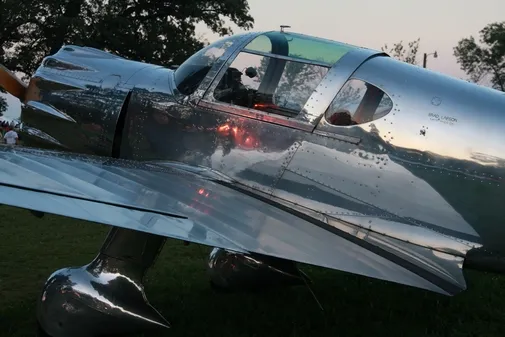 A Ryan SCW offers plenty of reflection in the vintage area at AirVenture, my favorite place to hang out. Since the Vintage Aircraft Association was founded in 1971 as the Antique/Classic Division, its members have demonstrated their love and respect for aviation's proud and colorful heritage. An antique aircraft is defined as constructed by the original manufacturer on or prior to August 31, 1945; a classic aircraft between September 1, 1945 and 1955; and contemporary between 1956 and 1970. Awards are presented in all three categories at AirVenture.
Portrait of a Photographer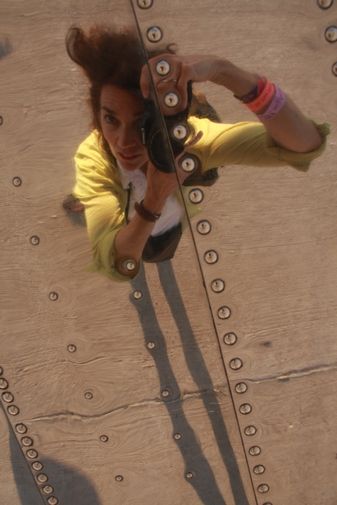 Yours truly, reflected in the shiny wing of a DC-3.