The Gift of Art
A recent donation by Michael and Maureen Harrigan helps the Museum fulfill its mission.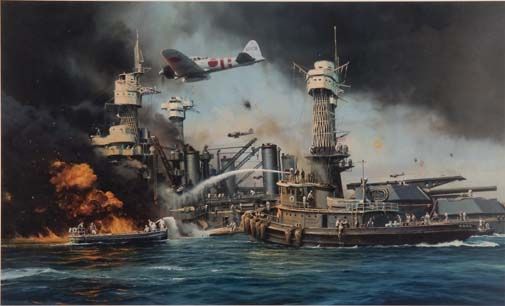 Visit the Smithsonian's National Air and Space Museum, and you're guaranteed to see historic aircraft and spacecraft, from the original Wright 1903 Flyer to the Space Shuttle Enterprise. The Museum also boasts a multitude of artifacts large and small: engines, propellers, aerial cameras, more than 2 million technical drawings—even popular culture items such as Charles Lindbergh-emblazoned underwear.

At the time of the Museum's creation, Congress also mandated that one gallery be specifically dedicated to aerospace artwork. Recently Michael and Maureen Harrigan, of Kendall, New York, gave the Museum 42 prints by renowned aviation artist Robert Taylor, a collection acquired over some 20 years.

When Mike Harrigan's firm, the Harrigan Brady Paper Company, moved to its new location in 1988, Harrigan asked his (mostly female) staff for suggestions on how to fill the empty wall space. "They wanted paintings of daisies," he said, somewhat mournfully. Because of the company's proximity to the Greater Rochester International Airport, Harrigan suggested an alternative: pictures of airplanes.

The first Taylor print that Harrigan acquired was titled Home at Dusk, which depicts four P-51 Mustangs crossing the East Anglican coast on their way back to base. Harrigan's interest in aviation art grew from there; he eventually collected so many of Taylor's prints that his staff took to calling him "Imelda Marcos." When he ran out of available wall space, Harrigan wasn't deterred in the least—he hung the remaining prints in the men's room.

Harrigan's art collection began to gain a bit of fame in the Rochester area, with customers, postal carriers, and the random citizen showing up during work hours asking for a tour. Visitors were so frequent that "the girls suggested I start charging a fee, and we could have a party with the money," joked Harrigan.

As senior aeronautics curator Tom Crouch writes in our March 2010 issue, "Someone once asked Mike if he would ever part with the collection. His answer: 'Well, if the Smithsonian walked in, I'd have to consider it.' To make a long story short, we did, and he did."

When the Smithsonian crew came to package the collection for transport, Harrigan had one request: to wrap up Home at Dusk first, and to box up the final print he acquired, last. "There was a tear in my eye," Harrigan said, as he watched the crew package his collection, piece by piece. "All of the girls were crying. They knew how much those prints meant to me."

Part of the Harrigans' collecton can currently be seen on the lower level of the Museum's Steven F. Udvar-Hazy Center. Once the new restoration wing is completed, in 2011, the collection will be displayed in its entirety. Click on the images below to take a closer look at a few prints from the collection.

The painting shown above, Morning Thunder, includes a note from the artist, Robert Taylor: "Sunday, December 7, 1941. Having taken six torpedo hits and two bomb strikes in the first-wave attack on Battleship Row, the West Virginia is ablaze, her bows already low in the water and decks awash. Ignoring the risk, crews push the Navy tug Hoga alongside with fire-fighting equipment and to pick up survivors. Overhead, Japanese Zeros swoop through the smoke, aiming the second-wave attack at installations on Pearl Harbor's Ford Island, to complete one of history's most devastating unprovoked declarations of war."
Fortress Under Attack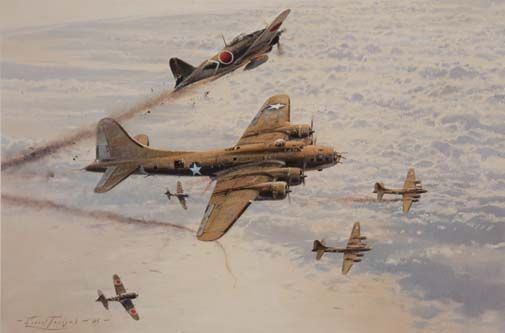 In Taylor's Fortress Under Attack, 22nd Bomb Group B-17s are under attack by Mitsubishi Zero fighters over Rabaul, on November 1942.
In Gallant Company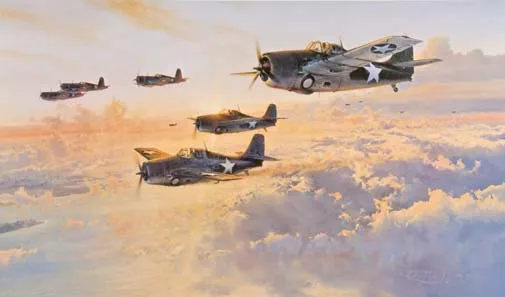 Artist Robert Taylor has written several books about his aviation art. In Robert Taylor: Art Combat Paintings Vol. II, he writes about this work, titled In Gallant Company:

"When flying hazardous over-water missions, a pilot's worst nightmare was having to parachute or to ditch into the vast expanse of the Pacific, where there was little chance of ever being picked up. Yet it was a concern every fighter pilot had to live with on almost every mission flown in the Pacific. Exhausted from the exertions of combat, perhaps wounded, a pilot might have to nurse home a damaged aircraft over hundreds of miles of sea. A slip in concentration or even consciousness could bring a fighter pilot's career to an abrupt and watery end. Coaxing along a badly damaged plane on a long journey home could, I am told, be more harrowing than combat itself. All pilots in the Pacific had to contend with this ever-present fear, and they readily identified with the anxieties of another flyer in trouble, quickly rallying round to provide what support and encouragement they could. On countless missions pilots would close ranks around a stricken plane in an effort to see him home. The overbearing tension could be drawn out for over an hour or more. My painting In Gallant Company endeavours to portray such an episode, and depicts a nail-biting drama in the Solomons during the great struggle for air supremacy in 1943. Marine Corps F4F Wildcats have fought a bitter air battle. Weary from the contest but flushed with success, the F4F pilots head for base; they are joined by three F4U Corsairs, newly arrived in the Pacific, on the journey home. But one of the F4Fs is in trouble: it has been raked across the fuselage by gunfire, crazing the canopy, taking out the radio equipment and puncturing an oil pipe. The pilot is injured but in control, and has thus far managed to maintain speed. His CO and wingman have closed in to give support; but with land in sight, the F4F has started to trail smoke. As we view the drama we are uncertain whether the islands looming up are friendly or in enemy hands. How much longer will this F4F's engine continue to run? Can the pilot hang on?"
Beach Head Strike Force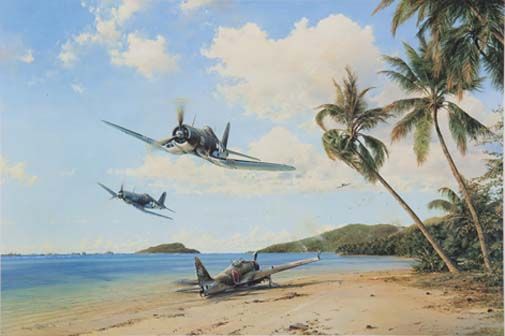 In Beach Head Strike Force, the legend reads: "F4U Corsairs search and destroy enemy positions during landings in the Marshall Islands, Pacific, 1944. An A6M Zero lies on the beach, victim of earlier air fighting."
Mission Beyond Darkness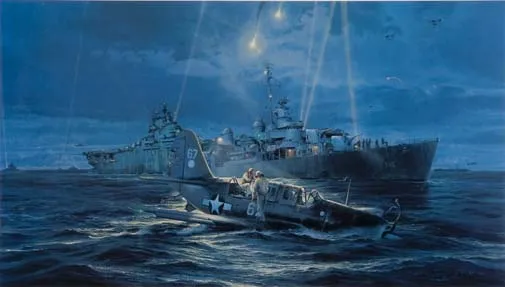 In Mission Beyond Darkness, the artist's note reads:

"Following the attack against Admiral Ozawa's Japanese carrier fleet on June 20, 1944, Admiral Mitscher defies all rules of naval engagement: In total darkness, with the ever-present danger of enemy submarines, he orders every ship in his Task Force 58 to switch on lights to guide over 100 returning carrier-borne aircraft, all desperately low on fuel. Amid the confusion, unable to get a landing slot aboard the USS Lexington, and now out of fuel, a pilot and his gunner scramble from their ditched SB2B Curtiss Helldiver, as a Fletcher class destroyer manoeuvres to make the pick up."

In Robert Taylor: Air Combat Paintings of Robert Taylor Vol. IV, the author notes, "In addition to the usual amount of research needed to identify the aircraft properly, this painting required me to become familiar with both the destroyer and the carrier before I could start work on the canvas. With the destroyer featuring so prominently, I needed to know exactly how she would have looked all those years ago. When people ask me how long it takes to complete a painting, which they often do, I believe most are referring to the time I spend at the easel. I usually try to emphasize the amount of time it takes to get to the point where I can start to put paint on canvas. Sometimes this can be almost half as much as the time spent with the brush, this painting being one that fell into that category."
Dawn Operations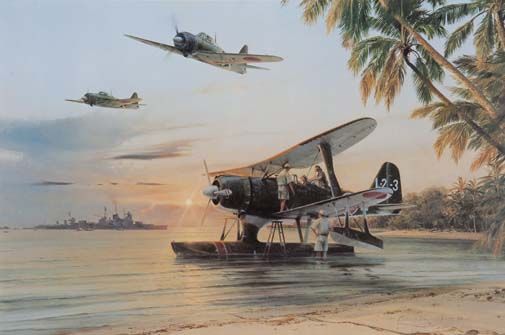 In Dawn Operations, "As dawn breaks over the south-west Pacific, a Mitsubishi F1M2 Japanese Navy seaplane makes final preparations for a reconnaissance patrol. Two escorting A6M Zero fighters from a nearby carrier make a welcoming pass overhead."

From the book Robert Taylor: Air Combat Paintings of Robert Taylor Vol. IV: "In 1996 I was asked to paint a scene featuring Japanese aircraft, looking in from the other side, as it were…. I was given a completely free hand with the painting and decided to paint a relatively peaceful scene, as I felt this would rest easily within the tropical island setting I had in mind. I rejected the temptation to make the Zero the focus of the picture, even though that aircraft is synonymous with Japan's air effort. Instead, I indulged myself by choosing the Mitsubishi floatplane. Most small floatplanes from that era have the most wonderful configuration, and the F1M2 is no exception."
Valor in the Pacific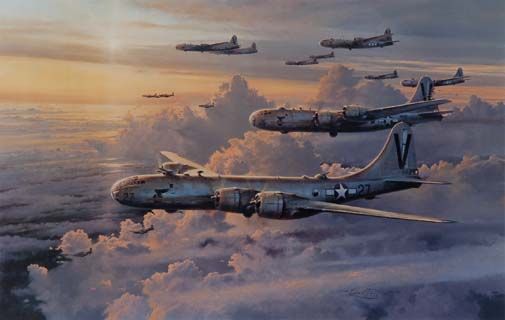 In Valor in the Pacific, Robert Taylor has painted "B-29 Superfortress bombers of the 499th Bomb Group, 73rd Wing, 20th Air Force, returning to Saipan Island after a daylight raid on Tokyo, April 1945. Long-range P-51 Mustangs, running low on fuel, peel off and head home leaving the B-29 crews to fend for themselves."
Victory Flyover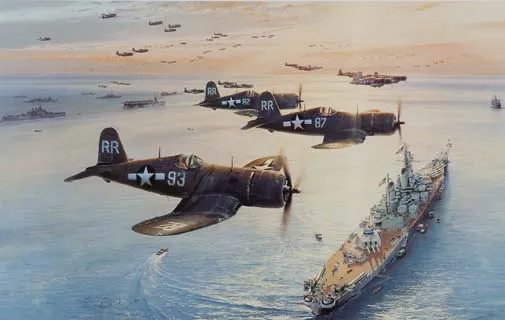 In Victory Flyover, "The massed flyover heralds the surrender aboard the USS Missouri, Tokyo Bay, 1945."