The Front Office
Every pilot needs a place to work.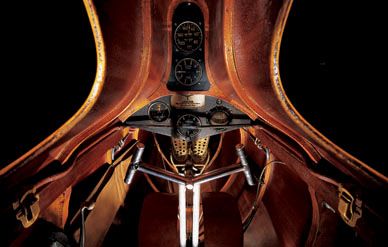 THE VOLUPTUOUS CURVES OF THE Senior Albatross sailplane are the work of William Hawley Bowlus, who got his start in aviation when he hired on at the Ryan Airlines plant in San Diego, California, in 1916 and helped design and build the Ryan NYP Spirit of St. Louis. Later, he taught both Charles and Anne Morrow Lindbergh to fly sailplanes and designed a series of craft inspired by high-performance sailplanes that were then being produced in Germany.
He crossed paths with Richard C. duPont, a young glider enthusiast who soon joined him in setting up a small sailplane manufacturing facility in San Fernando, California. When duPont began to set records with the Bowlus sailplane, one onlooker, Warren E. Eaton, became determined to buy one and commissioned Bowlus to build it with a unique mahogany plywood skin. Eaton named it Falcon and set records of his own with it.
Embraced in its cabinet-like panel are basic flight instruments, (from the top) airspeed indicator, vertical speed indicator, (bottom, left to right) turn-and-bank indicator, altimeter, and magnetic compass.
The photograph on this page and the ones that follow appear in a new National Air and Space Museum book, At the Controls (Boston Mills Press), featuring 70 photographs by Eric F. Long and Mark A. Avino, including details of the cockpits of many aircraft in the Museum's collection. Bowlus Albatross
—The editors
View images of the cockpits in Eric F. Long and Mark A. Avino's At the Controls in the gallery at right.