The Flying White House
Presidential airplanes, past and present.
In this post-election season, we offer a look at the airplane that serves as both transportation and command center for U.S. presidents—Air Force One.
The first military transport officially assigned to a president was a Douglas DC-4—popularly known as the Sacred Cow—used by Franklin D. Roosevelt beginning in 1944. Prior to World War II, only Theodore Roosevelt and Woodrow Wilson had left the country during their presidencies—to significant criticism at home. Public opinion would soon change.
The Sacred Cow gave way to Harry Truman's Independence (a Douglas DC-6 named in honor of the president's hometown), and Dwight Eisenhower's Columbine II and Columbine III (a Lockheed Constellation and Super Constellation). Eisenhower would also be the first president to travel by jet, on a Boeing 707 nicknamed "Queenie." It was during Eisenhower's era that "Air Force One" was first used to identify any airplane carrying the president. As Kenneth Walsh writes in his book Air Force One: A History of the Presidents and Their Planes, "Columbine II, known as Air Force 610, was carrying Eisenhower to Florida when air traffic controllers briefly confused it with Eastern 610, an Eastern Airlines plane on a commercial flight in the same area. Ike was never in danger, but [William] Draper, his pilot, decided from then on to call the president's plane Air Force One, and the name stuck."
Walsh also relates the story of Bill Clinton's last trip on the presidential airplane nearly half a century later. On "a sentimental journey to Little Rock, Arkansas, where he had gotten his start in politics, [Clinton] walked the length of the plane, inspected the cabins, the galley, and the conference rooms, and even paid a visit to the press compartment." Upon leaving the White House in 2001, Clinton listed three things he would miss: "I'll miss Camp David. I'll miss the Marine Band. I'll miss flying on Air Force One."
Teddy Roosevelt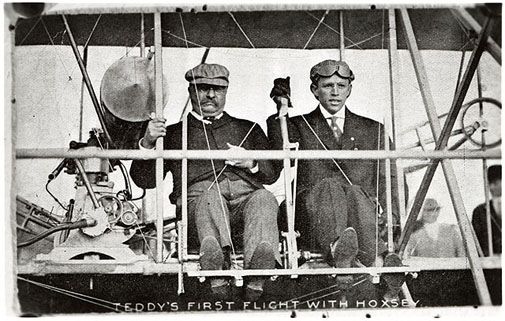 Although Franklin Roosevelt was the first president to fly while in office, his distant cousin Teddy beat him to the experience of air travel. "Col. [Theodore] Roosevelt defied death late yesterday when he went up in an aeroplane with Aviator Arch Hoxsey," United Press breathlessly reported on October 12, 1910. Actually, the former president wasn't in too much danger: Mindful of his VIP passenger, pilot Hoxsey, a member of the Wright Brothers Exhibition Team, never exceeded an altitude of 200 feet during his two laps around Kinloch Field near St. Louis, Missouri. "I was very careful," Hoxsey told a reporter. "I said to myself, 'If anything happens to him I'll never be able to square myself with the American people.'" Roosevelt enjoyed himself immensely during the three-minute jaunt, waving enthusiastically to the cheering 10,000-plus crowds (watch a video here). "That was the bulliest experience I ever had," Roosevelt told Hoxsey. "I envy you your professional conquest of space."
FDR Nomination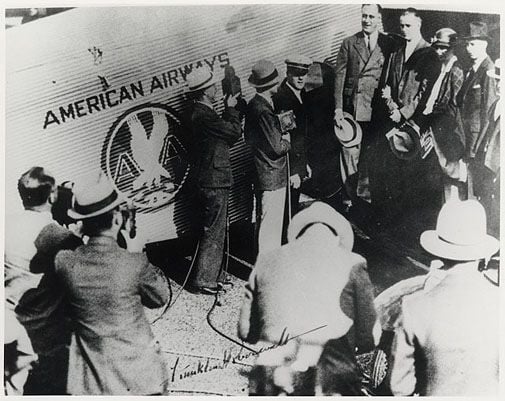 During the 1920s, a few presidents posed with airplanes for photographs, but none went aloft until 1932, when Franklin D. Roosevelt, then governor of New York, hopped onboard an American Airways Ford 5-AT Tri-Motor to fly to Chicago to accept the Democratic Party's presidential nomination. "After landing at Chicago," wrote Von Hardesty in his book Air Force One: The Aircraft That Shaped the Modern Presidency, "Roosevelt was escorted by Mayor Anton Cermak in a motorcade to the Democratic convention, where the triumphal nominee received a tumultuous response. No presidential nominee had ever assumed the mantle of leadership in such a dramatic fashion, descending from the heavens in an airplane, the technical marvel of the twentieth century."
First Presidential Flight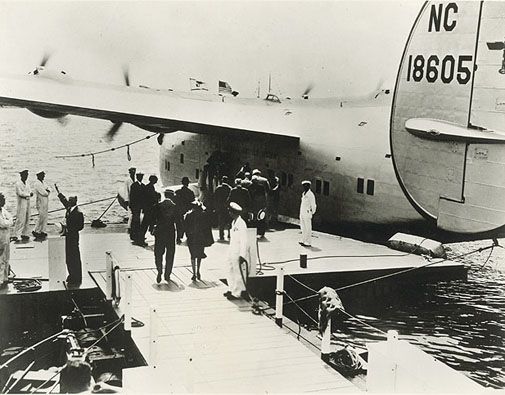 In January 1943, President Franklin D. Roosevelt traveled to the Casablanca conference in Morocco on board a Boeing 314 Dixie Clipper (similar to the one shown here), marking the first time a sitting president had flown in an airplane. An escort of 36 fighters protected the presidential transport as it made its way toward the wartime meeting. The trip consisted of three legs: the first, covering 1,600 miles, took Roosevelt from Miami, Florida, to Port of Spain, Trinidad. The second leg covered the 1,200 miles to Brazil, and the third leg took the president and his staff 2,500 miles across the Atlantic to Gambia. From there, the group took a C-54 to Casablanca. Other conference attendees traveled less luxuriously: British Prime Minister Winston Churchill flew in an unheated B-24 Liberator, sleeping on a mattress in the rear of the bomber.
The Sacred Cow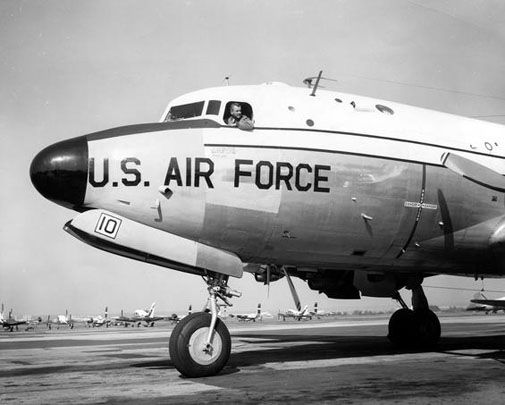 Reluctant to rely on commercial flights for future presidential travel, the U.S. Army Air Forces commissioned Douglas Aircraft to build the first official presidential aircraft. The C-54 Skymaster, nicknamed the Sacred Cow, carried FDR to his third and final wartime conference in Yalta in 1945. After Roosevelt's death, President Harry Truman used the Sacred Cow frequently. Presidential pilot Henry Myers considered Truman his favorite passenger; after takeoff, the easy-going president would usually appear at the cockpit, ready to play poker and tell stories to the crew. Truman so respected Myers that when the pilot considered taking a commercial job, the president offered him a general's star and a position as an advisor. Myers respectfully declined.
JFK Air Force One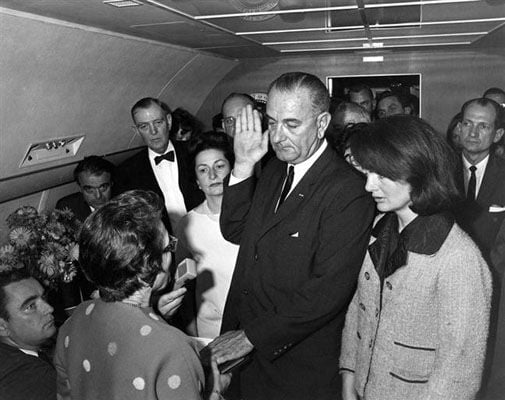 With the John F. Kennedy administration, a Boeing 707-353B airliner became the new presidential transport, and the call sign "Air Force One" entered popular culture. The aircraft served for 35 historic years, carrying JFK to Berlin, West Germany in June 1963 for his famous speech, and, tragically, serving as somber transport for the slain president on November 22, 1963. Merriman Smith, UPI's White House reporter who was riding in the press car behind the president's motorcade, received a Pulitzer Prize for his reporting on that day. Smith was one of two journalists allowed to fly back to Washington, D.C. aboard Air Force One. Read his account of Lyndon Baines Johnson being sworn in on board the aircraft. In his book Air Force One, National Air and Space Museum curator Von Hardesty describes the preparation of the aircraft: "The idea of placing the corpse of the slain president in the hold of the aircraft was rejected out of hand. The only alternative was to place it in the rear passenger compartment, which required some instant hands-on redesign of the relatively small space. A partition was removed, along with four seats, to allow the casket easy entry and placement. It took no small amount of energy to move the nine-hundred-pound bronze casket up the narrow ramp into the compartment, where it rested across from the galley. It would be here that Mrs. Kennedy chose to seat herself, surrounded by a host of her husband's former staff, for the long flight home."
Nixon Redesign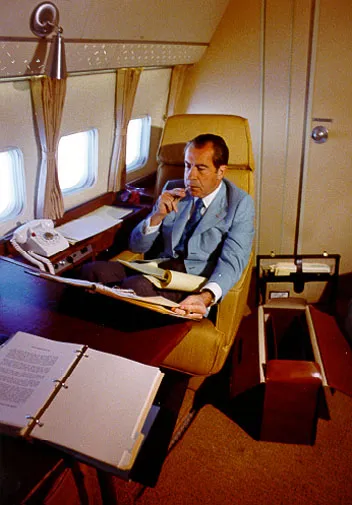 Air Force One was in need of refurbishing by the time Richard Nixon took office in 1969, and the new president was greatly involved with the interior redesign, which took three months. Nixon placed an emphasis on privacy, doing away with the open floor plan favored by Lyndon Johnson, asking instead for a three-room suite for himself and his family that could be used as a combination office, lounge, and bedroom. The press corps was relegated to a small suite, which they shared with security.
Landing in China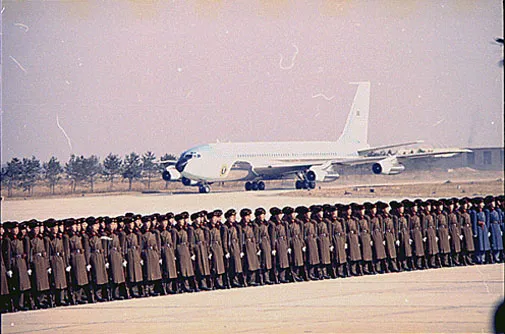 A Chinese honor guard was on hand to greet President Richard Nixon and his staff when Air Force One landed in Beijing, China, on February 21, 1972. "When our hands met," said Nixon of his historic meeting with Chinese premier Zhou En-lai, "one era ended and another began." Von Hardesty writes in Air Force One that the crew was nervous about the trip: "The crew had no current data on radio frequencies, landing procedures, or protocols for flying in Chinese air space. There were other technical concerns, such as the availability of compatible linkage to auxiliary ground power, among myriad other problems."
September 11, 2001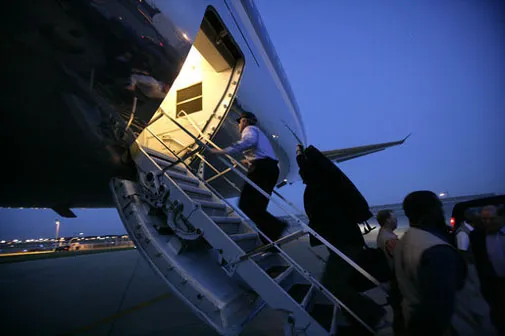 President George W. Bush was in Sarasota, Florida, on the morning of the September 11, 2001 terrorist attacks. He was moved to Air Force One as quickly as possible, flown to Barksdale Air Force Base in Louisiana, then on to Offutt AFB in Nebraska, before making the final leg to Andrews AFB in Maryland, just outside Washington, D.C. F-16s provided escort. Von Hardesty writes in Air Force One: The Aircraft that Shaped the Modern Presidency, "Not since the assassination of John F. Kennedy had Air Force One been center stage in a national tragedy…. The delays and the peculiar flight path of Air Force One had reflected the extraordinary context of the day, a moment in time that the president himself described as the 'fog' of war." In this image, Bush boards Air Force One in 2006, en route to Iraq.