The Flight of Shenzhou-9
China's first manned space station mission comes to a successful end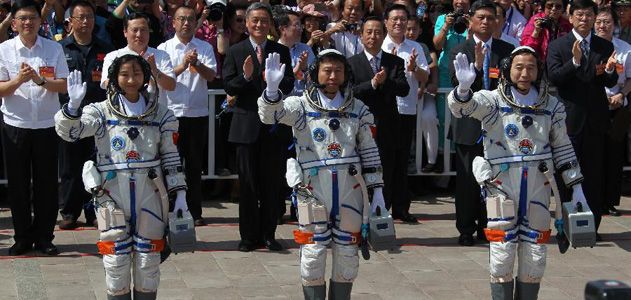 Shenzhou-9: (June 28 Update)
The Shenzhou-9 astronauts are back on Earth after their successful 13-day mission. The landing in Inner Mongolia came a little after 10:00 a.m. Friday, China Central time.
(June 24 update)
Astronaut Liu Wang was at the controls of Shenzhou-9 today for China's first manual docking with the Tiangong-1 space station. Space agency spokesperson Wu Ping said "It was a precise docking, and perfect."
Watch video of the maneuver below, or for more detail listen to the post-docking press conference.
(June 22 update)
It appears from this TV report (in Chinese) that the Shenzhou-9 astronauts have had plenty of time in the last 24 hours for zero-g tumbling, playing harmonica, calling home, and the obligatory playing with floating food. Liu Yang, the nation's first female astronaut, also pulled her first night shift inside the Tiangong-1 station.
The astronauts are looking ahead to their docking test on Sunday, during which they will get back inside Shenzhou-9, undock, then manually redock with Tiangong. Before the launch China Central TV broadcast this handy guided tour of the Shenzhou capsule:
(June 21 update)
Here's a slideshow of video grabs from yesterday's activities onboard Tiangong-1. The astronauts were mostly preoccupied with exercise and biomedical experiments, which continued on Thursday:


(June 20 update)
Yesterday the astronauts on Tiangong-1 talked to mission control in a televised videoconference, and continued their experiments and checkouts of onboard systems.
The Chinese press and space agencies have done a good job of showing not just the Shenzhou crew's activities, but some of the action behind the scenes.  Here's a photo-essay (translated by Google) highlighting the work of one of the astronaut trainers.  And a Chinese-language video with scenes inside mission control:
(June 19 update)
On their first day inside the Tiangong-1 mini-station, the Shenzhou crew took air samples, which reportedly tested normal. Video clips from day one (below) include a close-up of what appears to be one of the sleep compartments.
Like Sally Ride, Liu Yang has attracted lots of attention as her nation's first female astronaut. This slideshow has scenes of her home life, and even her high school class picture.
(June 18 update)
Chinese astronauts boarded the Tiangong-1 space station on Monday, after the Shenzhou spacecraft docked at 2:07 p.m., Chinese central time. Shenzhou-9 mission commander Jing Haipeng and Liu Wang were the first to enter Tiangong, and Liu Yang followed later.
Although this docking was automatic, a manual docking test is scheduled for June 24; Shenzhou will undock, then redock in manual mode.
One observation from the video footage below: The "floor" and "ceiling" of this prototype mini-station appears to be some flexible stretched material rather than a hard surface. Makes sense, since it doesn't have to bear weight, and likely has storage space underneath.
And it's interesting to see what national symbols are prominently displayed: The Chinese flag and a red decorative knot.
(June 17 update)
Shenzhou-9 will dock with the Tiangong-1 mini-station early Monday morning (U.S. eastern time). Here's a video report from China Central TV:
(June 16 Update
)
Shenzhou-9 and its crew of three are in orbit. Liftoff came at 6:37 p.m. Saturday, Beijing time (6:37 a.m. US Eastern time). Docking with the Tiangong-1 space lab is planned for Monday.
Here's video of the liftoff, from China Central TV.
(June 15 Update)
A Chinese Long March rocket with the Shenzhou-9 spacecraft on top is now sitting on the pad at the Jiuquan Satellite Launch Center in Inner Mongolia, preparing for a Saturday afternoon launch (6:37 a.m. Saturday, U.S. Eastern time).
The three-person crew was announced today. It includes China's first woman astronaut, 33-year-old Liu Yang, an air force pilot selected as an astronaut in 2010. The mission commander is a spaceflight veteran: Jing Haipeng, who flew on Shenzhou-7 in 2008. Rookie Liu Wang, another People's Liberation Army pilot-turned-astronaut, will handle the Shenzhou's rendezvous and docking operations with the Tiangong-1 mini-space station, while Liu Yang will be in charge of onboard medical and biological experiments.
The crew members (see a nice slide show of them training) were introduced to the Chinese press today:
This will be the first time astronauts enter the Tiangong-1 station.  A spokesperson for the China Manned Space Engineering Agency described the docking tests:
When the complex is formed after the auto rendezvous and docking of Shenzhou 9 with Tiangong 1, the astronauts will enter into the experimental module of Tiangong 1 target vehicle through the docking passage and start working and living there.

In the middle phase of the flight of the complex, astronaut manual rendezvous and docking will be implemented. First, the two vehicles will be separated. Then the astronauts will control the spaceship autonomously and realize manual rendezvous and docking with the target vehicle and form the complex again. After finishing the scheduled missions, the two vehicles will be separated for a second time. The spaceship will return to the landing site and the target vehicle will maneuver to long term operation orbit.
Follow the action on China Central TV.