The Flight of Shenzhou-10
China's final mission to the Tiangong-1 space station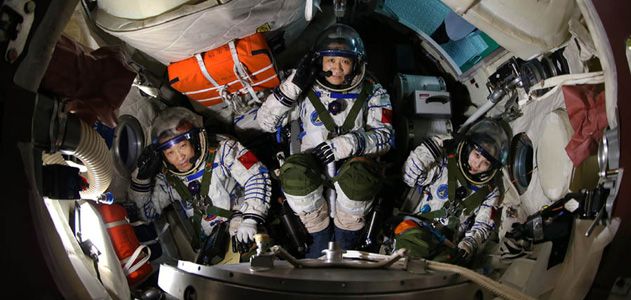 Update: June 26, 2013
The crew of Shenzhou-10
– Nie Haisheng, Zhang Xioguang and Wang Yaping  — are  now back on the ground, having completed their 15-day mission to the Tiangong-1 space station.  Here's video of the crew emerging from their capsule at the landing site in Inner Mongolia:
Update: June 25, 2013:
The Shenzhou-10 capsule has undocked from Tiangong-1, and the astronauts are getting ready to return to Earth. Landing is scheduled for 8 a.m. Wednesday morning, Chinese time — or 8 p.m. Tuesday, U.S. eastern time.
Update: June 24, 2013
Another spaceflight ritual checked off the list: the presidential phone call. China's President Xi Jinping talked to the orbiting Shenzhou astronauts by phone from mission control earlier today:
The astronauts did a manual un-docking and re-docking with the Tiangong-1 station yesterday, and are expected to return to Earth early Wednesday.
Update: June 20, 2013
Shenzhou astronauts broadcast China's first "lesson from space" on Thursday morning, with Wang Yaping as the teacher, commander Nie Haisheng as her assistant, and Zhang Xioguang as the cameraman. Here's the whole 45-minute lesson (with English translation helpfully provided). It was watched by more than 60 million school children in China. The continuous broadcast was relayed through the Tianlian communication satellites — China's equivalent to the TDRSS satellites that greatly improved NASA's communication with orbiting astronauts back in the space shuttle days.
It's fascinating to watch China recreate half a century of human spaceflight evolution in just a few years. Wang's demonstrations covered all the marvels that astronaut teachers have been wowing students with since the beginning of the space age: floating balls of water, spinning gyroscopes, stars that don't twinkle, and 16 sunrises a day. As Zhang told the students at the end of the lesson, "deep space is a place full of secrets."
Here's a vintage video from 40 years ago — astronaut Owen Garriott teaching much the same kinds of lessons from NASA's first space station, Skylab:
Update: June 19, 2013
Wang Yaping is scheduled to teach her lesson from space — a first for the Chinese — around 10 a.m. on Thursday, according to Chinese media. (That's 10 p.m. Wednesday in the Eastern U.S. time zone). China Central TV has a live feed here.
Update: June 17, 2013
As promised, the Tiangong-1 module has new flooring. The Shenzhou-10 astronauts did a little Home Depot installation job on Friday.
Chinese media also passed on a message that American teacher-in-space Barbara Morgan sent to Wang Yaping, who plans to deliver a science lecture from orbit during her mission. Calling Wang "China's first teacher in space" seems a bit of a stretch, since she's not a professional teacher, and practically all astronauts, from all nations, interact with school children during their missions. But this apparently will be more of a formal physics lesson, as opposed to just a fun demonstration. Let's hope, as Morgan wrote, that "these are all going to be broadcast on the Internet, so that all of those on the ground in the world can watch."
Update: June 14, 2013
Chinese TV coverage of the Shenzhou-10 mission seems a little stingier than on past missions, or maybe the astronauts are busier. Still, this segment (in Chinese) shows a few scenes right after the crew boarded the Tiangong-1 module yesterday.
The module still appears to have its flexible, trampoline-like floor. During the pre-launch press conference, Chinese space agency spokesperson Wu Ping mentioned that the floor would be changed, so maybe we'll see a more solid one by mission's end.
Update: June 13, 2013
Shenzhou-10 docked with the Tiangong-1 mini-space station (what else to call something smaller than the Spacehab module that used to ride in the U.S. space shuttle's cargo bay?) at 1:18 p.m. Thursday afternoon, Chinese time.  For the next 12 days you'll be able to follow their combined orbital track to see when the docked vehicles are flying overhead.
Here's a shot of the crew inside Tiangong-1. More photos are here, from the Xinhua news agency.
Update: June 12, 2013
The Shenzhou-10 astronauts are on their way to the Tiangong-1 space station. If the orbit-matching and rendezvous follow the same timetable as last year's Shenzhou-9 mission, we can expect the docking to take place early Thursday afternoon, Beijing time (U.S. Eastern time is 12 hours behind, so it would be late Wednesday night/early Thursday morning here).
CCTV has broadcast a few scenes (in Chinese) of the weightless crew inside their Shenzhou spacecraft:
Update: June 11, 2013

The walkout to the launch pad has been a ritual for astronauts and cosmonauts for more than 50 years, and each of the three spacefaring nations — the U.S., Russia, and China — does it a little differently. "Walkout" is a bit of a misnomer, actually. The crews ride in a bus to the pad, and their sendoff before boarding the bus is just the last in a series of goodbyes from well-wishers, family, and even the viewing public. American astronauts are probably the most casual. After suiting up, space shuttle crews would quickly board their Astrovan, waving to a crowd of friends, co-workers and news photographers, sometimes without even breaking their stride. Russians like to pile on the ritual, with seemingly endless signing ceremonies, tree-plantings, and other customs added over the years, in both Star City (where cosmonauts say a tearful goodbye to their families) and the launch center at Baikonur.
Here's how the Chinese do it. The Shenzhou-10 crew sendoff earlier today was a mix of protocol and pageantry, with a slightly more military vibe than you'd see at an American or Russian launch.
June 10, 2013

A crew of three Chinese astronauts is making final preparations for a 15-day mission to the nation's Tiangong-1 space station. Their launch, on a Long March 2F Y10 rocket, is scheduled for 5:38 p.m. Chinese time (5:38 a.m. U.S. Eastern time) on Tuesday.
The Shenzhou-10 mission will be very similar to the Shenzhou-9 flight a year ago, with a couple of minor adjustments (for example, this time the astronauts won't work round-the-clock in shifts). Once again the crew consists of two men and one woman. Commander Nie Haisheng was the flight engineer on Shenzhou-6 in 2005, and Zhang Xioguang and Wang Yaping are both rookies.
Here's the crew's press conference, from earlier today:
Here's a profile of Wang, the country's second female astronaut:
And here's American planetary scientist John Lewis offering perspective on China's human space exploration program in an interview for Chinese TV.