The First Presidential Flight
Nowadays the U.S. President has his own airplane. But for Franklin Roosevelt in 1943, flying was still a big deal.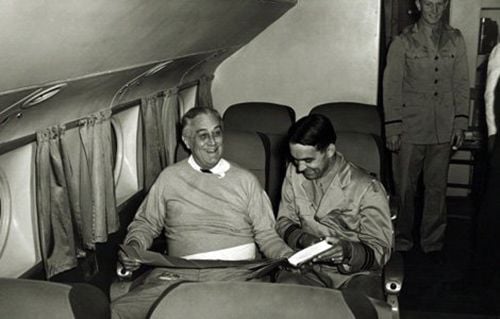 The Casablanca Conference, held 70 years ago this week, is remembered today for the agreement by Franklin D. Roosevelt and Winston Churchill to demand unconditional surrender from their Axis enemies. But even before the leaders sat down to talk, FDR made history. His trip across the Atlantic, in a Boeing 314 flying boat, was the first time a sitting U.S. president flew on an airplane.
Nobody was more impressed than his pilots. The flights had been planned in secrecy, and when Roosevelt and his entourage showed up at the Pan American airways base in Miami on the morning of January 11, 1943, to board the Dixie Clipper, the crew was "very much surprised to learn the identity of our guest," recalled Pan Am pilot Howard M. Cone, Jr. A 34-year-old veteran of transoceanic flights, Cone flew Roosevelt, advisor Harry Hopkins and several military leaders on one Clipper, while another flying boat carried the presidential staff.
Cone said the President was an "excellent passenger" and a "good air sailor" on his 15,000-mile round-trip, displaying an impressive knowledge of geography on a journey that included stops in Trinidad and Brazil. Once in Africa, Roosevelt boarded a TWA C-54 piloted by 35-year-old Captain Otis F. Bryan, who flew him from Bathurst, Gambia to Morocco. The trip back from Casablanca included a flyover of the harbor at Dakar, Senegal, at an altitude of 3,000 feet.
In a War Department press conference following their return to the States, the two airline pilots couldn't stop effusing about their VIP passenger's ability to "make you feel perfectly at home. We felt at ease as long as he was," said Bryan. Roosevelt even joined in the ritual of signing "short snorters" for the crew — dollar bills autographed by all the passengers on a flight.
The President also celebrated his 61st birthday on the way back, dining on caviar, olives, celery, pickles, turkey, dressing, green peas, cake, and champagne. (Captain Cone, reported the New York Times, drank coffee instead.)
It wasn't FDR's first time in an airplane — in 1932 he had flown to the Democratic convention in Chicago to accept the presidential nomination. But before 1943, airplanes weren't considered a safe form of transportation for an American president. (In fact, if the fatal crash of Pan Am's Yankee Clipper on February 22 had happened before Roosevelt's flight instead of just after, the Secret Service may not have approved the Casablanca trip.)
Roosevelt's wife Eleanor, on the other hand, was a veteran flier by 1943, and had even gone up with one of the Tuskegee Airmen. Nor was she the first presidential spouse to try flying. That distinction goes to Warren Harding's wife Florence, although when she went up in a Navy seaplane during a trip to Panama in November 1920, she technically was still a First Lady-elect.
According to the Atlanta Constitution:
During a visit to the naval air station at Cocosolo Mrs. Harding accepted an invitation to make a flight, spending fifteen minutes over Limon bay in one of the largest NC type planes used by the Navy. The plane attained a height of about one thousand feet, and though it was her first experience at flying, Mrs. Harding appeared to enjoy it immensely.

While prospective presidents are forbidden the thrills of risky ventures like skyplaning, nevertheless, Senator Harding carries back with him a vivid picture of the bay from the air, recounted by Mrs. Harding.