The End of the Plain Plane
When wild liveries and outrageous uniforms were the norm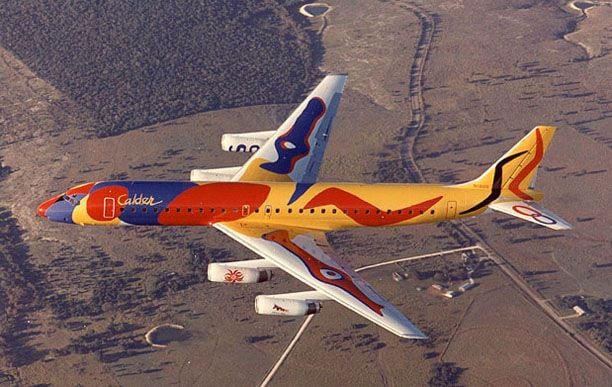 "No airline in the 1960s and '70s displayed more stylish pizzazz than Braniff International," write Melissa Keiser and David Romanowski in their book The Legacy of Flight. "Its new corporate owners made it their mission to remake the successful but stodgy airline into a vibrant, top-tier carrier by overhauling everything from where it flew to the food it fed its passengers (which soon included the inspired BRANwich).
"To reinvent the company's image, Braniff hired a New York ad agency, which tackled the task with relish. They brought on board internationally acclaimed design talents Alexander Girard and Emilio Pucci to reimagine aircraft paint schemes, airport lounges, uniforms, logos. Out went the traditional red, white, and blue airplane colors; in came a jelly bean bag's worth of pastel hues. Pucci introduced space age-inspired stewardess uniforms that the cartoon family members of Hanna-Barbera's Jetsons would have envied. The outfits included bubble helmets to ensure that a gal's hairdo wouldn't get mussed while crossing a windy tarmac.
"In 1973, to promote its South American destinations, Braniff commissioned artist Alexander Calder to create a unique work that would grace a DC-8 jetliner. The result, pictured here, was the exuberant Flying Colors. Calder created another work for Braniff in 1975, the Bicentennial-themed Flying Colors of the United States, using a Boeing 727 as his canvas."
There are more than two million images in the archives of the National Air and Space Museum, and chief photo archivist Melissa Keiser has gathered 132 photographs into the 2010 book The Legacy of Flight: Images from the Archives of the Smithsonian National Air and Space Museum (by David Romanowski and Melissa Keiser, Bunker Hill Publishing, 2010). See a slideshow of images here.