The Competition
The Competition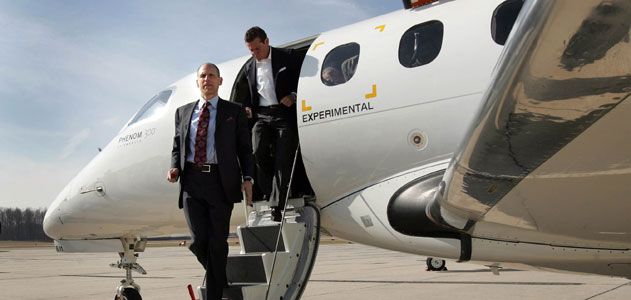 Flight Options is the nation's second largest fractional jet ownership company, with 700 employees, 102 aircraft, and 1,300 owners. Established in 1998 and headquartered at Cuyahoga County Airport in suburban Cleveland, Ohio, Flight Options has fashioned itself as a less corporate, more personable alternative to NetJets. "We want our owners to think of us as part of the family," says Trace Talley, director of owner services.
It doesn't come cheap, being a member of the family. The smallest — 1/16 — share of the company's smallest jet, the Hawker 400XP, has a one-time purchase price of $107,500. On top of that, it costs $4,000 per hour to fly the aircraft. To hold down expenses, Flight Options operates its own aircraft repair facilities in Cleveland, Las Vegas, Nevada, West Palm Beach, Florida, and at Teterboro Airport in New Jersey. It also doesn't charge for catering on any of its flights. "We've had people cater an entire dinner party at their house with the catering off the airplane," says Flight Options' operations control center director James Taddeo. "They'll tell us: 'Don't even plan on serving it to us on the plane. Don't even bother to unpackage it.' "
In the battle over who has more big-name customers, chief executive officer Michael J. Silvestro is the first to admit that NetJets wins. Microsoft's Bill Gates has owned a piece of at least one NetJets airplane. Ditto Tiger Woods, quarterback Tom Brady, and tennis star Roger Federer.
The only famous Flight Options fractional owner Silvestro is willing to disclose is professional golfer Fred Couples. On the other hand, be careful what you wish for. Some fractional executives complain privately that celebrity owners can be more trouble than they're worth. Celebrities can be chronically late, which can throw off an entire day's flight schedule. Some insist on flying free if they know the company wants to use their name for promotional purposes. Others like to party at 30,000 feet and will leave a passenger cabin trashed. (Read: rock stars.)
Taddeo is quick to point out that most owners are pleasantly low-maintenance, skewing less toward the passenger from hell and more toward what Silvestro calls "my perfect customer."
"He wants to get on the airplane; he wants coffee, newspaper, maybe a light snack," says Silvestro. "He flies to Florida. He gets off. He says thank you. Goes about his business. Pays me on time. Low drama."