The Black Eagle of Harlem
The truth behind the tall tales of Hubert Fauntleroy Julian.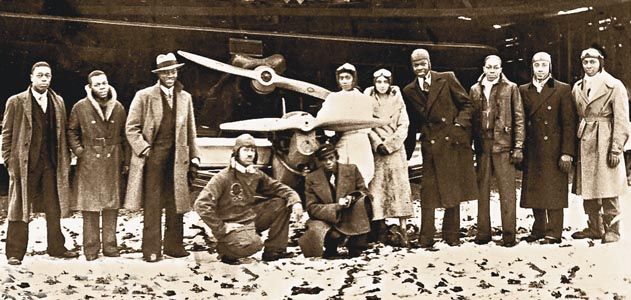 In 1930, when future Ethiopian ruler Haile Selassie was planning a lavish ceremony to celebrate his coronation as emperor, he sent an emissary to a 33-year-old U.S.-based aviator, Hubert Fauntleroy Julian. Aviation had come to Ethiopia only the year before, with the arrival of a French Potez 25 biplane piloted by André Maillet, but the modernity-obsessed Selassie hoped to put on an aerial display, with a flamboyant performer who would attract the world's attention. Julian, known in New York as the "Black Eagle of Harlem" and sometimes called the "Negro Lindbergh," was the perfect choice.
At the emperor-elect's request, the Ethiopian Imperial Air Force, which consisted of two Junkers monoplanes, a Gipsy Moth, and two French pilots, performed a pre-coronation show. In an unplanned flourish, Julian leapt from Maillet's airplane, parachuting to the feet of Selassie, who was so pleased that he bestowed Ethiopian citizenship on Julian, the rank of colonel, and awarded him the Order of Menelik, the empire's highest honor.
Julian's glory was short-lived. Four months later, during a coronation dress rehearsal in Addis Ababa, Julian lost control of the de Havilland Gipsy Moth he was flying. As the emperor-elect looked on in fury, Julian made a crash landing into a eucalyptus tree. The Moth had been Selassie's personal airplane, a gift from Selfridge's department store in London, and Julian was expelled from the country amid allegations that he had stolen the aircraft. He accused the Ethiopian air force's French airmen of sabotaging him, but conceded in his 1964 memoir, Black Eagle, that "a crash at an air display watched by foreigners whom the Emperor wanted to impress was clearly a disaster."
So the Black Eagle returned to Harlem. For the rest of his life Julian would continue to promote himself as Selassie's air marshal, but Ethiopia would prove to be only a brief chapter in the Black Eagle's just-true-enough life story.
It was in Ethiopia, in 2001, that I first heard of Julian. I was visiting a family of Jamaican Rastafarians who had immigrated to Ethiopia, and while we were discussing the history of other West Indians who had settled in the country, Julian's name came up.
The Black Eagle is remembered in Ethiopia for his famous pre-coronation crash, and for his vocal anti-fascist stance in the days preceding World War II. He was spoken of reverently—although some of the details of his life were a bit muddled—and is remembered as someone who tried to do heroic things. Even though he didn't always succeed, he's considered a hero for trying.
In Julian's autobiography, I learned that he himself muddled some of the details of his life. He was born in 1897 in the British colony of Trinidad, the son of a cocoa plantation manager. He writes that he grew up in a middle class neighborhood in the capital, Port of Spain, where he attended a British-administered boys' school. The island's first exposure to flight ended badly: In January 1913, aircraft designer Frank Boland crashed a tail-less biplane over the Queen's Park Savannah, near Julian's home, and was killed instantly. Julian, feeling the need to make the crash part of his personal narrative, moved it back to 1909 in his autobiography, placing himself at the scene.
I would learn that this compulsion to embellish was an essential part of Julian's character. While these embellishments made it tempting to dismiss Julian as a charlatan, each time I dug deeper I found that his stories usually contained ample elements of truth.
So who was the Black Eagle? A serious aviator who was dismissed because of his race? Or a con artist, as some have suggested? Such blanket assessments miss the point: Julian was an adventurer in the classic sense of the word, a self-promoter who kept a toe in the waters of world history for half a century.
Although Julian had left Trinidad by the time of Frank Boland's crash, news of the incident influenced him to patent, in 1921, the "Airplane Safety Appliance," essentially an amalgam of parachute and propeller. He later said his idea pre-figured the chutes used to return the Apollo spacecraft to Earth. Later that year, Julian moved to London to continue his studies, during which time he learned to speak French and Italian (he later added bits of Spanish, Swedish, Chinese, Urdu, and Finnish). In 1914 Julian moved to Montreal, where he claimed he was taught to fly by Canadian World War I ace Billy Bishop.
In 1921 Julian emigrated once again, this time to New York City, where he made a name for himself performing in aerial circuses. He also made a series of parachute jumps over Harlem—wearing a red "devil" jumpsuit during one, playing a saxophone in another. After Julian buzzed a Negro Improvement Association meeting, Black Nationalist Marcus Garvey mistakenly informed the crowd that Julian was "the first Negro in America or in the British Isles or Commonwealth to qualify as a pilot," a claim Julian did not dispute. (We know that by 1930 he had flown in Ethiopia and the United States.) H. Allen Smith of the New York Herald dubbed him the Black Eagle of Harlem, a sobriquet he embraced till the end.
In 1924 Julian announced his intention to make a solo flight from New York to Liberia, by way of Atlantic City, New Jersey, and the West Indies, some three years before Charles Lindbergh's solo transatlantic flight. With the help of his frequent collaborator and financier, Clarence Chamberlin, Julian collected money in Harlem to buy a seaplane, which he christened the Ethiopia I. Chamberlin, who had tutored Julian in parachuting and was obsessed with record-setting flights, was himself a towering figure in the rarefied whites-only world of aviation, and would make the first transatlantic flight with a passenger in 1927. Julian writes that he had the support of the West Indian community, but was looked upon as a grifter by American blacks, an inter-community rift that Julian would again cite when he fell out with African-American aviator John Robinson in Ethiopia.
The transatlantic flight was doomed from the start, as Morris Markey recounted in the New Yorker: "The ship left the water. One wing heavily down, it flew an astounding distance under the circumstances. For now it was revealed that the ship was indeed a rickety vehicle, and the pontoons were shuddering with the vibration. In fact, the Ethiopia I was still in sight when one pontoon came off entirely and the ship plunged toward the water. When it crashed it crashed hard." Julian was rescued by a machinist repairing a motorboat nearby, a man he upgraded to a rum-runner in his autobiography.
"Africa for Africans" was the refrain in Harlem in 1935 as Ethiopia braced for invasion by Italy. Thousands of Harlem residents showed up to protest the invasion; Italian businesses were boycotted, and riots in Harlem marred boxer Joe Louis' victory over the Italian behemoth Primo Carnera at Yankee Stadium. Selassie's representatives put out a call for black doctors, nurses, engineers, and scientists in the United States to enlist in the defense of Ethiopia, but few African-Americans were able to do anything but donate small sums of money. As Harlem residents watched the events in Africa, Julian sailed again for Ethiopia.
But the Black Eagle's plans were stymied by the presence of a foil, the "Brown Condor." Florida-born John Robinson's prowess as a pilot was unquestioned. With a diploma in auto mechanics from the Tuskegee Institute in Alabama and a certificate in aviation mechanics from the Curtiss-Wright Flying School, Robinson had been asked to head the civilian pilot training program at Tuskegee; he declined, accepting instead a position in the Ethiopian army. "Robinson was the real thing," said his biographer Thomas E. Simmons in an interview. "Without him, there would have been no Tuskegee Airmen. He's the man that planted the fire in the belly that got the flight school established."
Robinson flew countless reconnaissance and courier missions to the Ethiopian front—some accompanied by Selassie himself—in both an unarmed Beechcraft Staggerwing and a Potez, chased on occasion by fighters from the Italian air force, which, with 140 aircraft, outnumbered the tiny Ethiopian force. During his 12-month stretch in the country, he was shot in the arm during an aerial battle and exposed more than once to mustard gas. When Ethiopia fell, he fled only days before the emperor himself.
While Julian had been welcomed back into the emperor's good graces, he was not allowed near an airplane—so much the better, wrote Julian. "There were only twelve planes in the whole country," he said. "To have put them into the air in the path of the Italians would have been like throwing doves to hawks." Instead, Julian was consigned to drilling 3,000 barefoot citizen-soldiers, in whom he sought to instill "fire and the devil."
Antagonism between the two airmen finally came to a head when the Black Eagle and the Brown Condor encountered each other in a hotel lobby in Addis Ababa. Julian writes that Robinson was jealous of Julian's standing with the emperor and had been feeding lies about him to the press. "Robinson pulled a knife," wrote Julian, "so I picked up a chair, cracked him across the head with it and laid him out." Simmons tells a different story: "Julian came in there smarting off about Robinson, which was a mistake because John was a serious fellow with a short fuse, and he felt that Julian was undoing everything he was trying to accomplish."
The bulk of the injury was inflicted in the press, however, and Julian's days in Ethiopia were again numbered. In his memoir Eye-witness, Australian correspondent Noel Monks relates that Julian had already resorted to a side business. With correspondents virtually confined to their hotel rooms and dependent on official communiqués, they relied on " 'spies' and 'runners' whom we'd send off into the blue in search of war news," writes Monks. "Julian, the Black Eagle of Harlem was one of my 'spies'—and, I subsequently found, he was also 'spying' for half a dozen other newsmen. He had fallen from favour now, and was relying solely on the money we paid him."
When word of the dustup with Robinson reached the emperor, Julian fumed to Monks, "Can you beat it? This goddamned Emperor has put the finger on me. Says I've got forty-eight hours to get out of the country. Brother, no guy can do that to me and win a war." In December 1935, the Cunard liner Aquitania delivered Julian, dressed in beaver-hair coat and derby hat, back to New York. "Bah!" he told reporters. "I have come to the unanimous conclusion that Ethiopia does not need or deserve help."
With his return to the States, in May 1936, Robinson wrested the headlines from Julian. Robinson would return to Ethiopia in 1944, after the Italians were driven from the country, again to train Ethiopian fliers, but his time there was also not without humiliation. Robinson would be placed under house arrest for assaulting Swedish mercenary pilot Count Carl Gustav von Rosen, who was then working for Selassie. Von Rosen, Simmons says, told Robinson he would not be copilot to a black man. Robinson responded with a knockout punch.
James T. Campbell, professor of history at Stanford University, urges readers to put the experiences of Julian and Robinson into a broader historical context. "These are people whose horizons were bounded," he says. "They were never going to become American military pilots, they were never going to command the kind of prestige of Amelia Earhart or Charles Lindbergh, and they were never going to become the darlings of America, though they might become the darlings of black America. Ethiopia is a place where they could go and all of a sudden they are having dinner with the head of state. Or they are the head of an air force. The fact that people of this kind of distinction had to look outside of this country for some sense of identity and for the possibility of living lives of great achievement has something really powerful to tell us."
After his Ethiopian days, things moved fast for the Black Eagle. He entered the movie business with Oscar Micheaux, the African-American filmmaker, and continued display flying, but as world war again loomed, Julian sought involvement. He famously challenged Reichsmarshal Hermann Göring to a dogfight over the English Channel to avenge Germany's "cowardly insult to the honor of my race," but the closest the Black Eagle got to active service was a stint in the Finnish air force during the 1939 Russian invasion of that country. The Finns gave Julian the rank of captain, but he saw no combat service, as the war in that theater had already ended. Julian, now 43, wrote that it was in Finland "that I was last at the controls of a plane."
Julian's second act began in earnest when he established Black Eagle Associates, which started as a company that sold World War II military surplus but quickly evolved into an arms dealership. In fact, the seeds for the enterprise, according to the black newspaper Chicago Defender, had been sown during his second trip to Ethiopia, when he was reported to have escorted an arms shipment into the country, which was under a League of Nations arms embargo.
In 1949, Julian became a licensed arms dealer, acting as an agent for developing and newly independent nations. He became "richer now than a yacht full of Greeks." He pursued this career with uncharacteristic discretion until 1952, when he would again find himself in the headlines after Time magazine reported that in three years as an arms buyer for the Guatemalan government, Julian had sold the left-leaning Jacobo Arbenz Guzmán regime "forty .50-caliber machine guns, six half-tracks, 3,000 pairs of boots, 20 bulletproof vests, and trucks, jeeps, rifles, bazookas and ammunition," by way of Italy, Spain, and Switzerland, before relations between Guatemala and Julian soured and the shipments were suspended.
Those, and deals in the Dominican Republic, Haiti, and Pakistan, would earn him decades of FBI surveillance. The FBI's file is typical of the era: obsessed with Communism and subtly racist, calling Julian "a playboy" who is "subsidized by wealthy white women." The bureau also called Julian "a crook and imposter" and "arrogant," but "very intelligent."
By 1954, the book on Julian's Ethiopian days was closed. While Julian was a globetrotting arms dealer living "high, wide, and handsome," John Robinson died in Ethiopia after the airplane he was flying crashed near Addis Ababa in March. Two months later, in a show of solidarity with American blacks, Haile Selassie made a historic visit to Harlem, but this time the Black Eagle was not to be reunited with his former patron; his political allegiances inhabited murkier territory.
Julian was enjoying a second prime as a gunrunner, his time in Ethiopia now just part of his lore. His grandniece, Gail Cochran, 68, remembers visiting Julian in his Bronx townhouse on Sundays when she was a child, where he served exotic fruits and told her of his exploits in Ethiopia and elsewhere. The house, overlooking the Harlem River, she recalls as a museum of his life, with elephant tusks, ivory statues, vintage rifles, and a menagerie of tropical birds, two Persian cats named Ding and Dong, and at least one pet monkey. "He had 350 suits, which had to be made to order because he was so big," she says. "He would go abroad at the drop of a hat, bringing back gallon bottles of perfume for my mother and sugar cane for me to eat, and gigantic oranges and thick, thick steaks. That was just his way."
It wasn't until the early 1960s, during the Congo Crisis, that the Black Eagle's wings were finally clipped. Unable to resist the greatest mercenary gathering of Africa's post-colonial wars, Julian turned up in Elisabethville in the breakaway province of Katanga, representing himself as an aid worker arranging for the passage of French-speaking doctors and nurses from the West Indies. On his third visit, Julian was arrested by United Nations law enforcement agents, he said, when he was found to be possessing three antique pistols he intended to give as a gift to his friend, Katangan leader Moise Tshombe, a firearms enthusiast. The U.N. accused him of serving as the middleman in an $18 million arms shipment to Belgian-backed secessionists, this time in violation of a U.N. arms embargo. Simultaneously, four World War II-era B-26s linked to Julian and bound for Katanga were seized at Chicago and Newark airports. Julian, 65, spent four months in a Léopoldville prison before being repatriated to the United States. He denied involvement in arms dealing in the Congo to the last.
Upon his return to the United States, Julian continued to maintain his innocence in an interview with the FBI. "Julian was most emphatic in stating that he had never attempted to smuggle munitions into the Congo or arms of any sort, and added that if he wanted to, the United Nations officials in the Congo were so incompetent that it would be an easy matter for him," the FBI report states. CIA correspondence from the era, however, reveals that at the time of his arrest, Julian possessed a purchase order from a Belgian dealer for 5,000 9-mm pistols, two million cartridges, 120- and 60-mm mortars and shells, and 3,200 machine guns.
The Congo adventure slowed the Black Eagle, but his FBI files reveal that he was connected with various African states, representing himself as a munitions buyer as late as 1974. After that the Black Eagle lost his rudder. In early 1976 Julian was investigated for threatening to hire "mercenaries utilizing seaplanes with 20 millimeter cannons and incendiary bombs" to sink the oceanliner Queen Elizabeth II; he alleged that Cunard employees had mistreated him. The investigation was dropped after Julian said he made the threat in a time of despair, shortly after the death of his wife Essie. The FBI's report on the incident, however, revealed that Julian had also been recently investigated for the intended purchase of 66 F-104 fighters from the West German government, again in violation of neutrality acts, and by the U.S. Customs department for the smuggling of gold and diamonds. After these misadventures, Julian stopped courting the press and gave away most of his worldly treasures to the visitors and friends who still called on him.
The Black Eagle of Harlem died of natural causes at age 86 on February 19, 1983. His death went unnoticed in the press until eight months later, when the New York Amsterdam News printed an item in its gossip column that read: "The reason that Colonel Hubert Julian's death was unknown…boils down to this: His young wife didn't like his Black Eagle reputation and when he died…she reportedly phoned the…funeral home and told them to pick up the body and bury him, but fast."
When I showed her the newspaper clipping, which she had never before seen, Doreen Julian, now 70, was incredulous. "I had nothing to do with this," she said, at the home she once shared with Julian. "He didn't want any reporters swarming the house. He just told me to keep it peaceful, he'd had enough of it all." Julian met Doreen in a hotel in her native Grenada on one of his frequent trips to his beloved West Indies, where he was impressed with her prowess ironing his custom-made shirts. Within a week he had brought her back to the United States. They were married in 1977, and she recalls caring for Julian "like a baby" until the end.
"He didn't leave the house for the last five years," she says. "There was nothing left to do, nowhere left to go. But he felt very comfortable with his life, and always talked all the time about the things he had done, the people that he had met, and all the money he used to make. He gave you so many stories you didn't know how to keep up with it all. His life was like a fairy tale."