The Best of Bean
A collection of otherworldly paintings goes on display at the National Air and Space Museum.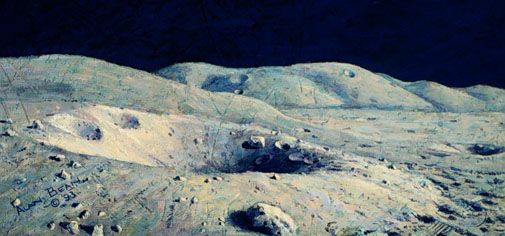 On July 16, 2009, the 40th anniversary of the launch of Apollo 11, the National Air and Space Museum will premiere the exhibition "Alan Bean: Painting Apollo, First Artist On Another World." The exhibit, which runs through January 13, is the largest collection of Bean's work to date, with 40 original paintings and drawings scheduled for display, along with various artifacts including his Apollo 12 spacesuit, pressure helmet and gloves.

Bean was the fourth man to walk on the moon; and although he went on to command a Skylab mission and log more than 1,600 hours in space, he has dedicated the past 28 years to painting his memories of Apollo.

Homeward Bound (above), painted in acrylic on aircraft plywood in 1994, is Bean's homage to the first astronaut crew to leave Earth. "On Christmas morning in 1968," writes exhibit curator Carolyn Russo, "the world anxiously awaited word from Apollo 8, as its crew prepared to leave lunar orbit. As they fired their engine to set them on course for home, Frank Borman, Jim Lovell, and Bill Anders were out of touch on the far side of the Moon. If the engine burn didn't succeed, they would be trapped in lunar orbit...Bean painted Apollo 8 as it emerged from behind the Moon and Houston heard Lovell announce, 'Please be informed, there is a Santa Claus.' "

See the photo gallery below for more of Bean's paintings and the stories behind them.
Tiptoeing on the Ocean of Storms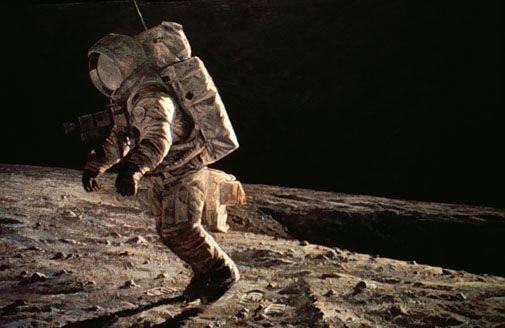 1982, acrylic on Masonite

About this painting, Alan Bean recalls, "I ran next to this crater as if my legs would never get tired. On Earth, I weighed about 150 pounds, and my suit and backpack weighed another 150. On the moon, with its one-sixth gravity, my equipment and I only weighed 50 pounds, making me feel as if I could run forever. The suit is stiff and hard to move at the knee and hip joints, and you learn very quickly to run by keeping the legs stiff and using ankle motion, as if you are dancing on tiptoe."
Are You Ready for Some Football?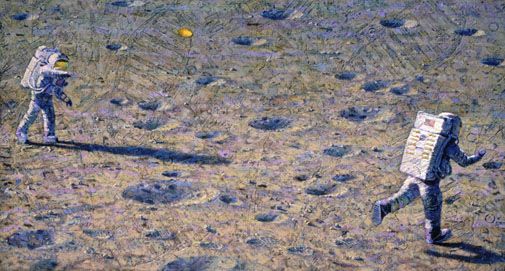 2004, textured acrylic with moon dust on aircraft plywood


"While watching Alan Shepard hit golf balls on the moon," Russo writes, "Bean asked Pete Conrad, 'Why didn't we think of something like that?' After thinking a moment, Conrad said, 'We don't play golf.' If they could do it all over again they would bring a football.

"The improbability of making a good throw or catch didn't deter Bean from painting his fantasy—quarterback Conrad throwing 'the bomb' to Bean. And, had it been televised, Bean says, 'Maybe they would have shown it during halftime at the Super Bowl!'"

"Humans will move into space and to the moon and Mars and other more distant planets," says Bean. "It will take time. It won't be easy, but our descendants will go, and they will take things they enjoying doing with them."
Mountains of the Moon with the Lunar Module Falcon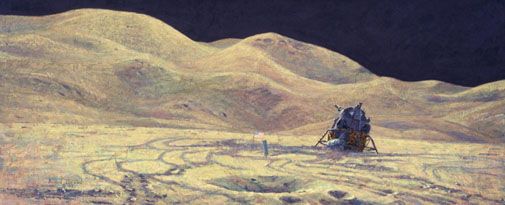 Of this 1993 painting, Russo notes, "Falcon rests in solitude on the uneven Plains of Hadley with the Apennine Mountains on the horizon. The area is near the eastern edge of Mare Imbrium, the dark 'sea' that forms the left eye of the Man in the Moon.

"The lunar rovers driven by Jim Irwin and Dave Scott covered more ground than all three previous Apollo missions. Scott remarked, 'These mountains were never quickened by life, never assailed by wind or rain, they loom still and serene, a tableau of forever. Their majesty overwhelms me.'"
Maximum Push, Charlie Duke, Soil Scientist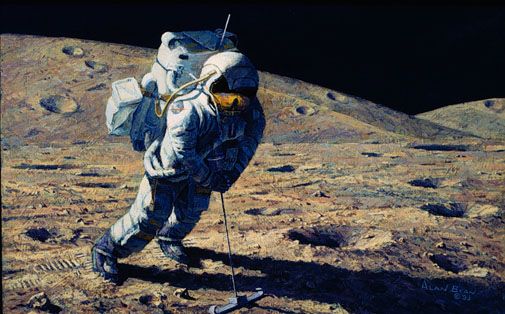 1993, acrylic on aircraft plywood

About this painting, Russo notes, "Duke pushed an instrument called a penetrometer into the lunar soil to determine its hardness. The data from this experiment helped scientists better understand how well the terrain might support future spacecraft, surface vehicles, and structures."

Adds Bean, "Charlie's maximum push is not without complications. He will shortly lose his balance and fall to the lunar surface. But not to worry! Except for getting a little dusty, Charlie will be able to do a simple pushup to his knees, then a quick knee hop back to his feet."
Tracy's Boulder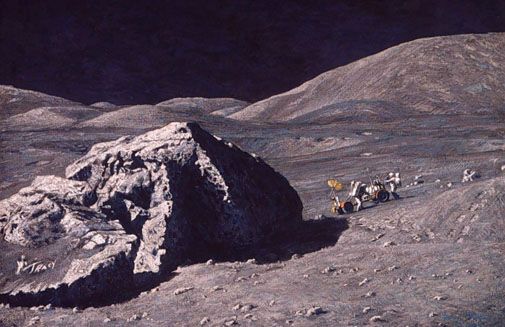 1984, acrylic on Masonite

"When Apollo 17 astronaut Gene Cernan saw Bean's painting of the massive boulder from Station 6 in Taurus-Littrow," says Russo, "he told him how he regretted not having written his daughter Tracy's name on the dust-covered side of the boulder, where it would have remained inscribed forever."

Bean adds, "The sheer romance of Gene's idea was so appealing that I gave him a blank sheet of paper and asked him to write Tracy's name the way he would have wanted it in the dust on the Moon. Then I got to work with my paintbrushes. As Gene's friend, I have employed artistic license to save him the long trip back to Station Six."
Portrait of a Crater, Second Effort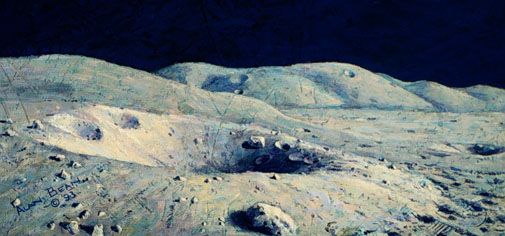 1993, acrylic on Masonite

Writes Russo: "Bean made this painting for a geologist-artist friend, who requested a typical lunar crater with mountains in the background. Bean chose Ballet Crater from Apollo 17, so named because of a conversation between mission control and the lunar astronauts.

"As Jack Schmitt was collecting samples, he lost his balance and took a spinning fall to his hands and knees. Bob Parker in the Manned Spacecraft Center in Houston told him, 'And be advised that the switch board at [Mission Control] has been lit up by calls from the Houston Ballet Foundation requesting your services for next season.' Schmitt responded, 'I should hope so,' then took two big hops and extended his leg. 'How's that?'"

Recalls Bean, "Well, I completed the painting. It was beautiful and I sent it to my friend. But as the days passed I found I couldn't get the painting off my mind. I don't know exactly why, but I called my friend and asked him to send the painting back. I studied it for two or three weeks and began to feel it should be keyed in a lighter and warmer hue. The painting seems just right to me now."
Lunar Grand Prix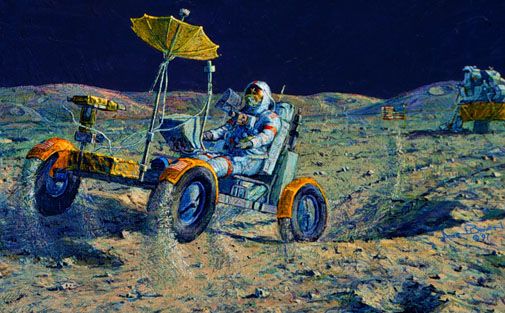 In this painting from 1997, Apollo 16's John Young takes part in a lunar rover demonstration. As Russo writes, "Charlie Duke hopped off the rover and stood with a 16mm movie camera to capture the action. Young put the rover through a full test to evaluate its performance in the Moon's light gravity and dusty terrain. As Duke filmed the Lunar Grand Prix, he commented to Houston, 'He's got about two wheels on the ground. There's a big rooster tail out of all four wheels.... Man, I'll tell you, Indy's never seen a driver like this.'"
Homeward Bound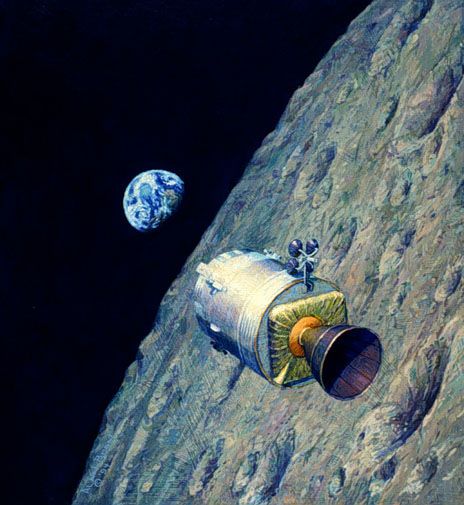 Homeward Bound - Astronauts by Alan Bean- Astronauts by Alan Bean was released in September of 1997 as a Signed And Numbered Limited Edition Print with a 19 x 17-1/2 Image Size for sale priced at $call or email for current price. Order yours today before they are gone. All artwork is professionally boxed and fully insured guaranteed to arrive in mint condition. The artists is an astronaut, Captain Alan Bean was the lunar module pilot on Apollo 12, the fourth man to walk on the moon and commander of Skylab 2. "I am fortunate enough to have seen sights no other artist ever has," Bean says. In this painting he painted an Apollo Rocket circling the moon. Astronauts in art prints and paintings painted by Astronaut Alan Bean.