The Astronaut Wives Club
Dishy gossip from a new book about the wives of the Mercury, Gemini, and Apollo astronauts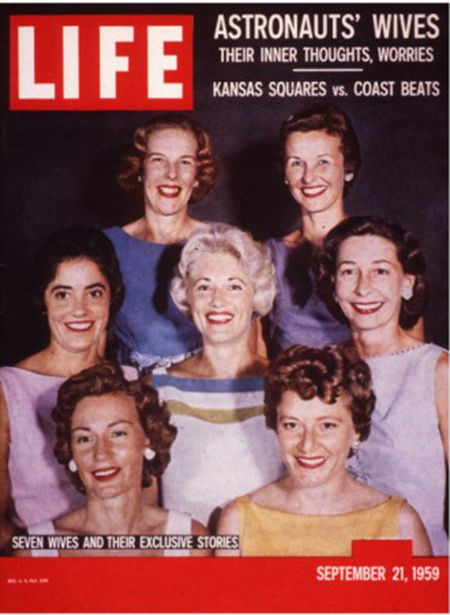 The Mercury Seven astronauts had a rendezvous with destiny, and it turns out their wives did too.
"To be an astronaut wife," writes Lily Koppel in her new book The Astronaut Wives Club, "meant tea with Jackie Kennedy, high society galas, and instant celebrity." When their husbands were selected by NASA, these seven women went from being military wives on Navy and Air Force bases to intense, unrelenting scrutiny in the public eye.
Koppel, who interviewed many of the Mercury, Gemini, and Apollo wives, fills the book with interesting tidbits: While a student at the University of Hawaii, Trudy Cooper flew a Piper Cub, making her the only pilot in the group. Who would have guessed that demure Betty Grissom (pegged as an "unsophisticated Hoosier") owned a pair of fur hot pants? The nine Gemini wives were given "$1,000 gift certificates to Neiman Marcus from an anonymous priest," who had anticipated that the women would not always be able to afford the right clothes for their many galas. Koppel also describes friction between the Mercury and Gemini wives, at least initially. For the last Mercury mission, on May 15, 1963, the Gemini wives were invited to watch the launch party at Trudy Cooper's house—but they watched Gordo Cooper's blastoff on the living room television, while the Mercury wives huddled in the master bedroom.
Eventually, the women developed a kind of sisterhood—they were sharing the same experiences, after all. When an astronaut kid played house, for instance, you might overhear him say, "Good-bye now, I'm going to work. I'll be back in a couple of weeks." The wives contended with "sightseers from the space tour buses who climbed over fences to steal a glimpse of a real spaceman," and the morning ritual of removing sunbathing copperheads from the warm hoods of parked station wagons.
There were many perks, though, including post-spaceflight world tours. When Gemini 5 wives Jane Conrad and Trudy Cooper exited the airplane at Haile Selassie's Jubilee Palace in Addis Ababa, Ethiopia, "a noble and slightly bored lion greeted them at the top of the metal steps and had to be led down with great ceremony before they could disembark. Two chained leopardesses greeted them on the palace steps, which smelled of big-cat urine."
Now, that's a memory.