The Astronaut Jeweler
More than 1,500 pieces designed by Paul Dimitriu have flown on the space shuttle.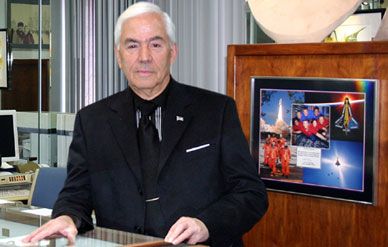 I first met Paul Dimitriu in 1975, at a change-of-command ceremony on board the USS Enterprise in San Diego. A charming, urbane, Greek-born jewelry designer, Paul was, and still is, an avid student of the U.S. aerospace industry. (He is probably the only jeweler who has had a subscription to Aviation Week & Space Technology that has gone unbroken for more than 40 years.) As a child he had read Jules Verne's From Earth to the Moon, and the seed was planted.
On the Enterprise, Paul was eager to tour the hangar deck and peek into the cockpit of the Navy's hot new F-14A Tomcat. The two of us and our wives formed a fast friendship, which followed us from San Diego to NASA's Johnson Space Center in Texas, where I joined the astronaut corps in 1978.
I had always admired Paul's beautiful jewelry, which I'd seen worn by his wife, Mercy, and other mutual friends. But as a lieutenant commander with a wife and two children, I didn't have the resources to be a buyer. That had changed by 1982, when I called him at his shop in the California Jewelry Mart in Los Angeles to ask if he could design a pendant for my wife based on the crew patch for STS-7, my first shuttle flight. He eagerly agreed, mentioning that it wouldn't be his first design for an astronaut. In the mid-1960s he had made a pendant based on the Mercury 7 symbol for Scott Carpenter, whom he had met through his wife's cousin.
Paul sketched an interpretation of the STS-7 patch, and after we'd agreed on a final design, he created the piece using the age-old lost wax method. My wife was thrilled with the result. My own first Dimitriu creation was a gorgeous money clip featuring a stylized space shuttle that Paul gave to me as a gift a few months later.
That was only the beginning. I mentioned Paul's work to several astronaut colleagues, including Dick Truly and Dan Brandenstein, commander and pilot of the STS-8 mission. Both of them commissioned Paul to create pieces of jewelry for their wives. So began something of a tradition for astronauts. As of the shuttle's 117th flight last December, more than 1,500 items designed by Dimitriu have gone into space on more than 100 flights.
In most cases the items have been stashed in the astronaut's PPK, the Personal Preference Kit that each member of the crew is allowed to carry into orbit. Asked if he has any favorites, Dimitriu is diplomatic: "They are all favorites." But because of its intricacy, he is particularly fond of a piece designed for Mike Bloomfield, pilot on the STS-97 flight, which in 2000 carried the International Space Station's first large solar arrays. "Bloomer," as he is known, credits his wife, Lori, for the design developed with Dimitriu, including the idea of placing a diamond to replace the "97" on the patch.
After the 1986 Challenger tragedy, Dan Brandenstein and I asked Paul to design a pendant for Jane Smith, our close friend and widow of Challenger pilot Mike Smith. Years later, at a ceremony marking the 20th anniversary of the accident, I choked up as I made my remarks to the assembled guests. As I stepped from the podium I glanced over at Jane and saw her smile at me as she touched the gold pendant around her neck.
As for why he enjoys crafting these unique items, the self-effacing Dimitriu says, "It's my craziness about space and technology. The astronauts are my heroes. It's wonderful to participate in a small way in the space efforts of my country." The appreciation is mutual. Most of Paul's astronaut customers would agree with Mike Bloomfield when he calls the jeweler a "first class act all the way."
Former astronaut Rick Hauck flew on three shuttle missions, including STS-26, the first flight following the Challenger accident. In 2001 he was inducted into the U.S. Astronaut Hall of Fame.