The Art of War
The paintings of Tom Lea, Life magazine's artist-correspondent during World War II.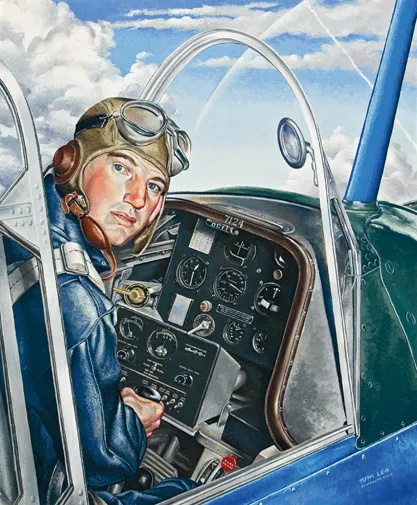 "The muralist, painter, and author Tom Lea," reported the New York Times in 2000, "is probably the only person, dead or alive, who can say he has been threatened by Pancho Villa, interrupted by Chiang Kai-shek, and regaled by President Franklin D. Roosevelt. Oddly enough, Mr. Lea (illustrated above) was mostly forgotten until he was quoted this month by Gov. George W. Bush [in his speech accepting the Republican Party's nomination for president]."

In 1941, Texas-born artist Tom Lea received a telegram from Life magazine offering an assignment as a war "artist-correspondent" aboard a U.S. Navy destroyer in the North Atlantic. Lea accepted, and spent the next four years—along with six other artists—painting the lives of men at war. Texas A&M University Press has recently published a lavishly illustrated book documenting those years titled The Two Thousand Yard Stare: Tom Lea's World War II (2008, edited by Brendan M. Greeley Jr.).

Lea's first assignment was to paint four portraits of soldiers training for war at Fort Sam Houston and Randolph Field. One of the men was aviation cadet Bill Kelly, shown here in the cockpit of his basic trainer. Lea noted that Kelly "wouldn't even smoke or drink coffee, much less take a snort for fear it would disturb his flying."

See the photo gallery below for more images from the book.
Reporter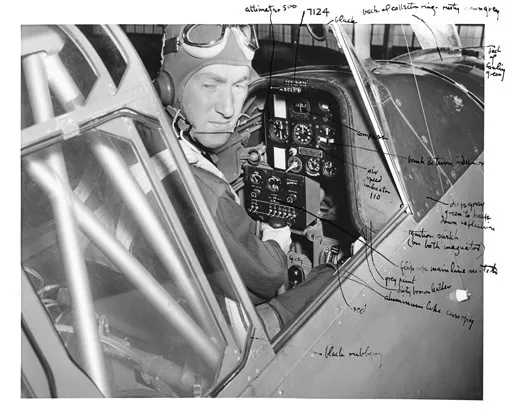 Lea mainly relied on quick sketches made in the field when making his paintings. But he occasionally used photographs, as in this shot of pilot Bill Kelly, with Lea's notes written around the margins. "I went out to the war as a reporter," said Lea. "I absolutely was not going to do anything that I didn't see and know—because I was there to record it, not as I thought it should be or not as an object of art."
USS Hornet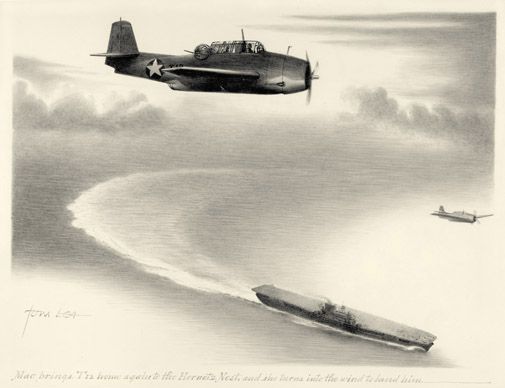 In 1941, Lea went to sea with the U.S. Navy's North Atlantic Patrol. He returned to El Paso briefly, but was immediately sent to the USS Hornet, the carrier famous for holding the line for a month—alone—in the Solomon Islands, and for launching the Doolittle raid. Lea would spend a total of 66 days on the Hornet. "I'll never forget how big the Hornet looked that bright August afternoon when I saw her for the first time," wrote Lea in his 1942 Life story. "We went out to her, across Pearl Harbor, in a motor launch. Lieutenant Jim Bassett, who was taking us out to put us aboard, was in a fine humor as [writer] John Hersey and I craned our necks and looked up, up under her bow, and felt her spread out there and cover half the sky. 'You'll have a swell time, boys,' Bassett said, 'just a tidy little suicide mission.'"

On board the Hornet when a torpedo hit the carrier, Lea asked the boilerman about the unfamiliar sensation. "It weren't no yellow cab!" the boilerman replied.

The Hornet came under attack at the Battle of the Santa Cruz Islands; the carrier sank on October 27, 1942. Lea had left the Hornet just one day earlier to file his story. The legend on this painting reads, "Mac brings a T-12 home again to the Hornet's Nest, and she turns into the wind to land him."
Hangar Deck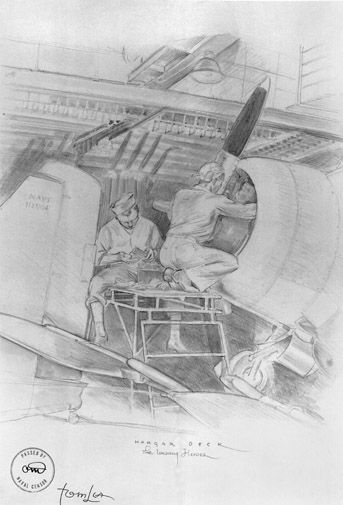 In a 1942 letter to his friend Frank Dobie, Lea wrote: "I used to think that the manly thing was to join the service and get a gun, believing that there might be a certain reservation, even a little cowardice, in using merely a paintbrush. I've changed my mind…. There is nothing, in the way of personal honor, to be ashamed of in going to war armed with nothing heavier than a sketchbook and a receptive spirit. If that's the way I can be most useful, that's what I want to do."

Lea documented every part of the carrier, including the hangar deck. "I had never heard much about the hangar deck, the vast steel barn where the birds go to roost. Nobody had told me about the incredible tangle of silver bowels, the pipes, the jets, the valves down in the engine room. I had heard more about the gedunk stand [snack bar] where the boys line up for ice cream than I had about the machine shop with its powerful lathes, or the telephone exchange with its compete dial system all over the ship."
Hitchhiker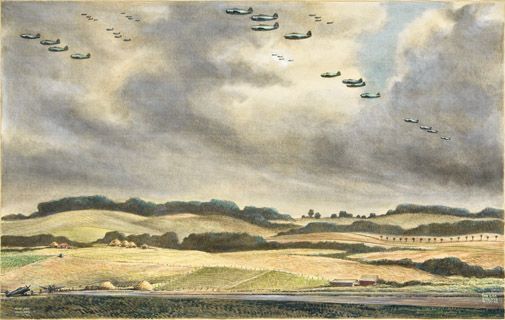 In 1943, Lea's assignment was to "hitchhike" his way through the "back roads of war." He flew to Greenland and Iceland, then on to England. On September 14, 1943 he watched a P-47 fighter group climb out over Steeple Morden: "It was beautiful to see them go out today, and they all came home…. I climbed on top of the operations tower to watch them all take off. They taxied down to one end of the strip, like bugs marching in single file, then took off roaring in pairs, circling, climbing to rendezvous over the field until the whole sky seemed filled with planes and thunder. Quickly they took their formation positions. Then roaring like some abstract geometrical theorem of war in perfect formation they circled the field once and head out northeast."
Italian Airfield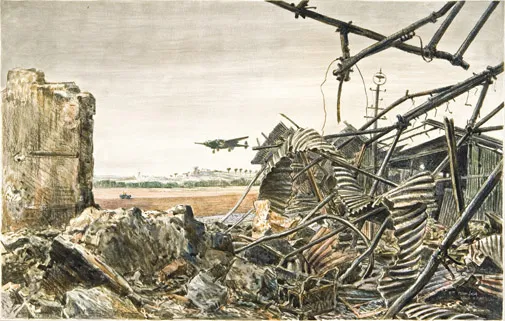 By October Lea reached Italy. "I told [General Doolittle] all I wanted in Italy was to make a study of a fighter strip newly taken from the enemy, for my story of fighter planes across the world…. At 0710 General Born and his crew showed up, and we took off at 0720 in a scarred old Fortress that had 43 missions and seven Nazi planes painted on its battered nose…. And finally landed at Grotaglia…a big field that had the hell knocked out of it. We were there three hours—I took photos, made sketches, and color notes in the rain, amid the ruins. I can make a very fine painting of it, worth all the trouble I've had to get there…. Sometime after 1400 we took off again, making a wide swing over southern Italy. We coasted Sicily from Messina to Gerbini, then cut in and flew overland to Gela. Some of the country around Catania was so battle-scarred that from the air it looked like a cratered landscape on the moon."
Sand Storm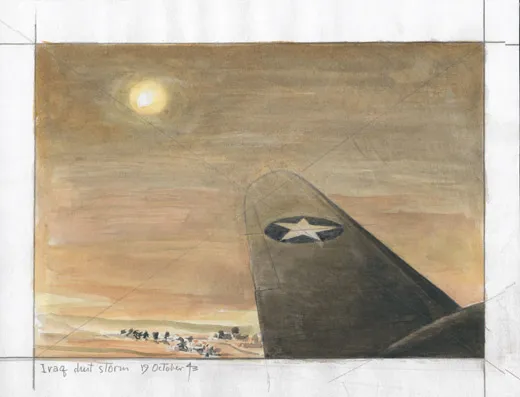 From Italy, Lea headed to Egypt. On October 19, 1943, he made this sketch of a dust storm in Iraq: "Just after 0600 we hailed a taxi in front of Shepherd's and made a wild rush for the Kilo 8 airdrome, to catch my plane for India…. I got on the plane, a C-47 fitted out as a troop carrier and bound for operations on the Burma border…. I woke up about 1300, in very bumpy air, and looked out the window and found we were riding the top of a thick tan sandstorm. An hour later the sand cloud beneath us thinned out, and I could see the country. It was dried to a pale dusty umber, utterly dead and sad and wide."
Flying the Hump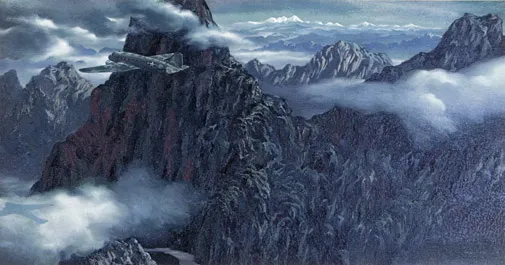 October 23, 1943: "After dinner tonight I talked to a young Captain Bunch who has flown 50 round-trips over the Hump [the Himalayas] and is back here for a rest. We studied maps of the route." On October 26: "At last I'm in China. We took off from [Chabua] at 0830 in our B-25 and flew over the Hump in two hours and thirty-five minutes. The Hump is the eastern end of the Himalayas, and undoubtedly the most dangerous air route in the world, the graveyard of plenty of planes and the men who fly them. The Hump is the only entrance and exit we have now to China, and it's a treacherous doorway."
P-40s in China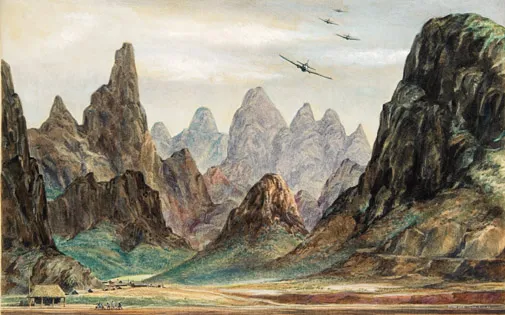 November 18, 1943: "It's cold as hell—I wish I had brought some warm clothes. I spent the morning with Tex Hill and his fighter group and made some drawings at one of his alert shacks. He has really got some good boys flying his P-40s. The charcoal stove in the alert shack was very comforting—it was miserable trying to sketch outside in the cold." November 20: "I'm all squared away in China now and hope to leave here and go over the Hump to Assam tomorrow….If I do get my ride this will be my last night in China…. I am in no way sorry to go; yet I am sure that when I am on the other side of the world, the days I have spent here will rise in my memory, and I will feel around me sharp and clear the vast unbreaking tide of China's life."
Portrait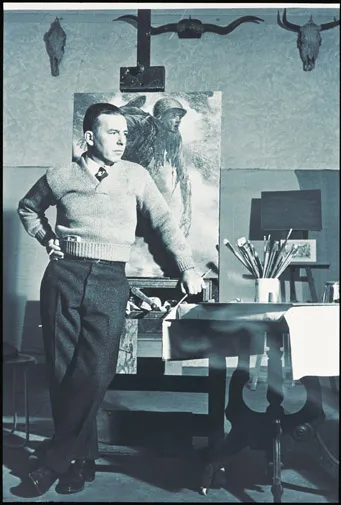 In 1944, Lea would accompany the 1st Marine Division on its campaign in the Palau group of the Carolines; the division would sustain more than 6,500 casualties. Of their September 15, 1944 landing on Peleliu Island, Lea wrote, "As a Life War Artist my purpose in going ashore was to record the United States Marines in combat. On the beach I found it impossible to do any sketching or writing; my work there consisted of trying to keep from getting killed and trying to memorize what I saw and felt under fire." Lea produced ten paintings based on his experience. When they were shipped to Life for publication, managing editor Dan Longwell took a long look at the paintings, saying, "Print every damn one of them in color, and I never want to see them again."

When Lea returned home, he continued to write for Life. With the publication of The Brave Bulls, in 1949, became a best-selling novelist. (The book was made into a movie starring Mel Ferrer and Anthony Quinn.) The Wonderful Country, which came out in 1952, was also made into a movie (starring Robert Mitchum). Lea's wartime paintings were used as book covers and to illustrate magazine articles; one of his Western-themed paintings, The Hills of Mexico, provided the cover for Larry McMurtry's 1997 novel Comanche Moon. And when President George W. Bush was in office, Lea's Rio Grande hung in the Oval Office. Tom Lea died on January 29, 2001, at the age of 93.