Tennis, Anyone?
When she wasn't playing tennis on the wing of a biplane in flight, Gladys Roy was dancing the Charleston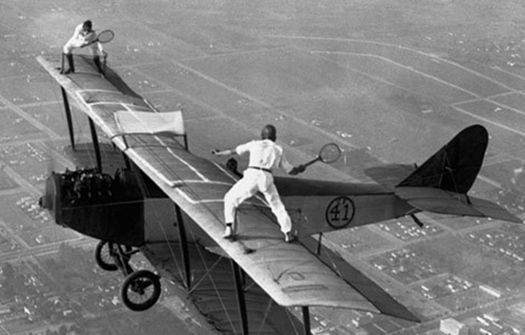 When stuntwoman Gladys Roy jumped on a frisky mare during the making of The Fighting Ranger in May 1924, she was promptly bucked off, dislocating her hip and earning her a week's stay in the hospital.
She really should have been wary. It was the 13th, after all, not a good number for Roy: When she was 13 years old, she fell from a ladder and broke her arm. On her 13th parachute jump she struck an air pocket 100 feet from the ground and landed badly. But this was her worst injury yet, causing the (Los Angeles) Illustrated Daily News to remark that for Roy, "it is safer to leap from the wings of a speeding airplane at 16,000 feet than it is to try and stay aboard a horse on a boulevard."
Roy, barely remembered today, was a popular barnstormer, parachute jumper, and wingwalker in the 1920s. She danced the Charleston perched atop the wing of a biplane, and walked across blindfolded. She's probably most famous for her stunt with Ivan Unger (above), in which the two played (or pretended to play) tennis on the wing of a biplane in flight. (Postcards of the stunt can still be found for sale.)
While little is known about Roy, the National Air and Space Museum archives has a small collection of her letters. Probably born in Minnesota, by 1921 Roy had moved to Los Angeles. In November of that year she hoped to break the world altitude record for a parachute jump by a woman, leaping from 16,000 feet. It would be her third time in a parachute. While the Los Angeles Times notes Roy's forthcoming attempt, her success or failure isn't recorded. But by 1924, at least, Roy's letterhead proclaimed her the holder of "the world's low record parachute jump," from just 100 feet. "Needless to say, I don't care to make the jump again," she told the Times in 1925.
Roy was making good money — from $200 to $500 per performance ($2,600 to $6,700 in today's dollars) — but as she wrote in a 1924 letter to her brothers, "my expenses are very high and it takes every thing that I have to keep going." The Western Vaudeville Managers' Association was her agent, booking her at fairs, real estate exhibitions, even auctions. In a December 1924 letter to her brother Chad, Roy wrote, "When I loop I stand on the center section with both hands in the air. Yesterday the photographer tried to get a picture of it though I don't know if he succeeded or not."
The work was difficult as well as dangerous. "It was cold as the dickins & cloudy I almost froze to death," wrote Roy in 1924. "I was told to get some Chinese tissue paper and make a suit of it to wear under my flying clothes & the cold cannot penetrate it & I will keep nice & warm."
But something happened to her career in 1926. Although Roy was driving a new Cadillac ("cactus gray trimmed in black"), a gift from her husband, she was struggling to get $100 for exhibition performances. Roy's mother had to send her money. Roy told the Los Angeles Times in May 1926, "Of late the crowds are beginning to tire of even my most difficult stunts and so I must necessarily invent new ones, that is, I want to hold my reputation as a dare-devil. Eventually an accident will occur and then—"
In August 1927, Roy was in Youngstown, Ohio, performing in an exhibition, and preparing for a New York-to-Rome flight with Lieutenant Delmar Snyder. She was having her picture taken with an Ohio beauty contestant. "The picture was nearly finished," reported the New York Times, "when the woman flier started the engine, stepped down from the fuselage and unconsciously walked into the propeller." She was 25 years old.