The Tale of Whitey Feightner
An interview with biographer Peter Mersky, who chronicles the long career of an American ace.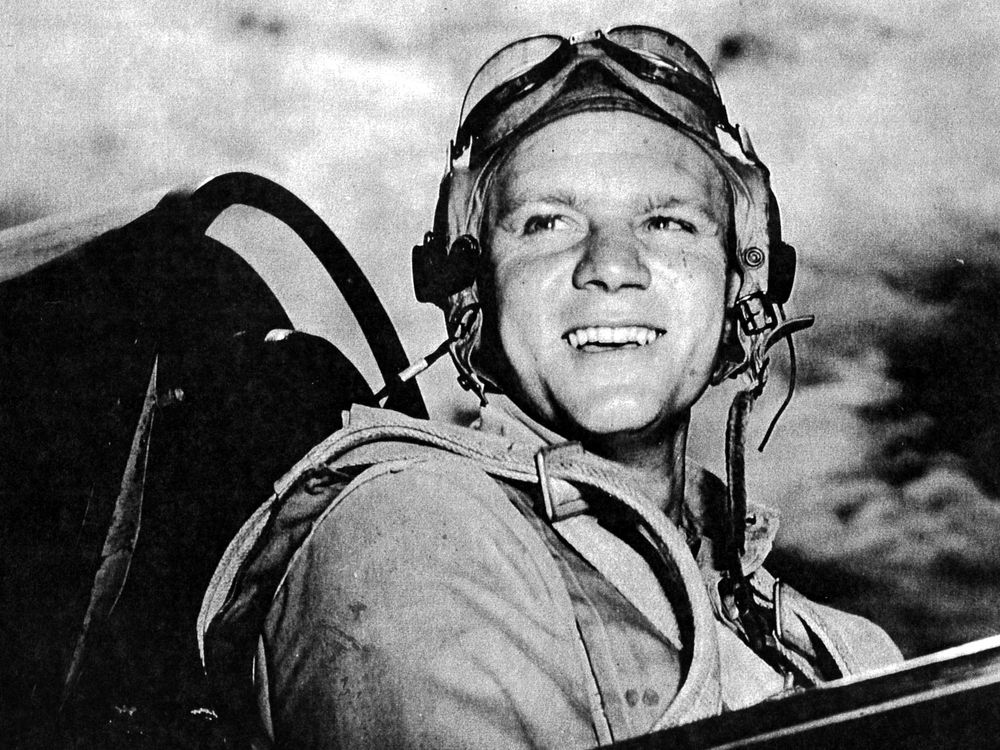 A retired U.S. Navy commander, Peter Mersky has written widely on naval aviation. His 17th book, Whitey: The Story of Rear Admiral E.L. Feightner, A Navy Fighter Ace, came out last year. Feightner served in World War II's Pacific theater, became an ace, and continued his flying career as a test pilot. Mersky spoke with Associate Editor Diane Tedeschi in June.
Air & Space: Why did you want to write about Whitey Feightner?
Mersky: Whitey is a longtime friend. I began promising him I would write his biography, and when he turned 93 in 2012, I figured I'd better start.
How did he get the nickname "Whitey"?
No less a personality than the Navy's first ace in World War II, Butch O'Hare, tagged him with that moniker. He was Whitey's first CO [commanding officer]. Butch started calling him "Whitey" after Feightner turned red under the strong Pacific sun. The name stuck.
How exceptional is the nine kills that Feightner scored during the Pacific war?
That's something of a loaded question. Any military aviator can tell you that it's an accomplishment to just see an enemy aircraft, let alone shoot one or more down. Many people go through their entire career without experiencing one engagement. But quite a few aces had scores well above Whitey's nine. David McCampbell, the Navy's top ace, tallied 34. Nonetheless, Whitey's score of nine confirmed kills is certainly respectable—especially for Allied pilots.
What were his strengths?
I have met many military men but few like Whitey Feightner. He brought a great mix of aeronautical skill and positive temperament to any assignment in and out of aircraft, ashore and afloat. His affable, team-oriented demeanor was the most pleasing and effective I have ever seen, and I am not alone in that judgment. As far as I am concerned, he had no flaws.
Did he like flying the Grumman F6F Hellcat?
He loved it, as did most of his compatriots. In fact, it is his favorite plane of all the different types he flew during his long career in and out of combat. The Hellcat always brought him home, and always did its job. It offered greatly increased power over the F4F Wildcat, longer range, and was simply a much better fighter.
Was being a test pilot at Patuxent River as risky as flying combat missions?
Actually, he considers test flying more dangerous than combat. He became project manager for the F7U Cutlass only after his predecessors had been killed (see "There Was Never Nothing Wrong With It," Aug. 2012). Test flying often is done at the edge of an aircraft's envelope and beyond. Pax pilots flew aircraft doing things that had never been done before. He had several close calls while at Pax, including dead-sticking an F4U Corsair and manhandling a huge Lockheed R6O Constitution [transport] into the air after its JATO [jet-assisted takeoff] units failed to fire on takeoff.
After he took a desk job at the Pentagon, did he miss flying and being at sea?
No combat aviator wants to give up his cockpit for a desk, but it's all part of the career sequence. Whitey could fit in anywhere—as he did with any new assignment.
Did aviation play any role in his life after he retired from the Navy?
He was always being asked, consulted on a variety of projects involving his aviation experiences. That's how we met. And even as recently as the 2014 Cleveland Air Show and the May 8, 2015 VE Day observances in Washington, D.C., he flew [as a passenger] in a former Soviet jet trainer and a vintage SNJ trainer over the D.C. monuments at the age of 95.
When you say he flew the Soviet trainer and SNJ, do you mean as the pilot? Or was someone else doing the actual flying?
Well, of course, no one—including insurance companies—would let a 95-year-old pilot fly such valuable aircraft solo. Both times, there were qualified pilots in the front.
Anything you'd like to add?
Whitey Feightner is one of those rare individuals who has the skill to accomplish any task no matter the obstacles, physical or personal. I am firmly convinced he would have made a great chief of naval operations.