Sweet 17
When a Staggerwing casts its spell, it can surprise even Olive Ann Beech.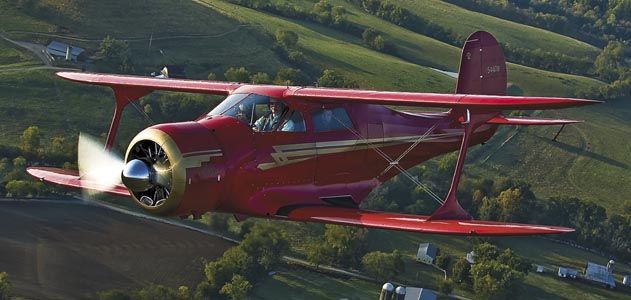 In 1973, representatives of the staggerwing club approached Beech Aircraft chairwoman Olive Ann Beech with a plan: They wanted to create a museum dedicated to her company's Model 17 Staggerwing, an iconic 1930s high-end biplane. But the reception they got was barely cordial.
"Mrs. Beech said, 'I don't like museums, number one, and number two, museums like this are started by people with big ideas and small pocketbooks without management skills, and a few years after they start, they run out of enthusiasm,' " recalls John Parish Sr.
"We said, 'Mrs. Beech, we're not asking for anything except your blessing, because we have such high respect for the standards that Beechcraft represents. And hopefully one day we'll prove to you that we're going to do this right.' "
Mrs. Beech might have been more receptive had she known that the idea had come from a pilot who flew a C17R Staggerwing to victory in the 1936 Bendix race—Louise Thaden, the race's first female winner and one of Mrs. Beech's acquaintances.
In 1973, the Staggerwing Club had held an event at which Thaden was the guest speaker. "She said the airplane was ahead of its time and that something ought to be done to commemorate it," recalls antique aircraft enthusiast George Schulz. "The club sat up and said, 'Yeah, let's start a museum!' "
It's early afternoon on day two of the four-day Beech Party, held each October at the Beechcraft Heritage Museum, located at Tennessee's Tullahoma Regional Airport. Pilots are preparing to fly their Staggerwings around the pattern in formations of twos and threes and make low passes down the runway—preferably carrying visitors who have only dreamed of flying in a Staggerwing. A chorus of Jacobs and Wright radial engines rises in the background as Bud Fuchs, a Staggerwing check pilot from Cape Coral, Florida, preflights a yellow 1938 F17D and recounts his introduction to the fraternity 25 years ago.
"I owned a Beech Travel Air twin"—a predecessor of the Beech Baron—"and we heard there was some kind of fly-in here," Fuchs says. "We flew over and saw all these Staggerwings lined up on the field, and we landed…." He fast-forwards the story: "I sold the Travel Air and bought a Staggerwing in pieces."
Among biplane aficionados, the Staggerwing Swoon is fairly common, and nearly every Model 17 fan can tell a Staggerwing-in-pieces story. Several aircraft in the museum and on the flightline were resurrected from derelicts, wrecks, and collections of parts. Ron and Mark Morrison, now from the Chicago area, spent years as teenagers rebuilding a silver 1938 F17D Staggerwing with their father. Shortly after their father's death, the aircraft was badly burned in a hangar fire, and they spent years rebuilding it again.
The Staggerwing is not just a pretty face, Fuchs notes. "It's an antique, it's a classic, it's a warbird—some of them were military—it's a tailwheel, it's a round engine, it's a biplane, and they'll also fly five people three miles a minute."
Les Grotpeter of Creve Coeur, Missouri, had to sell his Staggerwing in the 1970s, leaving him with only a photograph to remember it by. "For the next 18 years I looked at the picture every morning when I got up and said, 'Someday I'll have another one.' "
The opportunity came after a bout of cancer 15 years ago. "The minister came to see me in the hospital and said, 'You know, the cancer might come back, so when you get out of here, buy something that you've always wanted.' And that's what I did." He bought a 1943 Staggerwing D17S.
In the early 1930s, Walter Beech decided the world needed an executive aircraft with exceptional performance. At the time, he was working for Curtiss-Wright; when the company passed on the project, he quit to found Beech Aircraft Company in Wichita, Kansas, with his wife, Olive Ann, and an engineer/designer, Ted Wells, in 1932. The Model 17, the company's first product, introduced to general aviation such innovations as retractable landing gear, seats with built-in parachutes, and, most distinctively, the negative stagger—the upper wing set aft of the lower wing, the opposite of the standard biplane configuration. The design offered outstanding visibility through the unobstructed windscreen, and gentler stalls: the lower wing stalls first, while the ailerons on the unstalled top wing remain effective; the nose drops, and airspeed increases. Staggerwings were works of art, custom-made with interiors of polished woods and rich leathers, and were priced accordingly: $18,000 at a time when Stinsons and Wacos were fetching a third of that. According to lore, its original name, the Stagger Beech, was overwritten when admirers chose to call it Staggerwing.
In 1951, the U.S. Air Force established the Arnold Engineering Development Center at Arnold Air Force Base in Tullahoma. Still the world's largest complex of flight simulation test facilities, the center drew civilian engineers and technicians to the bucolic area, some with an interest in aviation beyond career motivations. By the mid-1960s, the Tullahoma airport had become a second home to several of them.
"We had about a dozen people, and just some old airplanes," says George Schulz, then a propulsion engineer at the Arnold Center.
They flew Meyers OTW biplanes, Fairchild PT-19s and -23s, Cessnas, and Pipers. John Parish's family owned former dairy farm property adjacent to the airport, and Parish invited friends to keep their airplanes in his hangars, dubbed the Parish Aerodrome. The group began traveling en masse to regional fly-ins.
"There'd be eight or nine different aircraft flying down together," recalls Gene Hood, who worked at Arnold as an associate engineer—specifically, a scientific glass blower ("The mad scientist with all the racks of glass? That's what I made for a living," he explains). "We went to a fly-in at Rome, Georgia, and we came in formation with [Piper] Twin Comanches, Cubs, PA-12s, and [Cessna] 172s, 182s, all flying in a gaggle. Old Curly Broyles, one of our staunch supporters, was running around the airport hollering, 'Here they come! Here comes that Tullahoma bunch!' And that's the way it started. We decided we ought to organize."
"We picked the banana kind of as a trademark," Schulz says. "I had a guy ask me, 'Other things come in bunches—how about a grape?' And I said, 'There's nothing funny about a grape.' "
Soon the Tullahoma Bunch were wearing banana lapel pins, name tags, and jackets with banana patches. The group founded an Experimental Aircraft Association chapter, no. 458, and the president was Top Banana. Another member was Rotten Banana. Staggerwing Club president Dub Yarbrough's wife was a Green Banana "because she didn't like to fly."
Hosting their own fly-in was the next step. "Somebody said, 'Well, what are we going to do?' " Hood recalls. "And I said, 'Just do nothing. Let's just let it happen.' And that became the name: The Happening."
"That came out of the hippie, '60s generation," says Schulz, who, with his wife, Mattie, was among the museum's first officers. "That was sort of a saying at the time."
"It really became a very popular, really big fly-in," Parish adds. "Everybody would fly in to Tullahoma for the Happening. Everybody made chili and dumped it in a 55-gallon drum."
Meanwhile, through Dub Yarbrough, the Tullahoma Bunch became well acquainted with Staggerwings and offered to host the club's annual conventions. At the time, Staggerwings were regarded as curiosities more than classics. But the Tullahoma crew, appreciative of all the aircraft it represented, began to take a proprietary interest in the airplane. The fly-in would draw some 40 Staggerwings. By that time, Parish owned a Staggerwing too ("I went to the Antique Aircraft Association fly-in in Ottumwa, Iowa, and I saw this biplane and I fell in love with it immediately, and I said, 'I've got to have one of those!' ").
By the early 1970s, the Happenings were on the OUT list, and the Staggerwings were IN.
Christine St. Onge, a nurse from Wexford, Pennsylvania, was a brand-new pilot when she came to her first fly-in, in 1974, eager to see the aircraft whose appearance in photographs had so captivated her. "The airplane had a charisma or aura about it that I just couldn't shake," she says. "I met Louise Thaden. She wanted to know how I got into aviation. She said, 'I have a feeling you're going to be just like me: get married, have kids, but still fly a Staggerwing.' And I thought, Nah, there's no way I'm ever going to find a guy that's going to let me do all this."
"All this" refers in part to her 1936 C17B Staggerwing. Her son, Joseph, now 27 and assisting with a preflight inspection, has been accompanying his mother here since he was a baby. (Husband Paul, who is not a pilot, encouraged her to buy the airplane, which she displays at airshows.)
"I don't see the Staggerwing leaving the family any time soon," Joseph says. "I'm aware of its heritage and history. We're pretty much the only touring Staggerwing on the airshow circuit in the Northeast, and it's great to be able to share it with people that have never seen one before, and have people come up and say, 'Oh, I haven't seen one of these since 1940-something!' "
The year of St. Onge's first visit was also the year the Beechcraft Staggerwing Museum opened, on land donated by the Parish family. As an incentive to create the museum, Louise Thaden had promised to donate her papers and memorabilia, and a small log cabin had been built to house the material. By then an even younger generation of Staggerwing enthusiasts was coming along. From the first Staggerwing fly-in, John Parish's three boys—Charles, Robert, and John Jr.—and Wade McNabb, son of the museum's first curator, Glen McNabb, served as greeters, wiping down each aircraft when it arrived and keeping the grounds spotless. "The pilots started giving us tips," McNabb says, "so we would donate our tips to the museum at the end of the week."
The years passed and the museum expanded—more buildings, more Staggerwings, more exhibits. Early on, the progress was noted back at Beech headquarters in Wichita. Olive Ann Beech, whose attitude toward the museum had mellowed, sent crates of documents, including original blueprints vital to rebuilding and restoring the aircraft. In 1975, Beech made her first visit to Tullahoma for the dedication of the Walter H. Beech Hangar, housing airworthy Staggerwings and Travel Airs, along with the original Staggerwing wind tunnel model and the prototype for the landing gear retraction mechanism. (She retired in 1982, two years after Raytheon bought her company.)
Youngsters grew and earned pilot's licenses, and some graduated to the left seat of the family Model 17.
"I learned to fly a Staggerwing by watching my dad: I remember watching everything he did," Wade McNabb says. "And finally I talked him out of the keys to it. I was 22 and it was during a convention. The airplane hadn't flown in two years because my dad was ill, so I took a vacation, came here, annualed the airplane with a local mechanic, and one of dad's friends came here and checked me out in the airplane."
In the mid-1990s, members of the museum's board realized a focus on Staggerwings alone could not sustain the fly-in or the institution that hosted it. Owners were getting older and fewer airplanes were making the annual migration to Tullahoma. Members of a society devoted to the Beech Model 18, and later, of the American Bonanza Society (Bonanza, Baron, Debonair, T-34, and Travel Air), were invited to display their aircraft at the fly-in.
"It was a little stressful," Parish admits. "Some members felt we should stay focused just on the Staggerwing. But we found Twin Beech people were just like us, all part of the same family, and the same thing happened with the Bonanza [and] Baron."
In 2007, the institution changed its name to the Beechcraft Heritage Museum, dedicated to "preserving the heritage nurtured by generations of enthusiasts of all Beechcraft models." "If you don't change, you die," says museum president Michael Greenblatt, one of the institution's new generation of leaders. "What we're doing is promoting the Beechcraft heritage, but also promoting the love of aviation." Today, counting the nine Staggerwings (including serial no. 1, a 1932 17R that was destroyed in a crash in 1935 and returned to airworthiness in the late 1980s), the museum has some two dozen Beech aircraft, ranging from a 1925 Travel Air Model 1000 (serial no. 1) to a Model 2000A Starship.
Wade McNabb, who had become an engineer and worked at Pratt & Whitney, serves as the museum's curator and chief executive officer. Robert Parish—whom many attendees still remember as one of the kids welcoming them to the fly-ins years ago—is on the cover of the museum's brochure, in a photograph that shows him at the controls of Big Red, the family's 1946 G17S Staggerwing, N44G.
Early one morning he and I prepare for a flight. "I grew up in the back seat of this airplane," he tells me, "and now my wife and three kids fly all over the country in this."
After making a preflight inspection and then priming the engine, Parish engages the starter. The prop begins turning, and the radial engine catches with a belch of smoke. I'm reminded of something Michael Greenblatt said: "When you get in the cockpit and you fire it up, and you smell the smoke and the oil, and it's rattling and popping and screaming while the mist is hanging out over the runway, and finally things warm up as the sun breaks across the horizon, and you light off into the sky…it is just nostalgic beyond belief."
On the last morning of the 2008 fly-in, the Parish clan gathers for a photo, squeezed together around the tail of N44G. The youngsters are impatient at the imposed moment of inactivity.
Someone shouts: "Who wants to fly a Staggerwing when they grow up?'
Eight-year-old John Parish III's hand shoots up to the sky.

James Wynbrandt is a multi-engine instrument-rated pilot who flies a Mooney M20K.