Supersonic Sales Call
If you want a customer to spend $10 billion on your jet fighters, you gotta bust some Mach.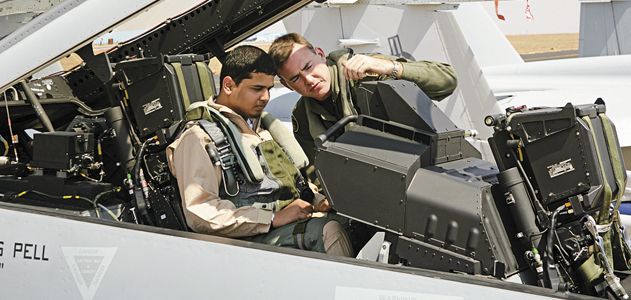 Ricardo Traven, Boeing's chief corporate test pilot for the Super Hornet, was physically in a briefing room at Naval Air Station Cecil Field near Jacksonville, Florida, one sweaty day last June. But mentally, as he prepared to fly a practice routine in the F/A-18E/F, he was eight months ahead and 10,000 miles away at Aero India, a corporate airshow at Air Force Station Yelahanka, near Bangalore. As he moved the imaginary control stick between his knees, he was flying at 550 mph 200 feet off the ground, competing for one of the biggest fighter contracts in history: 126 aircraft valued at $10 billion.
The potential customer, the Indian air force, is looking to replace its aging fleet of cold war-era MiG-21s. Though India has traditionally looked east for arms, Traven's job is to fly his F/A-18 so well during the course of the February 11–15 airshow that the business goes to Boeing instead. That means each day at the show, he must put the Super Hornet, 30 percent larger than the original F/A-18, through its most aggressive maneuvers with a couple of tons of armament beneath the wings, afterburners going almost nonstop, in order to convince military and other government brass to buy the aircraft.
"I close my eyes when I go through the routine in my mind," Traven says of the preflight ritual. "I'm meditating. I visualize every maneuver in my head, taking into account weather and the wind and what I should expect to see as a result of those variables. No surprises." With precision, he performs eight basic maneuvers, each followed by a repositioning maneuver, all in six minutes, a blur to the spectator but a routine hardwired in Traven's head. He retraces each one in detail before every flight, practice or primetime.
Okay, so not much different from the way most safety-obsessed show pilots would rehearse their moves. But a bad performance by Traven carries bottom-line, balance-sheet consequences for a global aerospace corporation: diminished prestige, lost revenue, perhaps even the early closing of a production line, with the resulting loss of jobs. He's well aware that one wrong flinch of the hand on the control stick could send a supersonic sales pitch toward the ground, killing more than just a sale.
The same goes for the other five contenders heading to Bangalore: Lockheed Martin's F-16 Fighting Falcon; the Eurofighter Typhoon, made by a European consortium led by EADS; the Dassault Rafale from France; the Saab Gripen from Sweden; and the Russian Aircraft Corporation's MiG-35. The MiG will be the only aircraft to offer thrust-vectoring engines (see "How Things Work: Thrust Vectoring," June/July 2008), which steer exhaust in any direction and let the jet dance in mid-air. (The thrust-vectoring Lockheed Martin F-22 is not for sale abroad.)
To try to land this contract, each company will rely on a team of professionals, from the CEO to the engineers who build and prep the aircraft. Plenty of corporate schmoozing will happen behind the scenes. But the most visible element of the process is the test pilot, the man who performs the aerial display and gives the test drive. "A chief of an air force," says Traven, "wants to talk to a pilot."
Traven might put on a business suit for a company event in the evening, but more likely, he contributes during the day, appearing in the booth, briefing room, or chalet in his flightsuit, available for questions from the people qualified to ask them.
"Any country that evaluates a plane has a team doing it," says Traven. "On that team will be test pilots who score the aircraft. They need to like the aircraft to recommend it for purchase. So we meet those folks, and take them flying."
The test drive is a golden opportunity for a salesman to land a sale. For the corporate test pilot, that means guiding the customer through a demo flight. The majority of riders are active military pilots who fly only after preflight simulations with a team of trainers, and cockpit coaching from the test pilot—a minefield of language and cultural differences. A slip of the tongue could destroy rapport with a potential buyer.
Mary Ann Brett, a Boeing public relations representative for the Super Hornet who travels everywhere Traven does, notes that Boeing counts on him for more than flying. "We've brought him into our marketing meetings for his expertise about the aircraft, and for his unique perspective on the customer's requirements," she says. Ricardo picks up on a lot in the cockpit, when he's demo'ing the airplane to the customer, that only he can apply to discussions once on the ground—with either the customer, to explain why the airplane does what it does, or to the Boeing team, to get them to understand what the customer is really interested in or concerned about, likes, etc."

Corporate test pilots prepare a mix of shows: a high show, when good weather permits an imaginary "box" for the pilot to climb to 5,000 feet or more; a medium show, when cloudy weather brings the top of this maneuvering box down to 3,000 feet or lower; and a low show, 1,500 feet above the runway. Any lower and the aircraft simply isn't flown. Pilots work to visualize that box beforehand with their own preflight rituals.
"All the display pilots do this," says MiG test pilot Pavel Vlasov. "You have to cut away the secondary data and concentrate on your immediate mission." Vlasov and fellow test pilot Mikhail Belyaev approach their jets before each display, contorting their bodies to mimic the movements of the routine in a "walking sortie." To the casual observer, the pilots seem to be dancing a strange tarmac ballet.
"It [the flight plan] has to be crystal clear when you walk to your jet," says Phillipe Duchateau, Dassault's test pilot. "If not, chances are you'll screw up, since there's not much thinking capacity left when pulling 9 Gs." To him, any airplane demands respect. "You can have 5,000 hours on fast jets and still kill yourself in a Cessna trying to impress your grandma."
Airshow officials ground pilots for any deviation from the box. Thanks to strict safety rules, few test pilots have crashed at airshows in recent years. But going back a few decades, there have been tragedies, such as two test pilots who fatally crashed the Northrop F-20 Tigershark during demonstrations in the mid-1980s. Northrop failed to sell a single F-20 (see "The Airplane Nobody Wanted," Aug./Sept. 2000). The Soviets lost two Tu-144 supersonic transports, one at the 1973 Paris Air Show in an accident that killed all six people on board and eight more on the ground, and destroyed 15 houses. They failed to sell the Tu-144 abroad, and Aeroflot retired it in 1978.
"There's an old saying that's been kicked around," says Troy Pennington, who flew for the Marine Corps for two decades before he became Lockheed Martin's F-16 test pilot. " 'Are you lucky, or are you good?' Risk management is something of a pervasive attitude for us." The day of the show, Pennington repeats the display in his mind countless times, and refers to his deep concentration as "being in the bubble." Two hours early, he heads to the portable maintenance shed near the runway. "When I come out to the airplane, all my maintenance guys are out there and we're jokin'. But there's a point in time where I will walk away to be by myself in the bubble."
The job attracts the sort of pilot able to handle high levels of corporate expectations and public scrutiny. Candidates are chosen from an international military pool and all the top test pilot schools—Pennington, for instance, graduated from the U.S. Naval Test Pilot School in Patuxent River, Maryland, and has more than 6,000 hours in 31 aircraft types.
All the test pilots who will fly at Aero India are superachievers, and the corporations they work for are highly competitive. "It's like watching caged wrestlers in a slap-down fight," says Traven, referring to the intense corporate elbowing already in progress.
In Pavel Vlasov, the Russians may have an advantage beyond their historically good relationship with India's air force. He is considered a master of the MiG, according to his fellow pilots. The corporate test pilot, Vlasov says, "stands out among his colleagues. However, he displays only the visible part of an iceberg."
Adds Vladimir Barkovsky, deputy general director of the Russian Aircraft Corporation, "In Russia we enjoy a cult of the personality. Historically, Russian pilots are revered personalities because of the attitude towards them within our country…. We love heroes."
Yet it's the capabilities of each aircraft that will ultimately determine who wins the contract. The airplanes differ in weight, from the nimble F-16, which may weigh as little as 13 tons, to the Rafale and Super Hornet, in excess of 20 tons with stores.
"Each pilot showcases what his plane does best," says Gripen test pilot Magnus Lewis-Olsson. "From the Sopwith Camel to the F-22, there is no single aircraft that can do everything. So you show what it is you can do." The highlights of an F-16 performance are effortless vertical climbs; of the F/A-18, barrel rolls with armament; of the MiG, cobra-like high-angle-of-attack maneuvers and controlled stalls.
However, with safety a chief concern, pilots often put aside competition in favor of cooperation. They see one another regularly at all the shows, and in some cases have known one another for years.
"In our opinion there is no competition when you get on that side of the ramp," said Lockheed's Pennington on a July day last year. He pointed toward where the demonstration jets were parked beyond throngs of well-heeled businessmen at the Farnborough International Air Show in Hampshire, England. ("Farnborough," as it is known, is held every other summer to alternate with the Paris Air Show.) "We leave the competition…over here with the guys in suits. The airshow pilot business is camaraderie. It's a club."
Traven, who also flew at Farnborough last summer, agrees that the competing pilots look out for one another. "I've literally climbed down from the cockpit at the end of a demo, run over to the Russian plane waiting to take off, and crawled up the ladder to tell him the tower is calling the clouds at 4,000 feet when they're really at 3,000."
For big airshows, these pilots train for months, and in Traven's case attend to details as specific as the content of daily meals. Each day's preparation is an exact replica of the previous one, with his display coach, safety officer, and an engineer constantly assessing the routine's risk levels. Traven flies the Super Hornet with plenty of room for error 5,000 feet above the Florida coast near Cecil Field to define the box in which he maneuvers. He repeats the display twice daily, creating a descending "ground line" in the sky until he brings the performance down to 500 feet above the runway.
Why Cecil Field? It's the southernmost facility in the United States where Boeing can support F/A-18 operations. It's hot. It's humid. It's like Bangalore, where, despite being 3,000 feet above sea level, it can be 100 degrees Fahrenheit in February. It makes sense to practice in a similar climate to pinpoint how the engines and flight control surfaces will respond. "I can't find a hot spot in the U.S. 3,000 feet above sea level," Traven says.
In November Traven traveled to India to further prepare for the February show. "I met with the airshow organizer," he says. "I met with the guy that will be the air boss in charge of actual flying displays." It's about familiarization with the base, landmarks, and flying rules. He then assembles a routine he can do in his sleep.
Aero India will differ from the other major international shows. "We're not flying the Indian show for a host of countries," says Traven. "We're flying the show for India. That is a very focused and intentional airshow. There's a lot at stake. There's a lot of pressure."
Nonetheless, Farnborough, which, along with Paris, has become known for major orders of airliners, still offered a good audition for all the fighter pilots honing their acts for India. And those routines took off and landed rapid-fire, as they do at all the big international shows. The most marked difference between a corporate test pilot's demonstration flight at Farnborough, Paris, or Aero India and a military pilot's recruiting flight at a military airshow is that the corporate pilot is given much less time—rarely more than six minutes, sometimes as much as eight, as will be allotted at Aero India. That's because there's plenty of business to take care of on the ground at a corporate show.
"These international shows, they're more tradeshow than airshow," says Traven. "They're filled with contractors that supply the industry. There are hangars full of them. You almost have to go see it to believe it." With meetings and negotiations starting early in the morning and running through the day, he says, the noise and spectacle of a fighter demo create a distraction. So all the flying happens in a few scheduled hours, say noon to 3 p.m., and the pilots are expected to observe strict time limits.
"It is a very exhilarating six minutes," says Pennington. "It is a helmet fire, and it's very busy, physically demanding, physically straining and stressful, mentally stressful, both in the preparation and actually in the event itself."
"You barely get to breathe," says Traven. "It's really like one continuous maneuver. You're in afterburner almost the whole time. I burn a thousand pounds [of fuel] a minute." Because he chooses to carry stores under the wing to portray the airplane in an operational configuration, Traven has to counter drag, and uses the afterburners that much more. By contrast, the ordinary military pilot at a Memorial Day show at some U.S. Air Force base might be in afterburner only about half the total flight time, he says.
To keep things short, corporate show pilots have to perform within that imaginary box right over the runway. In the case of Paris, the constraints also keep performers away from airline traffic at nearby Charles de Gaulle International Airport. Military pilots at a military show, on the other hand, get to stretch out in a radius perhaps five miles around the show center, while enjoying 15 or 20 minutes to set up and execute an array of graceful maneuvers. Shows by Britain's Red Arrows or the U.S. Air Force's Thunderbirds exceed half an hour.
Not so in Traven's world. "There's a relevance for every maneuver I do, and that's to display the capabilities of the plane to the military operational pilot and senior decision makers."
Still, he says, part of his job is to go "beyond extremes, so that the end-user, when he needs it, can push within a window of safety. We don't fly up to the 'edge,' we go over the cliff. We then come back and we draw a line in the sand for others that says, 'Cliff here.' "
The gee-whiz factor of a public display is undeniably important. Says Dave Desmond, another Boeing test pilot, "The international airshow scene caters to two fronts: the public that attends to enjoy the thrill and the noise, but who probably doesn't fully appreciate the significance of the maneuvering dynamics, and the potential customer, who is keenly assessing the capabilities being displayed."
"You want to be able to win the hearts and minds of your customer and the public, and there can't be room for any disappointment," says Craig Penrice, a former Eurofighter test pilot. "You can't replace the moment." He learned that lesson just before a flight at a foreign airshow when a problem arose with an inertial system that helps control the airplane's attitude. "From the marketing standpoint, there was an expectation level [to take off], but I had to cancel the flight," says Penrice. The company eventually made the sale, but "we learned to always bring two airplanes."
With multiple airplanes on hand, the six companies and their pilots, ready for business, head to India. There they'll light the afterburners and trace out their Power Point presentations in the sky, and hope to win a few hearts, a few minds, and all the dollars.
Jorge and Karen Escalona wrote "Lockheed's Missing Link" (June/July 2008).