Steichen's Navy
With museum-quality photographs, Edward Steichen showed the world what it was like to be a sailor at war.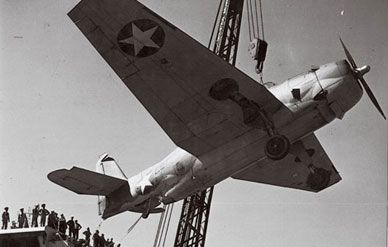 Before Edward Steichen joined the U.S. Navy in January 1942, he had been chief photographer for Condé Nast magazines Vogue and Vanity Fair, a commercial photographer for the J. Walter Thompson Advertising Agency, a curator at the Museum of Modern Art in New York, and a painter exhibited in Paris salons. He was in his mid-60s when he went to war for the second time. During World War I, he had helped establish the first U.S. aerial reconnaissance operation, originally for the Army Signal Corps, later under the auspices of the American Expeditionary Forces Air Service. Traces of the fashion photographer, ad man, fine artist, and patriot show up in the photographs made by him and by the six photographers he recruited to document World War II naval operations.
In the first world war, Steichen had managed to get into the Army's photographic division, even though in 1917, at 38, he was eight years past the age limit for recruits. A U.S. citizen, he had been living in France when the war began, and, beyond his ambition to be a war photographer, he wanted to help resist German aggression. He was proud of his service; for years afterward, he listed himself in the New York telephone directory as "Steichen, Col. Edward J."
He first tried to reenlist in the military in the fall of 1940 but was turned down. In October 1941, the Museum of Modern Art invited him to design a photo exhibition on the theme of national defense. He selected the photographs; his brother-in-law, the poet Carl Sandburg, wrote the captions. Before they completed the work, the Japanese attacked Pearl Harbor, and when the exhibit was hung in May 1942, it was called "The Road to Victory," in order to promote the war effort.
In the meantime, Steichen continued his efforts to serve in combat, eventually coming to the attention of a Navy captain, Arthur Radford, who would later become chairman of the Joint Chiefs. Late in 1941, Radford was in charge of Navy pilot training. With the responsibility to recruit up to 30,000 pilots a year—in the face of stiff competition from the Army Air Forces—Radford saw the wisdom of exploiting the talents of Edward Steichen.
"I received a telephone call from the Navy Department in Washington asking me if I would be interested in photographing for the Navy," Steichen recalled in his autobiography A Life in Photography. "I almost crawled through the telephone wire with eagerness."
According to photography historian Christopher Phillips, author of Steichen at War, Naval photography prior to World War II depicted "machines, equipment, ships, airplanes." Wayne Miller, a wartime photographer who worked for Steichen, says photographers made images of "formal occasions on board ship, ceremonies such as crossing the equator, broken parts."
But Steichen had joined up to run an advertising campaign: Your Navy at War. Peter Galassi, curator of photography at the Museum of Modern Art, says that in choosing what to photograph, Steichen "was selecting for really good advertisements."
An outstanding example, taken in October 1942, shows the U.S. flag flying over the flight deck of the escort carrier Santee. U.S. Camera 1944, a major photo annual, stated that "no picture taken during the war has had as great popular usage as this one. It has been on magazine covers, in newspaper pages, on posters. Almost every editor who has seen the picture feels that it is the perfect flag photograph."
Horace Bristol, who took the photo, was one of the men whom Steichen recruited. Most came in as civilians; Bristol had been with Life from the first issue and had accompanied writer John Steinbeck during the travels in California that inspired The Grapes of Wrath. Charles Fenno Jacobs, another recruit, also had worked for Life. Charles Kerlee had made his name as an outstanding commercial illustrator. Victor Jorgensen had built a strong reputation at the Portland Oregonian. Wayne Miller, the only rookie, was already in the Navy and showed Steichen a portfolio, hoping to join his crew. Years later, Miller recalls Steichen telling him, "It wasn't your photos that impressed me; your photos were lousy. It was your youth and enthusiasm."
Seen today, some of their work has an old-fashioned, message-laden quality. Phillips notes that the photos "appear too technically perfect, too perfectly composed." On Iwo Jima, for instance, Steichen photographed the fingers of a Japanese soldier protruding from a shallow grave. Phillips says the photo makes him wonder if Steichen enhanced the scene by brushing away dirt.
Bypassing the Navy photo organization, Steichen drew on Radford's support to gain unprecedented independence. His photographers avoided Navy-issue cameras, choosing their own models. They did not develop their film in the field but sent it to a lab that Steichen operated in Washington. Steichen exercised tight control over the developing and printing, emphasizing repeatedly that he wanted dark prints with excellent contrast. When Steichen himself photographed a Grumman F6F Hellcat fighter taking off from the deck of the USS Lexington, he caught the aircraft within a pool of what might have been reflected moonlight. In fact, the photo had been made on a bright afternoon.
Radford interceded with Admiral Chester Nimitz, commander-in-chief in the Pacific, to win the right for Steichen and crew to virtually write their own orders. Barrett Gallagher, who joined the group in 1944, later wrote of requesting duty on the staff of a certain admiral: "He had not heard of me and he asked what my orders were. I told him my orders were to go anywhere I liked, do whatever I wanted, and go home when I felt like it. After he had read them he said, 'Damned if they don't' and took me on."
Still, it took more than professional freedom and tight technical control to make really memorable photos. At times, it took luck. Steichen won a combat assignment when he embarked on the Lexington, which supported the invasion of Tarawa, one of the most significant battles in the Pacific campaign. A Japanese torpedo crippled the ship's steering and a misfiring machine gun sent a stream of rounds in his general direction, but Steichen failed to capture a good shot of the action. The war's great action shots—a kamikaze attack on the carrier Bunker Hill, for example, or the USS Yorktown at the moment its hull was blasted by a torpedo during the Battle of Midway—were made not by the artists under Steichen's command but by ordinary combat photographers. The enlistees, notes MoMA's Galassi, "made one great picture after another. They made extraordinary pictures, not because they were art photos, but because they were trying to describe what was there in front of them."
What, then, did Steichen and his men contribute? His own directions to his photographers were, "Be sure to bring back some photographs that will satisfy the Navy brass, but spend most of your time making those photographs which you feel should be made. Above all, concentrate on the men. The ships and planes will become obsolete, but the men will always be there."
He provided the model for them to follow in mid-1943, when he visited submarine facilities at Groton and New London, Connecticut. Here his chief subjects were the workers. A portrait of a woman in saddle shoes and jeans, poring over a blueprint, is reminiscent of his pre-war fashion photography.
When the war ended, Steichen returned to the Museum of Modern Art as director of photography and produced the epic 1955 exhibition "The Family of Man." Here, very late in his career, he once again focused on people, the subject that fascinated him throughout the war and throughout his life.