The "Squadron of Death"—That Performed in High Heels
The forgotten aviation career of Rubye Berau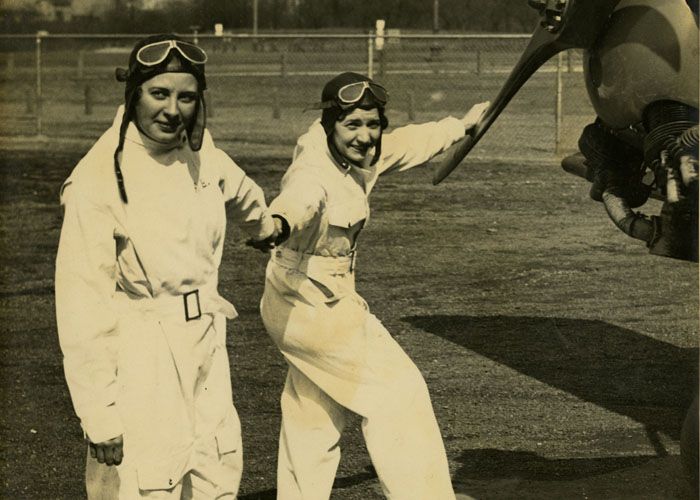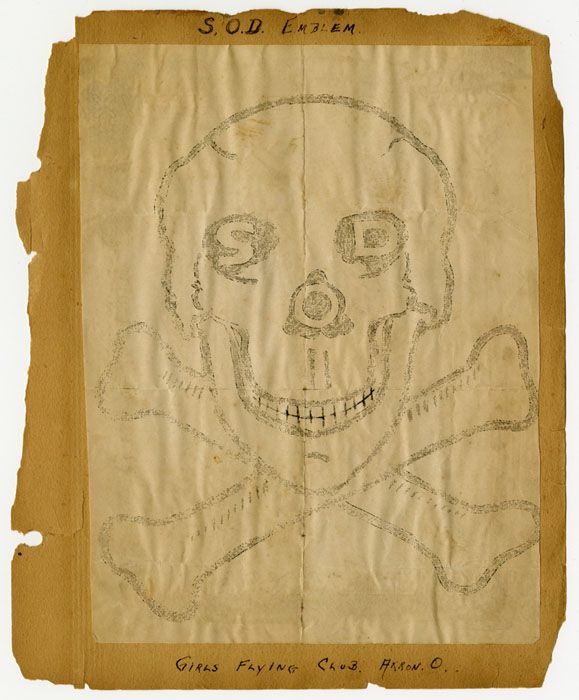 A 1977 article in the Akron Beacon Journal notes, "Despite the name of the squadron, the skull-and-crossbones insignia, helmet and goggles and white jump suits, the fliers retained their femininity. They always wore high heels in the air." 
We dismissed the high heels reference until seeing this photograph of some of the S.O.D. members: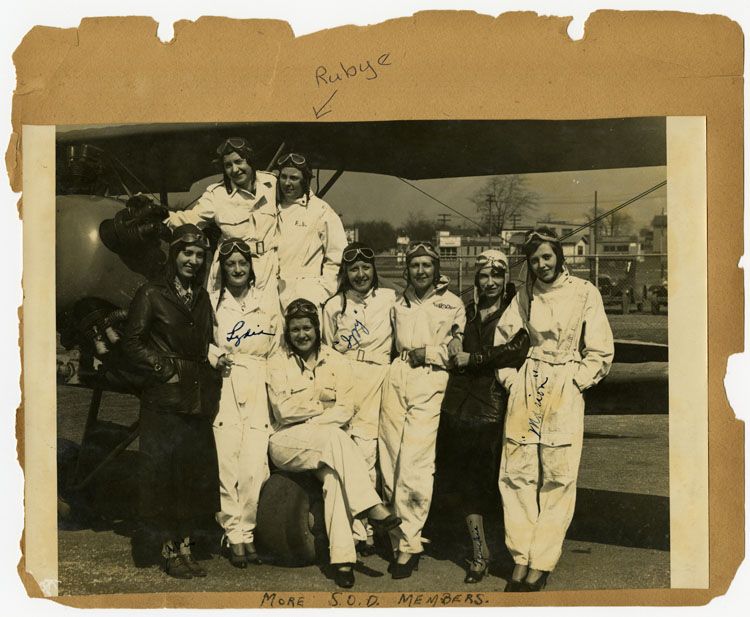 Aviation history is filled with stories like Rubye Berau's. Nearly unknown today, in the 1930s the pilot was so popular she was hired to perform—along with parachutist Babe Smith, the other half of her act—before a crowd of 15,000 gathered to see the first flight of the airship USS Macon, in Akron, Ohio. 
According to records in the National Air and Space Museum Archives, Berau was the proprietor of The Canteen in Akron, Ohio when she became interested in aviation. In 1931 she became a member of "The Squadron of Death," an all-female group of student fliers based at Akron Airport. The squadron would eventually have 13 members who would fly on the second Friday of each month, and always on a Friday the 13th. 
Undated news clippings in the Archives say that Berau owned a Travelair three-place open biplane, powered by a Wright G6 whirlwind, which was capable of 135 mph. She was taught to fly by Ray "Kitch" Kitchingman. 
It isn't clear when Berau and Smith started their act. One undated clipping says of the two women, "Teammates for two years and never a quarrel—although one is a redhead. That is the outstanding record of Babe Smith, the redhead, and Rubye Berau, brunet, who are parachuting and piloting, respectively, every day at the air races. These Akron girls are the only women's team of the sort. Miss Smith claims the women's jump record—17,654 feet—and the record for delayed opening of her 'umbrella.' She has made more than 200 jumps." 
In an unnamed newspaper clipping dated May 30, 1934, we learn that:
"Spectators at Akron municipal airport received an unexpected thrill early Wednesday evening when a plane piloted by Mrs. Rubye Berau, former Akron aviatrix, turned turtle in a forced landing after the motor went bad on a take-off. Neither Mrs. Berau nor her two passengers, Mr. and Mrs. Dean H. Swadener of Mishawaka, Ind., received more than minor bruises in the accident, which appeared worse than it turned out.
"More experienced pilots praised Mrs. Berau for continuing on across Triplett Blvd. in making her landing instead of attempting to turn back into the airport with neither speed nor altitude to spare.
"Mrs. Berau flew northeastward into the wind in taking off. She cleared the administration building with some difficulty and continued on for a quarter mile. As she descended a small tree caught one wing giving the craft the twist which turned it over as it hit.
"Loosening their safety belts, Mrs. Berau and the passengers were out inspecting the damage by the time spectators and a band of gypsies from across the road arrived."
And there the paper trail grows cold. During World War II Berau was working as a hospital aide, according to an ID card in the collections. But then she dropped out of the public eye; she died in May 1978, in Florida.