A Spotter's Guide to World War I Replicas
Where to see a Jenny in flight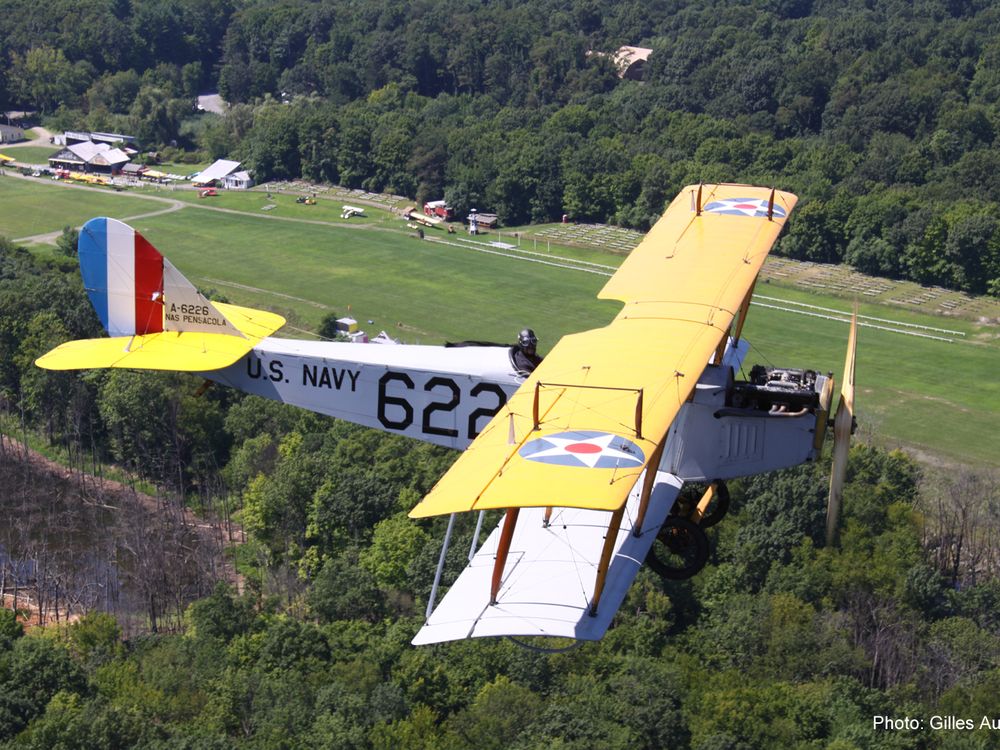 Old Rhinebeck Aerodrome in upstate New York, which houses the country's most extensive collection of flying World War I airplanes, hosts elaborate airshows on Saturdays ("History of Flight") and Sundays ("WWI") from mid-June to mid-October. 9 Norton Rd., Red Hook, NY, (845) 752-3200, oldrhinebeck.org.
The Salute to Veterans airshow at Columbia (Missouri) Regional Airport, held annually over the Memorial Day weekend, features more than a dozen World War I airplanes from the Kansas City-based Dawn Patrol. 11300 South Airport Dr., Columbia, MO, (573) 874-7508, salute.org.
The Gathering of Eagles airshow at Gardner (Kansas) Municipal Airport is an annual Father's Day get-together that usually gets a nice turnout of Kansas City Dawn Patrol and other World War I airplanes. 31905 W. 175th St., Gardner, KS, (913) 856-4039.
World War I replicas typically account for only a handful of the thousands of airplanes that fly in for the EAA AirVenture in Oshkosh in Wisconsin. But this year's showing is expected to be larger than usual: 2014 marks the centennial of the dawn of World War I. 3000 Poberenzy Rd., Oshkosh, WI, (800) 564-6322,
eaa.org/en/airventure.
The World War I Dawn Patrol Rendezvous is a biennial event, scheduled this year for September 27–28. It is sponsored by the Great War Aeroplanes Association and the National Museum of the United States Air Force at Wright-Patterson Air Force Base. 1100 Spaatz St., Dayton, OH, (937) 255-3286, nationalmuseum.af.mil/wwi.asp.
The Vintage Aero Flying Museum in Fort Lupton, Colorado, flies its Fokker D.VIII, Dr.1, D.VII, and Royal Aircraft Factory S.E.5a replicas on Saturdays, weather permitting. 7125 Parks Ln., Fort Lupton, CO, (303) 668-8044, vafm.org.