Spaces of the Space Age
Bold missions called for bold architecture.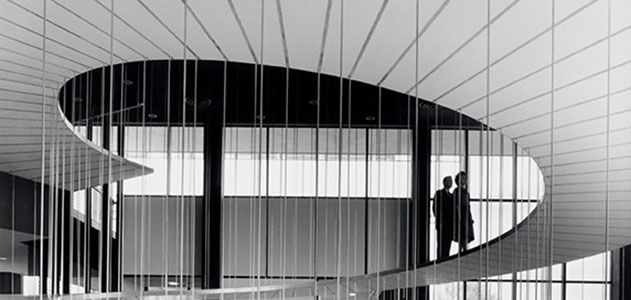 Today, we think of the cold war as an era of grimness and secrecy, but some of the companies making the weaponry worked in buildings that were surprising for their beauty and openness.
During and after World War II, the aviation industry's center of gravity shifted from east to west, and aerospace became Southern California's largest single employer. To compete for the best employees, California aerospace companies had to project the right image, one reason that their architecture embraced bright sunshine, mild temperatures, and dramatic vistas.
No architects better captured the spirit of the industry in that time and place than William Pereira and Albert C. Martin Jr. The labs and manufacturing complexes they designed look radically different from the blue-collar factories of aero businesses that began before World War II: Grumman on Long Island, Boeing in Seattle, McDonnell in St. Louis. The new buildings embodied a promise of "California living at its finest," as Aeronutronic put it in an advertisement. That company was a spinoff of Lockheed's missile division; the division's general manager, E.R. Quesada, believed the best way for Lockheed to reinvent itself for the Space Age was to provide its scientists an atmosphere of intellectual freedom. He resolved to run his unit "more like a university than a hardheaded business."
Of course aerospace in the 1950s was still a business—one that was largely military and frequently secret. But the buildings it was conducted in expressed tranquility and transparency.
Stuart W. Leslie, a professor of science and technology history at Johns Hopkins University, was recently the Lindbergh Chair at the National Air and Space Museum.