Cessnas Pretending to Be Predators
Small airplanes sometimes act as surrogates in live training exercises.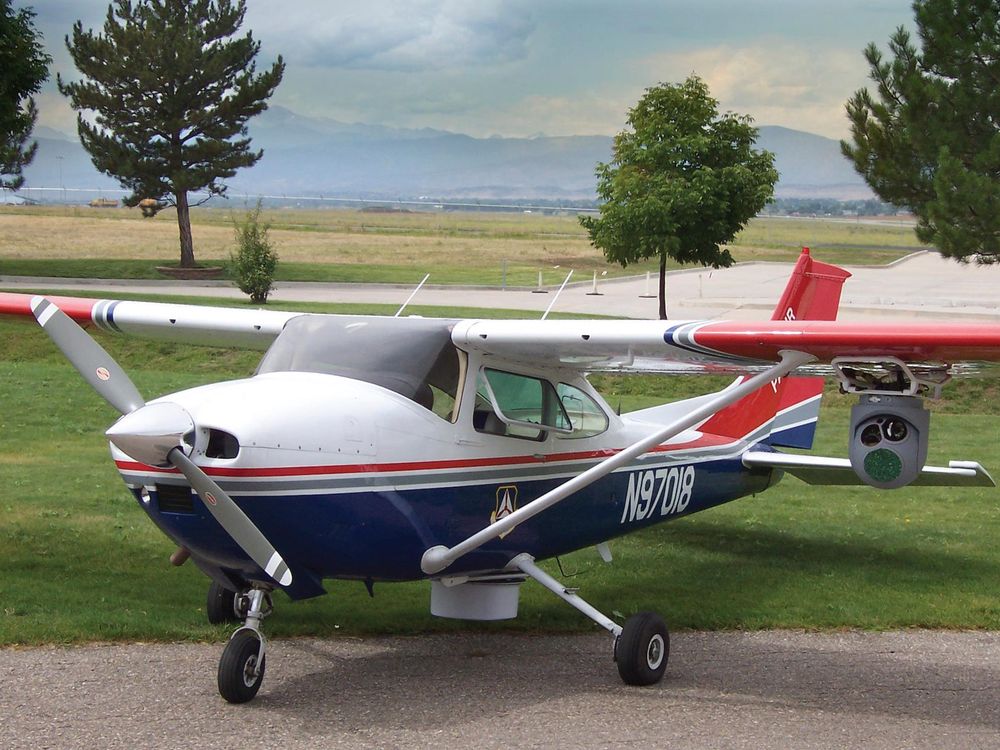 With so many Predators deployed to hotspots overseas, the U.S. Air Force is having trouble keeping up with the increasingly high demand for drone support staff because they have few aircraft available for training. In 2009, officials brought a proposal to the Civil Air Patrol, the all-volunteer branch of the Air Force that provides support through education, training, and emergency services. Could the Patrol offer up some of its Cessna fleet as surrogate Predators in live training exercises—at least until the real thing returned from war? "Obviously, the wars never really got over and the Predators haven't come back," says Chuck Mullin, one of the staff overseeing the Surrogate Predator program at Civil Air Patrol headquarters at Maxwell Air Force Base in Alabama. "The Air Force keeps funding us and telling us, 'You guys keep doing it.' "
Today, 70 volunteers run the program. Three Civil Air Patrol Cessnas—two 182s and a 206—have been retrofitted with the same camera pod and controls used on the unmanned aerial vehicles. The high-wing civilian airplanes carry no weapons, but are otherwise a perfectly suitable stand-in to train new joint terminal attack controllers, or JTACs, the soldier specialists who direct UAVs for close air support. The Patrol also provides the crew: a pilot, a mission coordinator, who maintains the voice link with apprentice JTACs, and a systems operator who manipulates the camera pod. On the ground, trainees analyze downlinked imagery, including color video, and infrared, wide-angle, or magnified images. "What the JTACs see is exactly what they would see if they were actually using a Predator," Mullin says.
Patrol crews keep interactions with JTACs scrupulously real. Steve Wood, a former Marine pilot, flies a Cessna on most of the 12-day exercises conducted 18 times a year at Fort Polk in Louisiana, where he's the Civil Air Patrol squadron commandor. (Exercises are also held at Fort Irwin in California's Mojave Desert.) During a four-hour flight, the aircraft sends data down to multiple JTAC teams. "They all want this asset," Wood says, "so they're all trying to get face time on it."
Typical imagery includes a sweep down a convoy's path, Wood says, "looking for anyone lying in wait or for a disturbed landscape that might indicate a buried IED [improvised explosive device]." The program trains the controllers to examine highly realistic mock villages for patterns of activity. "We might be asked for magnified imagery of a specific building so JTACs can observe persons entering and leaving," says Wood. "We might be observing vehicles on the road and the people inside to determine what sort of arms they're carrying." Surrogate Predators even act out simulated air-to-ground strikes ordered by JTACs.
Occasionally, a real Predator shares airspace during an exercise. Even compared to the real thing though, Wood says stand-ins score high in post-exercise evaluations. "The Air Force really loves us," adds Mullin. "We're pretty cheap when you consider that none of our people are paid. They just come out and do this on their own." Role-playing a $4 million recon UAV in a single-engine light aircraft that goes for an eighth of that price: Just one more way to serve your country.