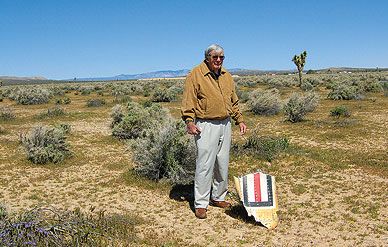 What Happens at Edwards… Pretty Much Stays at Edwards
Bud Evans lay down in the desert at California's Edwards Air Force Base, amid bottles and tin cans still littering an area near what's left of Pancho Barnes' resort. "This is pretty much what I remember seeing," he told the Air Force Flight Test Center Museum people. Then he took a picture.
Last April, Evans returned to the site where in 1959 he had been dragged by his parachute after activating the downward-ejection seat in a Lockheed F-104. He wrote about his wild ride in "The Unhappy Bottom Riding Club" in the February/March 2010 issue. Soon after publication, test center museum specialist Tony Moore e-mailed Air & Space. Moore is an X-Hunter, an aerospace archeologist who tracks down the crash sites of experimental aircraft. "I was reading 'Unhappy Bottom' and realized I'd just been to Captain Evans' crash site on my birthday (I was looking for a site that was as old as I was)," he wrote. "I was using the old chimney at Pancho's as a landmark to search for the wreck, and was within sight of it when I found a wing panel piece with part of the 'stars and bars' on a background of fluorescent orange high-viz paint."
In short order, Evans, who spent some seven years at Edwards, arrived for a trek out to retrieve the wing panel, although Moore had stored it away "to make sure it doesn't wander, so to speak," and brought it back out to the site for photos. One of the trekkers was flight test engineer Johnny Armstrong, whom Evans knew from his years at Edwards, and who still works there. Another old friend was at the test center museum: the very same Piasecki H-21 helicopter that had retrieved him from the crash site 51 years ago. "The H-21 had been our test aircraft, and we kept it as our utility and rescue machine," says Evans. (The Flying Banana awaits restoration.)
Before leaving the impact crater the F-104 had made, Evans asked Moore, "You know what the best thing about this is, Tony?"
"No, sir, what's that?"
Evans pointed at the crater. "I'm not in there."
Patricia Trenner
How Are Airships Like Boomerangs? They Just Keep Coming Back
In the next few months, E-Green Technologies, based in Kellyton, Alabama, hopes to launch the world's largest operational airship. The outer envelope of the 235-foot-long, 65-foot-diameter Bullet 580 is a new type of Kevlar (a prime component of bulletproof vests), which designers hope will make the craft light enough to soar past 20,000 feet and carry up to 2,000 pounds of payload or 19 passengers. The $8 million airship will get its lift from a system of helium-containing bags.
The largest airships ever made, Hindenburg and Graf Zeppelin II, were just over 800 feet long and 135 feet in diameter. Lockheed Martin last year built and inflated a 240-foot-long, 70-foot-diameter prototype called HALE-D, but that craft ran out of funding before it could fly.
In an inflation test in May, a prototype Bullet 580 nearly filled the Garrett Coliseum in Montgomery, Alabama, near the factory where the airship will be produced. E-Green touted 580's uses as surveillance platforms, communications "stratellites," leisure cruisers, and advertising vehicles (the company is also working on spherical designs—the SA 60 Soccer Ball Airship recently flew—for sporting events).
The Bullet 580 will use propellers (turned by engines running on algae-based biodiesel) vectorable to direct thrust in any direction, so the ship can hover and descend to a pinpoint landing or cruise at 80 mph.
E-Green test pilot Allan Judd likens piloting the ship more to operating a boat in an ocean of air. "It's really not flight," he says. "It's flotation and buoyancy."
The company hopes the romance of lighter-than-air flight will attract customers to its next planned airship, capable of carrying 75 passengers.
But first, the Bullet 580 will have to prove itself in flight tests at Florida's Kennedy Space Center or California's Moffett Field. The first flight will carry an experiment package for NASA and Virginia's Old Dominion University designed to measure the moisture content of the soil below from a vantage point of up to 20,000 feet.
Michael Belfiore
Betting on the Mars Man Cave
On paper, Yue Wang looks like the perfect recruit for an experiment in long-term space living. Astronaut trainer, 27 years old, medical degree. No wonder he was picked for Mars 500, a Russian-led simulation in which six volunteers—all men—will live in a chamber in Moscow for 17 months, pretending to be on a round-trip mission to the Red Planet.
And yet, at the moment he's the early favorite to start banging on the hatch, demanding to be let out before his 520 days are up. Something about Wang we don't know? Not really, says Ken Robertson, communications manager for the Irish bookmaker Paddy Power, which is taking bets on the Mars 500 crew members' chances of sticking out the longest space mission simulation ever conducted. It's just that as a Chinese, Wang will be the most culturally isolated of the volunteers, three of whom are Russian and two of whom are European. So Paddy Power's handicappers set his initial odds of quitting early at 2:1.
Diego Urbina, a 27-year-old Italian who has already done a shorter Mars simulation in Utah, started the Moscow sim at 5:2, slightly more likely to give up than 31-year-old French engineer Romain Charles (7:2). Russians Alexander Smoleevskiy (5:1), Sukhrob Kamolov (8:1), and Alexey Sitev (10:1) have decent odds of hanging in to the spirit-crushing end.
There are few wagers the bookmaker won't take in the "novelty bets" category. Will the head of BP resign? What actor will be the next James Bond? Which celebrity will get pregnant next? (Beyoncé is 6:1; Lady Gaga, 33:1.)
For those who prefer something weightier, Paddy Power has a bet on the real space program. Starting odds have the Americans as 11:10 favorites to be the first nationality to walk on Mars, followed by the Chinese (7:4) and the Russians (5:2). The Irish are 500 to 1.
Tony Reichhardt
Update
Beware of Rotorwash
Boeing has announced it will enter its V-22 tiltrotor in the competition to replace the presidential fleet of Sikorsky VH-3D Sea King helicopters ("Osprey at War," Apr./May 2010), as well as its CH-47 Chinook, and, under license from Finmeccanica, the AgustaWestland AW101. The Washington Post's Al Kamen reported on May 12 that Winslow Wheeler of the Center for Defense Information said that the Osprey, "when landing, will unleash high-speed sod clumps in all directions [and] will have the added — much to be desired — effect of scattering the White House press corps." This was aptly demonstrated at a Staten Island park on Memorial Day, when a descending Marine Corps MV-22 tore branches from trees and stirred up mini-tornadoes of dirt and debris, causing minor injuries to 10 onlookers. "We came in over the trees," said a crew member. "The next thing we see is a [picnic] blanket coming up in the air."
The Shuttles Retire
Last Call for a LEGO Shuttle
It's not like LEGO never put out a space shuttle before. The 1996 LEGO Technic 8480 fiber optic model (1,366 pieces, $158) was a hit, as was the 2003 Discovery 7470, which commemorated the deployment of the Hubble Space Telescope (826 pieces, $380 including telescope). But the brand-new Shuttle Adventure (1,204 pieces) seems like a bargain at a mere $100. It includes two astronauts and a service crew member and can separate from the launch pad; the external tank and solid rocket boosters also separate. Deploy the satellite and unfurl the antenna and solar cell panels. Then disassemble it, put the pieces back in the box, and sell the kit on eBay in 2030.
Esoterica
"Want to know how to ditch a B-29?" asks Nick Sparks, a partner in Periscope Film LLC in Los Angeles. "Or how to eject from a B-47? Or prepare to land the X-15?" Sparks' company, which has produced a documentary about Regulus missile submarines, sells flight manuals for dozens of military aircraft, from V-1 Buzz Bomb Manual to MiG-29 Fulcrum Pilot's Flight Operating Manual.
The first manual Sparks acquired, which he used to show to guests, was for the YB-49 Flying Wing: "Who knew that the Air Force used cartoons featuring beautiful damsels to train crews to fly a nuclear bomber?" Though most of the manuals were long ago declassified, he has at times invoked the Freedom of Information Act, as he did to obtain the manual for the XB-70. His best seller? The P-51 Mustang Pilot's Flight Operating Manual at $16.95. Visit periscopefilm.com.
Story Musgrave
Former Space Shuttle Astronaut
A veteran of six shuttle flights, Musgrave, who flew on all five orbiters, has seven degrees, including a doctorate in medicine. During his 30 years with NASA, he worked as a part-time trauma surgeon. As a pilot, Musgrave has logged 18,000 hours in 160 types of aircraft. He is the author of The NASA Northrop T-38: Photographic Art from an Astronaut Pilot (see p. 71).
You've flown six shuttle missions. Did being in orbit ever start to feel routine?
No. You cannot get enough of Mother Earth, and the heavens too: the stars, the aurora, and shooting stars. You can't get enough of playing in an environment you were not evolved to be in. It's the art of the mission — how smooth you can pull it off one day after another. Not in a compulsive way. But it got better every flight. I got better too.
In what way?
What I could get done up there. I flew in my 40s, 50s, 60s. I was also a communicator at mission control for 25 missions. I understood that world. I flew with 27 different astronauts, with 17 rookies. Spaceflight is not reflexive — it's not kick the tires and light fires. It's a very complicated, artistic business. You have to like the space business, not just the flying.
How do you feel about the retirement of the space shuttle program?
I have purely personal affection for it. I never wanted to do that particular machine in the early '70s — I thought it was the wrong idea. But American engineering pulled it off, and it did what it did magnificently. A lot of new technologies, new science, and new ways of doing things in space, but at massive cost, fragility, and vulnerability. It's had an awful long run. And everything has its timing. The timing now is strange, when you're doing away with the only way to get to the space station. It really is time to move on to the next one. But it turns out we're moving on to nothing.
How do you feel about the Obama administration's cancellation of the Ares/Constellation program?
The entire future of space policy — it's dead. It's nothing. We need access to space in the year 2010, because the shuttle is going away. We need access this year, so what is the response? We're going to think about it for five years, and then make a decision. Which means we're 15 years to getting access to space. That is not my kind of space program.
Who impresses you?
Lots of people — von Braun was one. He read science fiction. His vision was unbelievably large. From a teenager on, he was loyal to spaceflight. He pursued it through the doctorate in physics. The story of him and 118 Germans coming to this country in '45, and the fact that our moon program rested on that man's shoulders. He was a charismatic communicator, and presence. If you were within a hundred yards of him, you felt him.
Any aircraft that you wanted to fly but didn't?
The SR-71. I didn't have a relationship with it, but gee whiz. It's just such an advanced animal — decades ahead of its time.
What kind of cars do you drive?
Of course I have a Corvette. I like the '94 Corvette because it's so simple. I had a '58 Corvette — that is a classic.