A hundred satellites, all talking at once. Here's the intel.
E
<!—Planets/VenusExpress-->

PLANETS
Venus Stripped by Electric Wind

Oceans most likely existed on Venus, but boiled away long ago. So where's the steam that should be in the atmosphere? New data from Europe's Venus Express shows that an "electric wind" may have stripped it all from the air. Scientists don't know why Venus' electric field is so much stronger than Earth's, but this information will likely be important when studying potentially habitable exoplanets. Image: NASA/Conceptual Image Lab. June 20, 2016.
---

PLANETS
Slowly Bubbling Pluto

Scientists think they have an explanation for Pluto's unusual "heart" feature. Using data from NASA's New Horizons spacecraft and computer modeling, it seems that the plain is made of cells that are churning due to a slow thermal convection from a layer of nitrogen ice underneath the surface, according to a paper published in Nature today. The cells are around 10 to 30 miles wide and turn over at a rate of about 500,000 years—pretty fast in geological terms. Image: NASA/Johns Hopkins University Applied Physics Laboratory/Carnegie Institution of Washington. June 2, 2016.
---
<!—Universe/Hubble-->

UNIVERSE
The Universe Pressing Foot on the Gas

It was already shocking to discover that the universe is expanding faster and faster (a discovery for which the Nobel Prize was awarded in 2011). Now it turns out, even that acceleration rate is faster than astrophysicists thought. Using the Hubble Space Telescope to measure the distance to Type 1a supernovas and Cepheid stars, a team at the Space Telescope Science Institute was able to improve the accuracy of earlier measurements, which increase that expansion rate between five and nine percent. Astrophysicists are still trying to figure out why this expansion is happening, whether it's from dark energy, an unknown subatomic particle that scientists dubbed "dark radiation", or an incomplete theory of gravity. Credit: X-ray: NASA/CXC/Rutgers/G.Cassam-Chenaï, J.Hughes et al.; Radio: NRAO/AUI/NSF/GBT/VLA/Dyer, Maddalena & Cornwell; Optical: Middlebury College/F.Winkler, NOAO/AURA/NSF/CTIO Schmidt & DSS. June 2, 2016.
---
<!—Earth/Aura-->
EARTH
Aura Sees All

New toxic hot spots have been detected around the globe after NASA's Aura satellite got a boost in its data-processing software. Scientists found 39 human-made sulfur dioxide emission sources from operations using fossil fuels, and factories that were emitting two to three times more toxic gas than they were reporting. Image: NASA. June 1, 2016.
---
<!—Sun/Kepler-->
SUN
Confirmation: Our Sun is Normal

Our sun has provided a wonderful opportunity to study a star up close, but until recently, astrophysicists have only been able to extrapolate this single example to other stars in the universe. The Kepler space telescope, now in its K2 mission, is providing a new opportunity. Scientists at the Leibniz Institute for Astrophysics Potsdam and Johns Hopkins University used Kepler to closely study a cluster called M67 that contains stars the same age as our sun. They were able to determine, by watching how the sunspots move, that those four-billion-year-old stars spin every 28 days, just like our sun. This discovery lends more proof to the solar-stellar connection, that "our sun and other stars share similar dynamical properties," — in this case, that the sun's rotation is indeed related to its age. Jörn Weingrill, an astrophysicist with Leibniz who participated in the research, says, "The rotational evolution of a star is mainly driven by its stellar winds," and as a star ages, the winds cause its rotation to slow. They can use this information to "trace back the evolution of our home star," and find that at our sun's birth, it rotated every 1.1 days. "Apart from this," Weingrill says, "we can estimate the strength of the stellar winds and learn about the space environment that enclosed our planets in the past." Image: NASA/SDO. May 17, 2016
---
<!—Universe/Chandra-->

UNIVERSE
Supernova in Motion

Astronomers have combined 15 years of X-ray observations from NASA's Chandra X-ray Observatory, and 30 years of radio observations from the National Science Foundation's Karl G. Jansky Very Large Array in New Mexico to make the first ever movie of a supernova remnant. The original star, a white dwarf, exploded in 1572 in a Type Ia class supernova. The remnant has been named after astronomer Tycho Brahe, who was alive at the time and observed it extensively. Today, astronomers watch as the debris races outward, at speeds around 12 million miles per hour, and can learn much about the original explosion by how the field grows. The Tycho supernova is expanding much faster on the right and lower right areas than in the left and upper left. Tracing this backwards, astronomers now know that the explosion point was offset about 10 percent from the geometric center of the blast. This offset can help astronomers figure out if there was a companion star, one that sloughed off material to the white dwarf, which then exploded once it reached a critical mass. If there is no other star left behind, it likely means two white dwarfs merged and then exploded. Credit: X-ray: NASA/CXC/GSFC/B.Williams et al; Optical: DSS. May 12, 2016.
---
<!—Planets/MESSENGER-->

PLANETS
The Ups and Downs of Mercury

Mercury orbiter MESSENGER may have ended its mission last year, but scientists are still sorting through the reams of data it collected—more than 10 terabytes of data and 300,000 images—over its extended four-year mission. The latest result is a global digital elevation map of the planet, which you can see an animation of here (higher elevations are brown, yellow, and red; lower elevations are in blue and purple). The highest point on Mercury is about 14,700 feet above average elevation, about as tall as Mount Bear in Alaska. The MESSENGER team also released a new image of Mercury's north pole (right) that shows great detail about the planet's past volcanic activity. Image: NASA/Johns Hopkins University Applied Physics Laboratory/Carnegie Institution of Washington. May 6, 2016.
---
<!—Earth/Diwata-->
EARTH
First Satellite for the Philippines

A microsatellite called DIWATA-1 was jettisoned from the space station on April 27, becoming the Republic of the Philippines' first satellite in orbit. The Earth-observer was developed and launched with the help of Japanese space agency JAXA and a handful of universities. The microsatellite is outfitted with several cameras that will collect meteorological data, especially for typhoons and heavy rains that can batter the island nation, and monitor other environmental factors for agriculture, fishery, and forestry departments. Image: JAXA. April 27, 2016.
---
<!—Planets/ExoMars-->

PLANETS
Another Mars Mission Slips

Just a few weeks ago, NASA announced the launch of the Mars InSight lander would be delayed from 2016 to 2018 due to vacuum seal issues with its seismograph instrument. Now a similar fate is upon the second part of the European-Russian collaboration ExoMars. The first half of the mission is already underway, with the Trace Gas Orbiter and Schiaparelli lander having launched this March. The next phase is a rover and landing platform originally scheduled to launch in 2018, but delays in marrying the European and Russian systems (the Russians stepped in when the U.S. backed out of the mission in 2012) will slip that launch to 2020, the same year NASA's Mars 2020 rover will head to the red planet. Image: ESA. May 2, 2016.
---
<!—Universe/Kepler-->

UNIVERSE
Kepler Briefly Crippled

It's been a rough couple of weeks for spacecraft. On the heels of the news that JAXA's Hitomi astrophysics mission is certainly unrecoverable, after the agency lost contact with it on March 25 and debris was spotted in its orbital location, came the news on April 7 that NASA's Kepler spacecraft had flipped itself into emergency mode. The exoplanet hunter, which has been in operation since 2009 and finished its primary mission in 2012, was about to begin a new campaign observing the center of the Milky Way. But those maneuvers had not yet begun. To the mission team's relief, they were able get the spacecraft out of emergency mode on Sunday, April 10. Engineers are continuing to investigate the source of the problem, and hope to return Kepler to normal mission duties soon. Image: NASA. April 11, 2016.
---
<!—Universe/ASTRO-H-->

UNIVERSE
Hailing Hitomi

Bad news for Japan's x-ray satellite Hitomi, which was launched on February 17. When mission commanders at JAXA tried to begin operations on Saturday, March 25, they found they could no longer communicate with the satellite. JAXA did eventually receive one brief signal on Monday, but have not otherwise been able to re-establish or determine what's wrong with the link. The U.S. Joint Space Operations Center has reported observing five pieces of debris near Hitomi, which could mean parts have broken off the satellite. Image: JAXA/Akihiro Ikeshita. March 27, 2016.
---
<!—Planets/MRO-->

PLANETS
A Decade in Mars Orbit

On March 10, NASA's Mars Reconnaissance Orbiter reached its 10th anniversary in Mars orbit. The spacecraft has provided a wealth of data about how Mars has changed during past eras, and has directly observed how the environment changes over seasons and years. Its HiRISE camera provides some of the most spectacular images we see of the planet (at right is Gale Crater, where the Curiosity rover is working). Every week MRO sends to Earth more data than the other six Mars missions combined, and over its lifetime has provided 264 terabits of data, more than all interplanetary missions—past and present—combined. Image: NASA/JPL-Caltech/Univ. of Arizona. March 10, 2016.
---
<!—Universe/Hubble-->

UNIVERSE
Hubble Goes the Distance

The Hubble Space Telescope has observed the farthest galaxy ever seen, looking back 13.4 billion years to just 400 million years after the Big Bang. Astronomers are surprised that Hubble was able to make the observation at this distance, one they thought would have to wait until the James Webb Space Telescope starts operations in a few years. The young galaxy is surprising as well, because it means galaxies were forming very early, only about 200-300 million years after the first stars began to form. Image: NASA, ESA, P. Oesch (Yale University), G. Brammer (STScI), P. van Dokkum (Yale University), and G. Illingworth (University of California, Santa Cruz). March 3, 2016.
---
<!—Universe/ASTRO-H-->

UNIVERSE
Hitomi Ready to Let in the X-Rays
The Japanese space agency, JAXA, successfully launched its ASTRO-H mission today. The observatory will study high-energy X-rays, searching for exotic objects like pulsars, supernova remnants, black holes, and even evidence of dark matter. (We discussed ASTRO-H in one of our six space stories to watch this year.) JAXA also announced they have officially renamed the spacecraft Hitomi, the Japanese word for the eye's pupil. February 17, 2016.
---
<!—Universe/LISApathfinder-->

UNIVERSE
Going to Space for Gravitational Waves

The announcement last week that astronomers detected gravitational waves for the first time was exciting for the entire field, but no more so than for the LISA Pathfinder team. This ESA spacecraft was launched last December and will test functions in space to determine if we have the technology to detect even larger gravitational waves in space. LISA Pathfinder reached its L1 destination on January 22, and on February 16, released two gold-platinum cubes. Right now, the mission team is waiting for any residual forces, such as minute electrostatic charges, to dwindle, eventually leaving the cubes in pure freefall. On March 1, the science mission will begin, and the spacecraft will try to detect any gravitational waves by measuring if the distance between the cubes changes using a laser. If the technique works, that will hopefully greenlight the eLISA mission, which would detect much larger gravitational waves than observatories on Earth by measuring the tiny distance-changes between three spacecraft more than 620,000 miles apart. Image: ESA/ATG medialab. February 16, 2016.
---
<!—Planets/Rosetta-->

PLANETS
Last Call for Comet Lander

The ESA's Rosetta spacecraft sent the Philae lander down to the surface of Comet 67P/Churyumov-Gerasimenko in November 2014. It was about as impressive as spaceship maneuvers get, going on a seven-hour bounce after its harpoons failed to fire, and finally landing more than half a mile away in a spot that mission scientists have not quite been able to find on any of Rosetta's images. But Philae pinged home, sending science measurements back for 64 hours before going into hibernation due to insufficient sunlight falling onto its solar panels. The team hoped Philae would wake up once the comet swung around the sun — and it did, briefly phoning home in June 2015, but was unable to perform any more science, before falling silent again. The comet has been extremely active since it warmed up during perihelion, so only recently has Rosetta attempted to get close enough to try reaching Philae again; this time with no luck. They plan to keep trying; even if they can't contact the lander again, scientists hope to learn a lot if they can visually locate it. In September, Rosetta will join its lander when it makes a controlled impact onto the comet's surface. Image: ESA. February 12, 2016.
---

PLANETS
Lighter Rings, Lagging Spring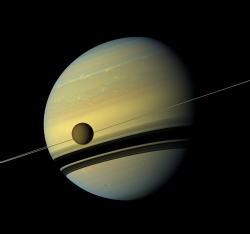 Astronomers have discovered that Saturn's rings don't always seem to have as much material as they appear to. Using Cassini's measurements of spiral density waves (some particles, perturbed by gravity from nearby moons, travel faster than others through the rings, creating a wave), scientists discovered that Saturn's B ring has far less mass than expected. The math shows that even though parts of the B ring are nearly 10 times more opaque than the A ring, it's only two or three times more massive. A less massive ring would evolve faster, which means the B ring might be much younger than previously thought.

Meanwhile, scientists are learning a lot about Titan (silhouetted above) as Saturn continues on its 30-year orbit around the sun. Cassini has been able to observe the unusual moon with the thick atmosphere for the last 10 years, while the seasons have changed from early winter to late spring. Cassini observations show one expected result: the latitude with the warmest temperatures (still a frigid -240 degrees Fahrenheit) shifted north as spring approached. But more unusual was that the northern hemisphere seemed a bit slow to warm up based on climate models. Scientists believe that has to do with Titan's methane seas, which cover about 10 percent of the hemisphere, in the polar region. It's taking the seas longer to warm up, and so the region lags behind with it. Image Credit: NASA/JPL-Caltech/Space Science Institute. February 1, 2016.
---

PLANETS
Fly Over an Asteroid

Last year, NASA's Dawn spacecraft spent almost three months mapping asteroid Ceres from an altitude of 900 miles. The mission team at the German Aerospace Center created a video showing all the details of the asteroid's features, like the crater Occator, where the bright spots are located (scientists are now fairly certain those are created by a type of salt from a long-evaporated subsurface water source). Dawn has since gone down into a lower orbit around Ceres, just 240 miles from the surface. Image Credit: NASA/JPL-Caltech/UCLA/MPS/DLR/IDA. January 29, 2016.
---

UNIVERSE
Swinging Back Around

Around 70 million years ago, the Milky Way ejected a cloud of gas and dust. Like a baseball thrown into the sky, that cloud is headed back for us, and is predicted to crash into our galaxy in another 30 million years. It's called the Smith Cloud, named after Gail Smith, who discovered it as an astronomy student in the 1960s. Scientists have recently been able to use the Hubble Space Telescope to see what elements make up the cloud. Since it contains heavy elements, like those created in massive stars, astronomers deduced that the cloud was produced here, rather than just being a rogue gas cloud, which would have been made primarily of helium and hydrogen. When it plows back through our galaxy at 700,000 miles per hour, the comet-shaped cloud (11,000 light-years long and 2,500 across) could shake up the Milky Way enough to produce 2 million new stars. Image: NASA, ESA, and A. Feild/A. Fox (STScI)). January 28, 2016.
---

UNIVERSE
A Galaxy Torn Apart

In a galaxy called W2246-0526, 12.4 billion light-years away, a supermassive black hole at the center is gobbling it up from the inside out. The energy is actually tearing the galaxy apart, and "expelling tremendously turbulent gas—a phenomenon never seen before in an object of this kind." All this chaos has made it the most luminous galaxy on record. NASA's Wide-field Infrared Survey Explorer, or WISE, has been observing it. Scientists are hoping that the black hole will eventually consume, or blow out all the gas and dust in the galaxy, leaving us with a clear view of its accretion disk. Artist rendering: NRAO/AUI/NSF; Dana Berry / SkyWorks; ALMA (ESO/NAOJ/NRAO). January 15, 2016.
---

UNIVERSE
Eta's Not Alone Anymore

Eta Carinae is "one of the brightest, most massive, and most puzzling stars in the Milky Way," and until recently, entirely unique. A team has now found five similar objects after going through archival data from NASA's Spitzer and Hubble space telescopes. The short-lived outbursts from this class of variable star makes them very difficult to find, but scientists from Ohio State University and NASA's Goddard Spaceflight Center developed a "fingerprint" in optical and infrared wavelengths that made the search much easier. The team hopes to discover even more about Eta Carinae now that there are a set of "Eta twins" to study together. Image: NASA, ESA, and the Hubble SM4 ERO Team. January 6, 2016.
---

PLANETS
Stuck Chinese Moon Rover Sends Back Lunar Insight

Two years ago, China sent the Chang'e-3 lander and its rover, Yutu, to the moon. There was some bad news early on: A failure caused the Yutu rover to become immobile shortly after arriving, but it was still able to inspect some nearby lunar rocks and send back information to Earth. This is the first time scientists have been able to do close-up inspection of moon rocks since the U.S. Apollo and Russian Luna programs ended in the 1970s, and the new observations have led to some surprising results. The report published today in Nature Communications says that based on concentrations of titanium in the young lava bed where Chang'e-3 is stationed, the moon's mantle is much less uniform than scientists initially thought based on Apollo and Luna samples. The research teams suspect that large impacts may have disrupted the mantle's formation between 3-4 billion years ago. Additionally, the high concentration of olivine (a silicate common in lava rocks), could mean that when the magma-ocean was crystallizing early in the moon's formation, heavy minerals began to sink at the boundary of the crust and mantle, and the olivine, which formed earlier, began to rise, mixing the minerals into a hybrid. Photo: CNAS/CLEP. December 22, 2015.
---

UNIVERSE
China's Dark Matter Search

China has just put another team in the race to answer the biggest question in astrophysics today: What is dark matter? This morning the country launched DAMPE (DArk Matter Particle Explore) aboard a Long March-2D rocket from the Jiuquan Satellite Launch Center in the Gobi desert. The satellite is one of five astrophysics missions planned by the China Academy of Sciences. DAMPE will look for dark matter signatures by measuring high energy electrons and protons. December 17, 2015
---

PLANETS
Closer to Explaining Ceres' Spot

When spacecraft Dawn first beamed back pictures of an unusually bright spot on asteroid Ceres, space fans began waiting to hear what it could possibly be—something exotic perhaps? (In addition to the big one, scientists have discovered up to 130 smaller bright spots scattered around the rock.) Today two research teams have published studies on the asteroid's make-up. The first team, from the Max Planck Institute in Germany, believes the bright spot is a type of salt: hexahydrite, which is a type of magnesium sulfate. It suggests that Ceres used to have a subsurface layer of salt water, which left the salt behind when the water turned to gas and escaped. The second team, from the National Institute of Astrophysics in Italy, looked at Ceres' composition in general, detecting an ammonia-rich clay. But this would mean that Ceres formed in a place where it could gather nitrogen, so it's possible that it did not form in the asteroid belt just past Mars where it now orbits. Instead it could have originated in the outer solar system, and moved to the belt later; or, it could have collected stable nitrogen ice from closer in, near Neptune. Image: NASA/JPL-Caltech/UCLA/MPS/DLR/IDA. December 9, 2015.
---
EARTH
One Instrument Tags Out
Aqua, launched in 2002, led the formation of the A-train of Earth Observing System. It was built with six instruments to study our planet's water cycle. One of those instruments, the Advanced Microwave Scanning Radiometer-EOS, was supplied by the Japanese space agency JAXA to make highly detailed measurements of ocean ice, soil moisture, and surface temperatures for weather predictions and to study climate change. (At right, an image from AMSR-E showing sea temperatures during Hurricane Katrina in 2005.) The instrument, however, needs to rotate 40 times a minute to make observations, and that function has been slowly deteriorating over the last few years. It slowed to two rotations a minute by 2012, and on December 4, it stopped completely. Hundreds of research papers have been published with data from its 13 years in operation. JAXA launched the instrument's successor, AMSR2, on board the SHIZUKU satellite in 2012. Image: JAXA. December 7, 2015.
---

PLANETS
A Crumbly Fate for Phobos

Mars might have its own ring system like Saturn in about 20 to 40 million years. The larger moon, Phobos, which already orbits closer to its planet than any other moon in the solar system, creeps a few centimeters closer every year. Eventually tidal stresses are going to break the already fractured moon apart "like a granola bar," according to the University of California, Berkeley team studying the phenomena. Astronomers can see evidence of this happening already; in the 1970s, the Viking spacecraft showed that Phobos is covered in grooves, likely caused by the gravitational pull of Mars. Image: Tushar Mittal using Celestia 2001-2010, Celestia Development Team. November 23, 2015.
---

PLANETS
Update to the Pluto Wiki

From New Horizons data, scientists have drawn many new conclusions this month about the most famous dwarf planet. A team at Purdue University believes that an ammonia-water slurry underneath an icy layer is the cause for the planet's surprising geological movements. The ammonia gives it a lower freezing point, leading to convection that could be causing volcanic activity. Meanwhile, the SETI Institute studied pictures of Pluto's moons as New Horizons approached, and found that the smaller moons—Styx, Nix, Kerberos, and Hydra—are "spinning wildly." Most moons, like our own, orbit in synchronous rotation, meaning one side stays facing the planet—a movement caused by the slow tidal pull from the larger planet. Instead, Nix is tilted and spinning backwards, and Hydra is spinning rapidly—89 times in each orbit. Scientists think the large moon Charon might be pulling on them, but even that's not enough to explain the "pandemonium." Finally, NASA just published a view of a full day on Pluto, at right. Image: NASA/Johns Hopkins University Applied Physics Laboratory/Southwest Research Institute. November 20, 2015.
---
EARTH
The 400 ppm Line Approaches

The Japanese satellite GOSAT (Greenhouse gasses Observing SATellite, or IBUKI in Japanese) has been studying greenhouse gases from space since January 2009. In May 2015, many reported that carbon dioxide levels were recorded at 400 parts per million for the first time—a concentration that scientists have marked as a milestone towards irreversible climate changes on Earth. While still damning, the measurement was made at a single point at Mauna Loa Observatory in Hawaii. GOSAT, meanwhile, has been taking whole-atmosphere monthly mean measurements, shown in the graph at right. JAXA released the measurements for the first half of 2015, showing how the CO2 concentrations slowly rise and fall, but are on an overall upward trend. Extrapolating that trend shows that the CO2 concentration, averaged over all layers of the atmosphere, will reach and exceed 400ppm in 2016. Image: JAXA. November 16, 2015.
---

UNIVERSE
Set Your Watch to This Black Hole

Astronomers believe they are seeing the first cyclic gamma-ray emission from a galaxy. Using the Fermi Large Area Telescope, the team at the Italian Space Agency studied an active galaxy called a blazar, which shoots off jets from a supermassive black hole at the center; in this case, one of the jets is pointed straight at us. If astronomers are right, they'll see the gamma-ray emission peak again in 2017 and 2019. The cause could be a number of things, including a wobble of the black hole, or even the presence of a second neighboring supermassive black hole causing the first one to tilt. Image: NASA's Goddard Space Flight Center/CI Lab. November 13, 2015
---

UNIVERSE
The Twisting Magnetic Field of Interstellar Space

The era of directly observing interstellar space has begun, and astronomers are just starting to put together the puzzle from Voyager 1 to form a more complete picture of what's happening beyond the solar system. Initially, astronomers predicted that Voyager would detect a stable magnetic field outside the heliosphere (an older artist's concept, right, showing Voyager 1 at the top, and stable magnetic field lines in black), but instead, it's been passing through a field that's slowly turning. By combining Voyager data with that from NASA's Interstellar Boundary Explorer (IBEX), which launched in 2009 and observes from a geocentric orbit, astronomers believe that at the interstellar boundary, solar wind is still distorting the magnetic field. By 2025, Voyager should pass beyond this distortion; unfortunately, the spacecraft will begin shutting down its science instruments due to lack of power around 2020. October 29, 2015
---

UNIVERSE
A Black Hole's Bursting Corona

Astronomers have been keeping their eyes on a supermassive black hole named Markarian 335 for about a decade. This black hole, at the center of a galaxy in the Pegasus constellation, is more mysterious than most: Previously one of the brightest X-ray sources in the sky, it inexplicably faded by a factor of 30 in 2007. While NASA's Swift observatory was checking in on it in September 2014, it caught Mrk 335 giving off a powerful eruption of X-ray light (artist's concept, right). With additional observations from NASA's NuSTAR observatory, which was quickly re-targeted to catch the end of the eruption, astronomers have determined the flare was the ejection, and then collapse, of the black hole's corona, which has given new insight into the behavior of these strange objects. Image: NASA/JPL-Caltech. October 27, 2015
---
EARTH
EPIC Earth Views

The dream is alive. Nearly two decades after Al Gore envisioned everyone having access to full views of the sunlit side of Earth from space, NASA has finally launched the project. The website features a daily view in 10 narrow band spectra from EPIC, which stands for Earth Polychromatic Imaging Camera, on board the DSCOVR spacecraft, which is in orbit around the L1 Lagrange point. You can zoom in on the images, search for photos from specific dates, or search for views of certain continents. Image: NASA/DSCOVR. October 19, 2015.

---

PLANETS
Jupiter's Rare Wave
Watch this ultra high-definition video of Jupiter made by Hubble Space Telescope images taken each year. You can see that the Great Red Spot is getting smaller and more round--scientists measured that the long axis of the storm is about 150 miles shorter than it was in 2014. There's also a rare wave in the northern latitudes, first seen by Voyager 2. These baroclinic waves only appear when they propagate above the clouds. Video: NASA/ESA/Goddard/UCBerkeley/JPL-Caltech/STScI. October 13, 2015.

---
SUN
Solar Blast Waves and Turbulent Wind

Scientists have been getting a lot of work out of NASA's STEREO solar observatory lately. A team of heliophysicists at the Southwest Research Institute used data from the spacecraft to determine that solar wind flowing through space doesn't move in a straight line, but "with gusting turbulence and swirling vortices." This movement can explain some otherwise unexplained phenomena, like why solar wind is about 70 times hotter when it reaches Earth than one would predict based on the temperature of the sun's corona. Meanwhile, two teams independently discovered large waves in the solar atmosphere that are accompanied with particles rich in helium-3. The teams from Lockheed Martin Advanced Technology Center and the Max Planck Institute for Solar Research used data taken in 2010 from STEREO A and ACE, which were positioned in just the right place at the right time, over the right limb of the sun to see the particles as they travel off the sun in the extreme ultraviolet blast wave. STEREO, if it survives that long, won't be in position to make another similar observation until 2025. Still Video Image: NASA/STEREO A/MPS/AAS. October 13, 2015
---

PLANETS
Charon's Grand Canyon

The riches from New Horizons' flyby of the Pluto system haven't stopped coming yet. NASA has released this incredible image of moon Charon (right, click to enlarge). Scientists were surprised to see an enormous canyon carved across the moon, stretching more than a thousand miles, making it four times the size of the Grand Canyon and twice as deep in some places. "It looks like the entire crust of Charon has been split open," said John Spencer, deputy lead for geology and geophysics investigation at the Southwest Research Institute in Boulder, Colorado, in NASA's statement. Image: NASA/Johns Hopkins University Applied Physics Laboratory/Southwest Research Institute. October 1, 2015
---

PLANETS
Ceres in Detail

NASA has just released this false-color map of dwarf planet Ceres (right, click to enlarge), from the Dawn spacecraft. Right now Dawn is at an altitude of around 900 miles, but over the next few months it will descend to an orbit of just 230 miles high, where it will get an incredibly detailed view of the strange Ceres landscape. The mission team says that Ceres looks quite different than Vesta, the first dwarf planet that Dawn visited between 2011 and 2012. The spacecraft will continue to operate through mid-2016. Read our interview with Dawn mission director Marc Rayman here. Image: NASA/JPL-Caltech/UCLA/MPS/DLR/IDA. September 30, 2015
---

PLANETS
The Future of Solar System Exploration

NASA announced today it has narrowed down the list for the next low-cost Discovery mission to five spacecraft, one or two of which will eventually be chosen to launch around 2020. Two of the missions would study Venus -- DAVINCI would study the chemical composition of Venus' atmosphere, while VERITAS (artist's concept, right) would produce a global topographic map of the planet -- and three hope to study asteroids: Psyche would study the metallic core of an asteroid of the same name; NEOCam would perform a survey of near-Earth objects; and Lucy would make the first study of the Jupiter Trojan asteroids. Each group will get $3 million to design and conceptualize the spacecraft and mission objectives before NASA makes its final selections in September 2016. Image: NASA/JPL-Caltech. September 30, 2015
---

UNIVERSE
New Eyes for India
India successfully launched ASTROSAT (along with six other satellites) today aboard the country's Polar Satellite Launch Vehicle, or PSLV-C30. The spacecraft is India's first multi-wavelength space observatory, with instruments that will collect light in the optical, UV, and X-ray wavelengths. The Indian Space Research Organization plans to use the mission to study binary systems with neutron stars and black holes, stellar nurseries, and other high energy celestial bodies, and perform a limited deep field survey in the UV spectrum. September 28, 2015
---

PLANETS
Water on Mars

The big announcement wasn't the usual "NASA's found water on Mars" press conference that happens every so often. This time, the agency revealed that the Mars Reconnaissance Orbiter has found evidence of water on Mars not in the past, but today, on present-day Mars. Astrobiologist Dirk Schulze-Makuch explains what that means for life on the red planet in his latest column. Image: NASA/JPL/University of Arizona. September 28, 2015
---

PLANETS
A Global Ocean Wobble For Sure

Hidden underneath an icy crust is an ocean surrounding Saturn's moon Enceladus. Scientists already knew that the moon exhibited a wobble that meant there was water underneath the surface, but it took a team studying seven years of images from NASA's Cassini spacecraft to precisely calculate how much liquid. If there was only a partial sea, meaning the rocky core and crust of the moon were rigidly connected in parts, the wobble, called a libration, would be far smaller. Instead, the wobble showed that there must be a global ocean completely separating the core and crust (see image). Cassini will flyby Enceladus again on October 28, where it will make its deepest dive--passing just 30 miles above the surface--through the moon's icy plumes at the south pole. Image: NASA/JPL-Caltech. September 15, 2015.
---

PLANETS
New Pictures of Pluto

New Horizons has been taking some well-deserved downtime after its breakneck fly-by of Pluto and its moons on July 14. It's been trickling data back slowly, and today the mission team finally released some incredible new images. The photograph at right shows a varied landscape; from the caption: "The image includes dark, ancient heavily cratered terrain; bright, smooth geologically young terrain; assembled masses of mountains; and an enigmatic field of dark, aligned ridges that resemble dunes; its origin is under debate." View more here. Image: NASA/JHU APL/SwRI. September 10, 2015
---
EARTH
Losing the A in SMAP

Bad news for mud scientists. Just a few short months after the Soil Moisture Active Passive satellite (SMAP) started operations as the first Earth observer of its kind, one of its two instruments stopped transmitting data. The active radar, which took high-resolution but low-sensitivity moisture data, worked in concert with the passive radiometer, which provides high-sensitivity but low-resolution data, to make global maps of surface soil moisture every few days. The good news is they worked together briefly; that data will be released in late September. The bad news is that due to a malfunction with the high-power amplifier that boosts the radar signal, the instrument cannot be recovered. NASA and the Jet Propulsion Laboratory have convened two separate investigations to determine why the issue happened. SMAP will continue to operate with the remaining instrument; the mission team is looking into ways to boost the radiometer resolution. Image: NASA/JPL-Caltech. September 2, 2015.
---

PLANETS
New Destination for New Horizons

New Horizons' job isn't done yet. Now that it's raced past Pluto and given us an unprecedented look at the dwarf planet, the spacecraft is headed out to the mysterious Kuiper Belt at the edge of the solar system. The team at NASA and Johns Hopkins University's Applied Physics Laboratory have finally decided what New Horizons will inspect: A Kuiper Belt Object called 2014 MU69, which orbits the sun a billion miles farther out than Pluto. Assuming New Horizons gets funded next year for the extended mission, the spacecraft will perform a series of four maneuvers next October or November that would set it on a course to reach 2014 MU69 on January 1, 2019. Image: NASA/JHU APL/SwRI/Steve Gribben) August 28, 2015.
---

UNIVERSE
Using Kepler as a Stethoscope


Some innovative science has led astronomers at the University of Texas at Austin and the University of Warwick to discover "irregular heartbeats" in two dying stars. They used data from NASA's Kepler spacecraft, which stares at faraway stars, looking for the faint dimming that reveals an exoplanet crossing its disk. The mission has allowed astronomers unprecedentedly long looks at the stars themselves and has revealed that some white dwarfs, which scientists already knew experience regular pulsations, are also experiencing arrhythmic outbursts that can increase the star's brightness by more than 15% and raise the surface temperature 750 degrees in just an hour. White dwarfs go through a pulsation phase that begins and ends at a certain temperature, but astronomers aren't exactly sure why; the irregular pulsations observed were in stars just at the end of his phase, says Keaton Bell, an astronomer on the Texas team, which "suggests that the outbursts could be the key to revealing the missing physics in our pulsation theory." Image: J.J. Hermes/Univ. of Warwick/NASA. August 26, 2015
---
SUN

Comet Hunting Record
The Solar and Heliospheric Observatory, or SOHO, is on track in September to discover its 3,000th comet, more than any other observatory in history. (That's Comet ISON zipping around the sun, right). Most have been spotted by amateur astronomers through the Sungrazer Project, run by the U.S. Naval Research Laboratory, which offers tips on how to find the comets. Image: ESA/NASA/SOHO/SDO/GSFC. August 26, 2015
---

UNIVERSE

The Tumultuous Milky Way
Supernovas, neutron stars, stellar clusters: The center of our galaxy has it all. In this new image, right, the European XMM-Newton X-ray observatory revealed the chaos at the heart of the Milky Way. Sagittarius A* is a supermassive black hole on the far left; the immense gravitational pull on nearby matter causes it to emit X-rays, lighting up the space around the event horizon. Image: ESA/XMM-Newton/G. Ponti et al. August 20, 2015
---
EARTH

Volcano Emergency
When Japan's Sakurajima volcano showed signs of erupting on August 16, the country's agency that monitors volcanoes asked JAXA to perform an "emergency observation" with its DAICHI-2 satellite. The spacecraft sent back data that showed how the ground was moving (right) to assist with possible disaster preparation. Image: JAXA. August 19, 2015
---

PLANETS

Last Look at Dione
It's almost hard to believe the long life of the Cassini spacecraft is nearing its end. In 2017, after 20 years in the Saturn system, NASA will send it crashing into the planet. Until then, it's on a farewell tour to some of the ringed planet's many moons. On August 17, Cassini performed one last flyby of the moon Dione, a small rocky body pocked with craters, not unlike our own moon. In fact, it orbits Saturn at the same distance our moon orbits Earth, and is also tidally locked, so the same side always faces the planet. Dione gets showered with ice from the geysers on nearby Enceladus, and interacts gravitationally with its many sibling moons, which you can read more about here. The Cassini team published the first images sent back from this last flyby, including the one at right. The spacecraft will visit Titan again (not for the last time) on September 28. Image: NASA/JPL-Caltech/Space Science Institute. August 17, 2015
---

PLANETS

An Outburst from 67P as it Reaches Perihelion
An exciting moment for the Rosetta team arrives this Thursday, August 13, when the comet the spacecraft is orbiting, 67P/Churyumov–Gerasimenko, reaches perihelion -- the closet it gets to the sun in its 6.5 year orbit. The European Space Agency team has already seen outbursts as the icy rock begins to heat up. They just released this photo of the brightest jet yet observed shooting out of the comet on July 29 -- photos 18 minutes prior and 18 minutes later don't show the short-lived outburst. Interestingly, Rosetta instruments showed that the jet had pushed away the solar wind magnetic field surrounding the comet. As things continue to heat up through perihelion, scientists hope to learn more and more from Rosetta's close vantage point about the way comets behave. Image: ESA/Rosetta/MPS for OSIRIS Team MPS/UPD/LAM/IAA/SSO/INTA/UPM/DASP/IDA. August 11, 2015
---

PLANETS

Hazy Skies and Flowing Ice
New information keeps pouring in from New Horizons, now outbound from Pluto but still looking over its shoulder to get as much data as it can before it turns its attention to the Kuiper Belt. Using LORRI, its Long Range Reconnaissance Imager, the spacecraft saw sunlight streaming through two distinct layers of haze--one at an altitude of about 30 miles and the other at 50 miles. Scientists believe that the haze forms when ultraviolet light from the sun breaks up the methane gas in Pluto's atmosphere, which causes heavier complex hydrocarbons to build up and fall to the colder, lower parts of the atmosphere, where they condense into a haze. The UV light then converts the gas haze into tholins, molecules with a reddish-brown color, which explains the surprising color of Pluto's surface. In addition to that discovery, New Horizons also shows large sheets of ice that might still be flowing, the way glaciers move on Earth. Image: NASA/JHUAPL/SwRI. July 24, 2015
---

UNIVERSE

Earth 2.0?
We're living in the age of exoplanet discovery, with NASA's Kepler and other missions confirming the existence of new worlds and finding new candidates nearly every day: rocky worlds, enormous gas giants, planets orbiting within a hair's breadth of their stars. But today the Kepler team announced a particularly special discovery: the most Earth-like planet yet. Kepler-452b is the closest in size to Earth -- just 60 percent larger in diameter -- with a 385-day orbit within the habitable zone of a G2-type star, just like our sun. Artist's concept comparing Earth and Kepler-452b: NASA/JPL-Caltech/T.Pyle. June 23, 2015
---
EARTH

DSCOVR Finally Sees Earth
The idea for the space mission was born in 1998, and now, so many years later DSCOVR has finally done what its creator, Al Gore, wanted so badly for it to do: Sent back its first incredible picture of the full disk of the Earth in the sunlight. The color image is a combination of the red, green, and blue images from EPIC, or the Earth Polychromatic Imaging Camera, which takes a series of images with 10 narrow wavelength filters. The National Oceanic and Atmospheric Administration will have a webpage dedicated to DSCOVR's Earth images up by September. NOAA and NASA scientists will use the data to measure the planet's albedo (its reflectivity, which is a function of how much heat the atmosphere is retaining) and its ozone and aerosol levels, study vegetation, and make dust and volcanic ash maps. Image: NASA. July 20, 2015
---
SUN

The Nanoflare Hunt
NASA's Nuclear Spectroscopic Telescope Array, or NuSTAR, is usually focused on targets far outside our solar system, but recently astronomers pointed its high-powered X-ray instruments at our sun. This first image, at right, which is combined with more X-ray observations from the Hinode spacecraft and UV images from the Solar Dynamics Observatory, was a bit of a trial run. When the sun's cycle reaches its minimum in a few years, astronomers hope that NuSTAR will be able to detect nanoflares, which are hypothesized to have about one-billionth the energy of a regular solar flare. If they exist, nanoflares could explain why the sun's corona is actually much hotter than its surface. Image: NASA/JPL-Caltech/GSFC/JAXA. July 8, 2015
---

PLANETS

A Sinking Explanation from Rosetta
Rosetta scientists have new insight to the inner workings of comets. When the ESA spacecraft reached Comet 67P/Churyumov-Gerasimenko last fall, the mission team noticed several nearly perfectly circular pits. Now they believe they are sinkholes, created when ice sublimates underneath the surface and, eventually, the surface material collapses. Scientists at first thought the pits were from explosive outbursts, but they were able to observe such an outburst in April 2014, and it didn't create the kind of pit they see elsewhere. The comet should get increasingly interesting as it reaches perihelion on August 13; Rosetta's mission was recently extended through September 2016. Image: Vincent et al., Nature Publishing Group. July 1, 2015
---
EARTH

Look Out, Earth Plants
After reaching orbit less than a week ago, on June 23, the ESA's Sentinel-2A is sending back its first images, including this one (right) of Italy's Po Valley, in high-resolution infrared. The Earth observer was built to study vegetation, with instruments that measure plant characteristics like the surface area of chlorophyll on leaves and water content indexes. The data from Sentinel will be used mostly for crop yield predictions and forest monitoring; it can also track lake and coastal pollution, and monitor natural disasters like floods and landslides. The next satellite in the fleet, Sentinel-2B, will launch in late 2016. Image: Copernicus/ESA. June 29, 2015
---

UNIVERSE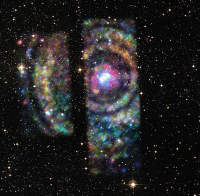 The Light Echoes Settle It
Measuring distances over the vast reaches of the galaxy can be difficult for astronomers, but sometimes they get a little help. These huge rings of light (see image) are called "light echoes," and emanate from an X-ray blast produced by the double star system Circinus X-1 in 2013. The X-ray energy is now reflecting off nearby dust. NASA's Chandra X-Ray Observatory has been taking sensitive measurements of the system, which has allowed astronomers to triangulate its location, similar to the way bats use sonar. The results have settled a debate on its distance: 30,700 light years away, twice as far as a previously published distance. Image: NASA/CXC/U. Wisconsin/S. Heinz. June 23, 2015
---

PLANETS
Lava Still Flows on Venus
The ESA's Venus Express spacecraft plummeted into its target planet's atmosphere at the end of 2014, but data from its eight-year mission is still telling us new things. Scientists announced today that near-infrared thermal maps from the spacecraft around tectonic rift zones show a localized brightness that they believe is the best evidence yet of ongoing volcanic activity on Venus. June 18, 2015
---

PLANETS

Rise and Shine, Comet Lander
Philae, the lander from ESA's Rosetta mission, called home on June 13 for the first time since it went into hibernation last November. After its bouncy landing on Comet 67P/Churyumov-Gerasimenko on November 11, the Rosetta team worked to use the lander's 64-hour battery life to complete its primary science mission after discovering it landed in a shadow and wouldn't be able to use its solar panels. Rosetta started listening for signals from Philae in March, when the comet site started to receive better illumination. When the lander finally pinged the orbiter last weekend with 300 packets of information, it included historical data, which means Philae has been awake for a little while now. Comet 67P reaches perihelion, when it's closest to the sun, on August 13, so ESA scientists are gearing up to get as many measurements from Philae as they can while the comet is at peak activity. Image: ESA. June 14, 2015
---

UNIVERSE
Looking Across the Local Void
This new image of NGC 6503 (below, left) was released today by a team using the Hubble Space Telescope. The galaxy is nicknamed Lost in Space because it exists on the very edge of the Local Void, a 150-million-light-year wide area strangely empty of galaxies. Since it is mostly devoid of mass, the Milky Way is being pulled away from this void (by the gravity of other objects) at about 600,000 miles per hour. Astronomers are focused on NGC 6503 as part of the Hubble Legacy ExtraGalactic UV Survey, or LEGUS, and is particularly interesting because they believe in its center is a black hole that is being starved by the lack of nearby gas to consume. The image on the right was released in 2010, taken by Hubble's Advanced Camera for Surveys, installed during the telescope's 2002 servicing mission and offers an interesting contrast to the new image, taken by the Wide Field Camera 3, installed during the last visit in 2009. The former is made mostly from a 28-minute exposure for hydrogen gas to show the star forming regions, while the new image was created for sharper detail, with red showing gas, blue showing new stars, and brown dust throughout. Image: Left: NASA, ESA, D. Calzetti (University of Massachusetts, USA) and H. Ford (Johns Hopkins University, USA). Right: ESA/Hubble and NASA. June 10, 2015


---
SUN

Al Gore's Satellite Gets Into Position
The Deep Space Climate Observatory, or DSCOVR, reached its destination orbit nearly one million miles from Earth, at Sun-Earth Lagrange Point 1, or L1 (see image), on June 7. From this vantage point, the spacecraft can observe the entire disk of the Earth, and monitor changes in solar weather. DSCOVR used to be named Triana, a mission dreamed up to study Earth's changing climate by then-Vice President Al Gore in 1997. Too hot a political potato at the time, Triana was shelved by the incoming President George W. Bush, but resurrected in 2011 as a NOAA space weather mission to replace the aging ACE mission. Read more about DSCOVR's long journey to space in Al Gore's Satellite. Image: NASA/NOAA. June 8, 2015
---

PLANETS

LRO Goes Low
The Lunar Reconnaissance Orbiter has been moved to a new, lower orbit around the moon, bringing it just 12 miles above the surface at its closest point. The new orbit allows for more detailed inspection of shadowed craters in the south polar region. Artist's conception: LRO. June 5, 2015
---

PLANETS
Pluto's Wobbly Moons
Hubble Space Telescope observations of Pluto show that two of the planet's small moons, Nix and Hydra, are tumbling chaotically as they orbit the double planet (Pluto and its large moon Charon). Most solar system objects rotate predictably on an axis, and have a regular day/night cycle. These have no pattern whatsoever. In fact, said astronomer Mark Showalter of the SETI Institute, if you lived on one of these small, football-shaped moons, "You would literally not know if the sun is coming up tomorrow." Next month the New Horizons spacecraft will get close-up pictures of Nix and Hydra that are 50 to 100 pixels across, enough to make out large surface features. Here's an artist's impression of Nix tumbling around Pluto. (Video: STScI) June 3, 2015
---
EARTH

A Sudden Antarctic Ice Loss
A new study in Science warns us how suddenly climate change can cause destruction, when a previously stable 460-mile-long peninsula in the southern Antarctic began rapidly melting in 2009. The European Space Agency's ice mission CyroSat studied the area for five years, concluding that the shelf is now losing ice at a rate of nearly 15 cubic miles per year, making it one of the largest contributors to sea-level rise in the region, and creating changes in mass so great that NASA's GRACE mission detected small changes to Earth's gravity. This, from a location that before 2009 had hardly been studied because it never showed signs of change. Scientists believe that the "subsurface melting of the glaciers passed a critical threshold that triggered the sudden ice loss." Image: University of Bristol May 22, 2015
---

UNIVERSE
Supernova Smash
Type 1a supernovas are important in the study of the universe. They start as white dwarfs—dead stars that no longer have fusion reactions—that accumulate material from a companion star, until they reach a certain mass limit and re-ignite in a supernova explosion. Their predictable brightness means cosmologists can use them as "standard candles." But mysteries abound about what makes up the companion star, which is usually destroyed by the explosion. Astronomers at the intermediate Palomar Transient Factory (iPTF) have some new answers, after using their "rapid response" telescope system, including NASA's Swift gamma-ray observatory, to watch a supernova just as it ignited and smashed into its companion star, giving off a signature ultraviolet light indicating that the companion was another white dwarf that merged with the star that exploded. However, another supernova's companion was recently found on pre-explosion Hubble images—that star was a red giant. As one astronomer involved in the study, Andrew Howell, said in the announcement, "No wonder we've been so confused for decades. Apparently you can blow up stars in two different ways and still get nearly identical explosions." May 20, 2015
---
EARTH

Just How Tall Is It?
It's a good day for mapmakers: JAXA (Japanese Space Agency) just made all the elevation data from its DAICHI spacecraft available to anyone for free. DAICHI, or the Advanced Land Observing Satellite, was launched in 2006 and operated for five years taking precise land measurements that were used, among other ways, to study disaster sites. (Its successor, DAICHI-2, launched in 2014.) JAXA has started to process a 3D map of the world using the 3 million images taken by DAICHI. The public can access elevation data from East and Southeast Asia now; the rest should be available soon. Image: JAXA. May 17, 2015
---

UNIVERSE
A Magnetar Mystery
In 2013, a sudden burst of x-rays from near the massive black hole at the center of the Milky Way caught astronomers attention. The source was a magnetar, a neutron star with a hugely powerful magnetic field, located a mere 0.3 light years from the black hole. Monitoring by NASA's Chandra X-Ray Observatory and ESA's XMM-Newton shows that x-ray bursts are still being emitted from the dense, collapsed star and the number is dropping at a slower rate than those from other magnetars. Astronomers first thought "starquakes" might be the reason, but now they believe that the neutron star's surface is being bombarded by charged particles trapped in twisted bundles of magnetic fields—bundles that were made when the neutron star formed—that keep the surface more heated, and the x-ray outbursts more frequent than they would be otherwise. May 14, 2015
---

PLANETS
New Horizons Close Enough for Family Portrait
On July 14, the NASA spacecraft will have just one chance to get a glimpse of Pluto and its five moons—two of which were discovered after New Horizons left Earth. Those two are the dwarf planet's tiniest moons: Styx is between 4 and 13 miles in diameter; Kerebos is between 6 and 20 miles wide. The spacecraft's powerful Long Range Reconnaissance Imager (LORRI) photographed them at a distance of 55 million miles, after imaging giant moon Charon in 2013, and moons Hydra and Nix in 2014. Read about New Horizon's mission in Pluto at Last. May 12, 2015
---

PLANETS
Another Crater on Mercury
On April 30, 2015, the MESSENGER spacecraft took one last look at the planet it's been studying since 2011, and dove into the surface. Data from the mission—MErcury Surface, Space ENvironment, GEochemistry, and Ranging—will be studied for years to come. In fact, during its end-of-mission low-altitude orbits, MESSENGER's instruments got signals from a magnetic field that were too small to be detected from higher altitudes, indicating that Mercury has had a magnetic field for much longer than previously thought. May 7, 2015
---

PLANETS

Settling in at Ceres
Dawn has reached the last stop on its big asteroid tour. After nearly eight years, including a stint at Vesta, the NASA spacecraft fell into orbit around Ceres on March 6. In May, Dawn spiraled even closer—with luck, close enough to get a good look at those spooky bright spots it photographed on approach in February. Image: NASA/JPL-Caltech/UCLA/MPS/DLR/IDA. April 24, 2015
---

UNIVERSE
Hubble Turns 25
Since it launched in 1990, this space observatory has brought deep space to our front door. Air & Space asked scientists about 10 ways it's changed astronomy forever. April 24, 2015
---

PLANETS

A Voyage to the Moon(s) for Cassini
Cassini is checking off its dance card and switching partners, moving to an equatorial orbit around Saturn after two years of studying the poles. This path will give the NASA spacecraft nine close encounters with moons Titan, Dione, and Enceladus this year. In April, astronomers solved one of the Saturn system's mysteries, confirming that long icy tendrils stretching tens of thousands of miles in an outer ring originate from the geysers spewing from Enceladus (right). The wispy structures appear and disappear, astronomers believe, because the giant planet's gravity creates stresses on the moon that change the size of the geyser openings. Image: NASA/JPL/Space Science Institute. April 14, 2015
---

UNIVERSE
All-Star Team Up
Two European Space Agency telescopes combined their talents for the Case of the Missing Galaxy Cluster Link. Using cast-off data from foreground objects in Planck's cosmic microwave background survey, astronomers used the sensitive Herschel telescope to inspect some of those objects more closely: They found baby galaxies that seem to be the "proto-clusters" of the massive versions that exist today. March 31, 2015
---
EARTH

Mud Forecast
Floods, droughts, famine, storms: A new Earth observer will give scientists insight into the planet's water cycle and how to predict it. NASA's Soil Moisture Active Passive's (SMAP) spinning "golden lasso" antenna will produce soil moisture maps of the entire planet every two to three days. Image: NASA/JPL-Caltech. March 27, 2015
---