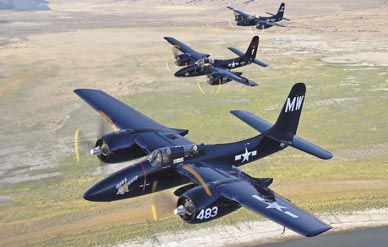 The only three Grumman F7F Tigercats flying in late summer 2008 lined up for this shot above Pyramid Lake, Nevada, on September 10, the first three-Tigercat formation flown since the 1960s. Unlike Grumman's other prop-driven, thick-neck felines—the Wildcat, Hellcat, and Bearcat—the Tigercat was built for speed. The Navy's first twin-engine fighter, it shouldered a pair of Pratt & Whitney 2,100-horsepower engines on a sleek body, and topped 450 mph. Too heavy for carriers, it flew from bases, mostly with the Marines. And too late for World War II, it saw time in Korea flying reconnaissance and radar bombing, and escorting B-29s on night raids.
The idea of herding the 'cats dawned on photographer David Leininger last summer at the Experimental Aircraft Association's fly-in at Oshkosh, Wisconsin. John Muszala, pilot of Bad Kitty (foreground), owned by Seattle's Historic Flight Foundation, told Leininger that he'd be at the Reno National Championship Air Races in September, where Mike Brown would be racing his own Tigercat, Big Bossman (middle). Then Clay Lacy showed up in a Tigercat owned by Joe Clark of Seattle.
For the photo shoot, the trio maintained 172 mph to keep from passing Leininger, in a Beechcraft Bonanza A36. "The airplane's not real responsive at such a low speed," says Lacy. "I looked over and saw Mike had about 15 percent flaps and I said, 'Heck, I'll do that too.' " Afterward, they wowed the crowd at Reno with a flyby.
"The growling of those engines running in unison," says Leininger, "it was a symphony of radial noise."
Five other Tigercats are on display around the country: at the National Museum of Naval Aviation in Pensacola, Florida; the Fantasy of Flight Museum in Polk City, Florida; the Pima Air & Space Museum in Tucson, Arizona; the Palm Springs Air Museum in California; and the Planes of Fame Air Museum in Chino, California.